Romney: I'd Replace Immigration Plan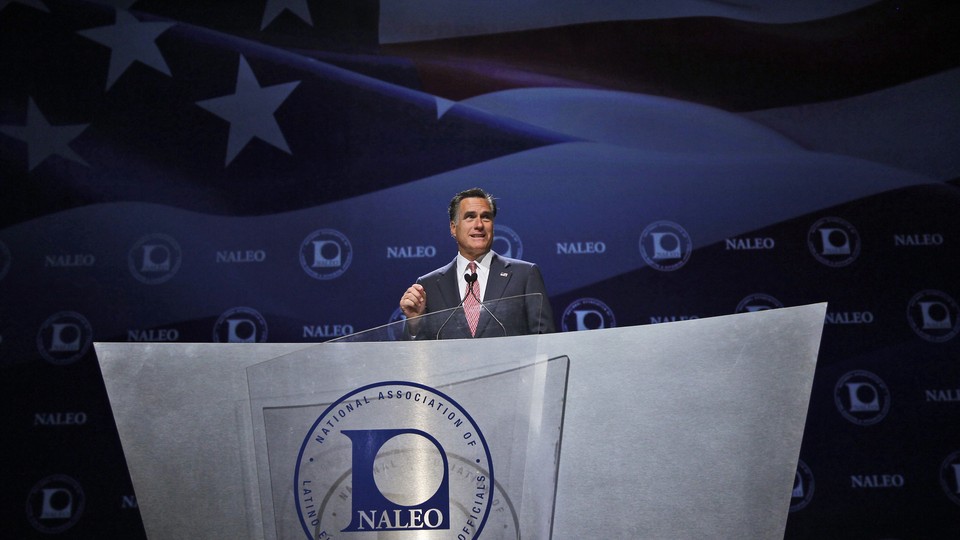 LAKE BUENA VISTA, Fla. "" Republican presidential candidate Mitt Romney said Thursday that immigration reform is "not just a moral imperative, it's also an economic necessity" and pledged to replace President Obama's plan to grant legal status to some children of illegal immigrants with a long-term policy that he said will keep families together.
Romney, in his first extended comments on Obama's order to stop deporting the children of illegal immigrants who are attending college or who have served in the military, promised to "supersede" the measure with his own long-term immigration reforms. Among the new proposals he offered was a plan to change the policy that grants green cards on a first-come, first-served basis and give preference to the family members of citizens and legal permanent residents. He would also prioritize the applications of legal residents seeking to bring spouses and minor children to the United States.
He also pledged to raise some caps on immigration for certain countries and to streamline the temporary worker visa program. Romney reiterated previous promises to give green cards to immigrants graduating with advanced college degrees and to grant permanent residency to illegal immigrants who were brought to the U.S. as children and serve in the military.
The presumptive nominee emphasized the importance of curbing illegal immigration by making the legal process more attractive, in part by establishing employment verification.
"I'm going to address the problem of illegal immigration in a civil and resolute manner," Romney told hundreds of activists at the annual conference at the National Association of Latino Elected and Appointed Officials. "We may not always agree, but when I make a promise to you, I will keep it."
The crowd was polite and some of proposals received a smattering of applause, but the reception was well short of enthusiastic. Romney drew a contrast between his approach and Obama's and charged that Obama made a calloused election-year calculation to provide a short-term fix to the problem of children of illegal immigrants being deported to countries they have never lived in after assimilating culturally in the United States.
"Despite his promises, President Obama has failed to address immigration reform," Romney said. "For two years, this president had huge majorities in the House and Senate. He was free to pursue any policy he pleased.  But he did nothing to advance a permanent fix for our broken immigration system. Instead, he failed to act until facing a tough re-election and trying to secure your vote. "¦ I believe he's taking your vote for granted."
He also said, "Our immigration system should help promote strong families, not keep them apart.  Our nation benefits when moms and dads and their kids are all living together under the same roof. But today, too many families are caught in a broken system that costs them time and money and entangles them in excessive red tape. For those seeking to come to America the right way, that kind of bureaucratic nightmare has to end.  And we can do this with just a few common-sense reforms."
The Obama campaign responded by zeroing in on comments Romney made during the primary campaign, when he said he would veto the DREAM Act if it passed Congress on his watch. The bill provides a path to citizenship for children of illegal immigrants, a broader expansion of immigrants' rights than those contained in Obama's executive order or Romney's new proposals.
"Today, Mitt Romney told the largest national gathering of Hispanic elected officials, "˜When I make a promise to you- I will keep it.' But in front of an audience of Republican primary voters, he called the DREAM Act a "˜handout' and promised to veto it. Now, after seven days of refusing to say whether or not he'd repeal the Obama administration's immigration action that prevents young people who were brought here through no fault of their own as children from being deported, we should take him at his word that he will veto the DREAM Act as president," said Gabriela Domenzian, the campaign's director of Hispanic press.
During the primary, Romney's immigration policy became defined by the concept of "self-deportation," which he proposed during a candidates' debate "" the idea that people in the U.S. illegally would leave once they could not find work or legal documentation. He did not mention the concept in his speech to the Latino political group, but the issue still dogs his campaign. At a Christian Science Monitor breakfast with reporters just hours before Romney's speech, Florida Sen. Marco Rubio, whom Romney has said is being vetted as a potential vice president, found himself defending the candidate's primary comments.
"I think it's not a policy, I think it's an observation of what people will do in a country that's enforcing its immigration laws," Rubio said. He said that Romney's immigration proposals overall were "solid and in line with the majority of Americans in his support of legal immigration."
{{ BIZOBJ (video: 3688) }}