Rand Paul Launches a Preemptive Strike Against Domestic Drone Use
The Kentucky senator proposed legislation that would force police to follow the Constitution by getting a warrant before using unmanned aerial vehicles.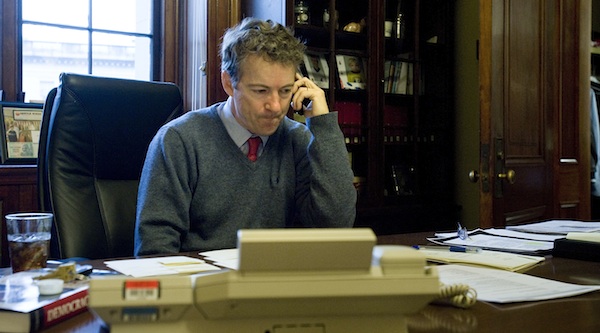 Reuters
Senator Rand Paul
announced
today that he has introduced legislation that would protect Americans against drones used by law enforcement. "Like other tools used to collect information in law enforcement, in order to use drones a warrant needs to be issued. Americans going about their everyday lives should not be treated like criminals or terrorists and have their rights infringed upon by military tactics," he said in a press release posted to his website.
Of course, legislation shouldn't be needed to force police to comply with the Fourth Amendment when using drones. But even
local law enforcement
is starting to use the unmanned planes, so it's better for Congress to preemptively rein them in than to wait for abuses and lawsuits. 
The legislation, dubbed the Preserving Freedom from Unwarranted Surveillance Act of 2011, "prohibits the use of drones by the government except when a warrant is issued for its use in accordance with the requirements of the Fourth Amendment," it allows anyone "to sue the government for violating this Act," it specifies that evidence obtained from drones without a warrant cannot be used as evidence, and it includes the following exceptions when warrants for drones aren't required:
1) patrol of national borders; 2) when law enforcement possesses reasonable suspicion that under particular circumstances, swift drone action is necessary to prevent "imminent danger to life;" 3) high risk of a terrorist attack.

A similar proposal exists in the House of Representatives, as Paul
explains
in this CNN interview:
Paul: Well, you know, I got the idea from Representative Austin Scott. So I have to give him some credit from Georgia. He told me about the bill recently. We picked it up and are introducing it as the senate version. Yeah, I'm a big fan of the Fourth Amendment. Not only do I like the Second Amendment, I like the Fourth Amendment. I think you should have to have a warrant to invade people's privacy and to spy on them. And so I think it's very important. And this just basically restates the Constitution. But sometimes you have to restate the Constitution because many up here seem so ignore it. And Representative Scott when he told me about the bill he said, look, when I'm out hunting on my property, I don't want them spying on me. And I'm not a hunter. But when I'm separating out my recyclables, I don't want them having a drone to make sure I'm putting my newspaper in the proper bin.

Carol Costello: Well, we've already got drone launch sites in more than 20 states. Police are pretty excited about this new crime fighting tool. So would your bill make these launch sites go away?

Paul: What it would do is there's a balancing act. I mean police do have power and I want police to catch rapists and murderers. But they ask a judge and we separate the police from the people who finally make the decision on someone coming in your house. So even if a rapist is loose in D.C. tonight, the police will call a judge in the middle of the night, wake him or her up and say, we think there's a rapist in the neighborhood. Can we go in x address? And so those are things that are very, very important to protecting innocent individuals. And a drone is a very, very powerful way of snooping on behavior. And I don't want them monitoring every bit of my behavior. And I'm not joking about the recyclables. I mean, we've had different states and cities trying to punish people criminally for not separating out the recyclables. We don't want a nanny state that watches every minute of our day. It's not that there will be no drones it's just that drones will only be used when a judge says that it's proper.
There are very few people in Congress who are anticipating threats to civil liberties and trying to preempt them with legislation. It'll be interesting to see who signs onto and who tries to block this effort. It's easy to imagine the Tea Party as a whole turning against domestic drones, though it's also plausible that they'll side with police and folks who want maximum latitude for law enforcement.