Pro-Reform Groups Crow Victory in Supreme Court Ruling; Conservatives Vow Fight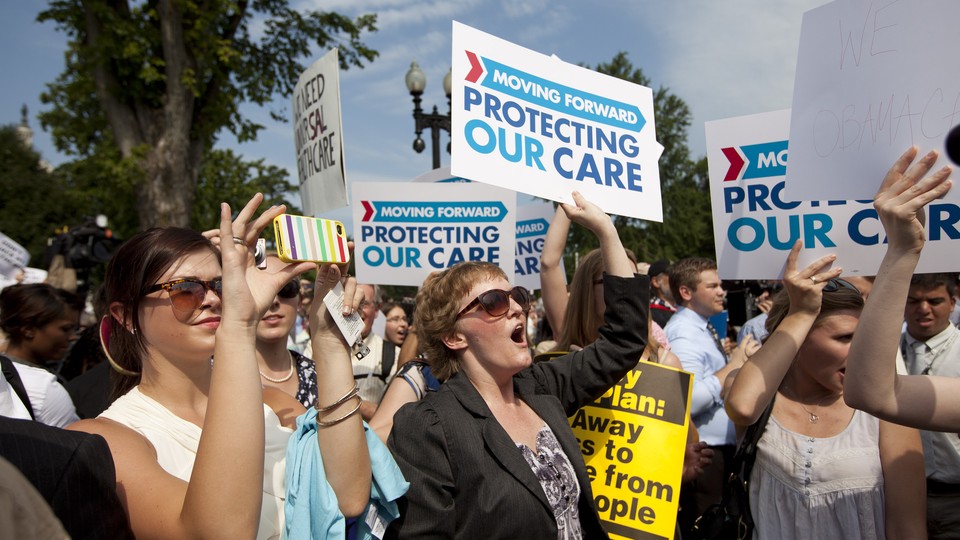 Groups that have fought long and hard for health care reform declared victory on Thursday after the Supreme Court upheld the 2010 Affordable Care Act. But opponents made it immediately clear that the fight is far from over. Here's a look at what they said:
"Today's Supreme Court ruling is a clear, unambiguous, and complete victory for long-overdue health care reform. It sends an unmistakable message that the building of a better, fairer health care system will continue to move forward." -- Ron Pollack, executive director of Families USA.
"The American people know that this law violates our deepest constitutional principles of limited government, despite the Supreme Court's ruling today." -- Sen. Orrin Hatch, R-Utah, who just this week survived a Republican primary contest.
"Today, justice was upheld. But the fact that the Affordable Care Act was ever in jeopardy shows how politicized this Court has become. All too often, this 1 percent Court has legislated from the bench on behalf of corporations and the wealthy instead of acting as fair arbiters of the law. The next president will nominate as many as three new justices, setting the Court's direction for a generation." "" Justin Ruben of Moveon.org.
"We will continue to implement the law while working with policymakers to fix provisions that will increase costs, such as the health insurance tax that will add hundreds of dollars to families' premiums each year." -- Blue Cross and Blue Shield Association President and CEO Scott Serota.
"Today's decision makes one thing clear: Congress must act to repeal this misguided law." "" Senate Minority Leader Mitch McConnell, R- Ky.
"Now Americans will have the certainty of knowing they won't be denied coverage because of a preexisting condition. Women won't be charged a higher premium because of their gender. And families struggling with serious illnesses will not face lifetime limits on coverage. We will continue to fight Republican efforts to repeal these important health benefits while we work to make sure every American has access to quality, affordable health care."  -- Sen. Barbara Boxer, R-Calif.
"As the voice of retailers of all types and sizes, we're disappointed by today's ruling. The Court missed an opportunity to redress the many shortcomings of the law. As it stands, the law wrongly focuses more on penalizing employers and the private sector than reducing health costs." -- National Retail Federation President and CEO Matthew Shay.
"If Speaker [John] Boehner, Congressman Paul Ryan, and Mitt Romney respect the Supreme Court and the Constitution of the United States and care about the health and financial security of millions of Americans, this must stop. Now is the time to put Americans and the future of our country first and focus on creating the kind of good jobs our country needs." -- SEIU President Mary Kay Henry.
"We know that when we come back here after the elections, there may be some things we need to do to improve the law, and we'll do that working together.... I'm happy, I'm pleased to see the Supreme Court put the rule of law ahead of partisanship." -- Senate Majority Leader Harry Reid, D-Nev.
"What Americans want is a common-sense, step-by-step approach to health care reform that will protect Americans' access to the care they need, from the doctor they choose, at a lower cost." - House Speaker John Boehner, R-Ohio.
"I am nurse, I'm a member of our nurses union and I'm so happy that health care reform has been upheld. That's wonderful news! I take care of real people that have real problems and I am sad when I see them crying because they don't know how they're going to pay for their problem, their cancer"¦. It's about time." -- Mary Beth Tinker, who works at Prince George's Hospital in Maryland.
"It was a surprising move from Justice Roberts. We thought he was a strict constitutionalist ... someone who believed in the Constitution, and this decision today proves that he's not. He basically supported a federal power grab that was never foreseen when our founders created the Constitution, wrote the Constitution, and that makes me question where he's going to stand in the future"¦. It makes me question the authority of the Supreme Court, too. It makes me question their legitimacy as an institution." -- Ryan Hecker, chief operating officer of the super PAC FreedomWorks for America.
"To those that are are rejoicing that this monstrosity is ... upheld, I've got four little words for you: This is not over. You just wait for November 2012!" -- Keli Carender, National Grassroots Coordinator with the Tea Party Patriots.
And some hopeful words "¦
"This is the end of the challenge in the courts. I hope it also marks the beginning of cooperation in the Congress to assure that what is now clearly the constitutional law of the land will have the support it needs to be implemented promptly and effectively for the American people." -- Rep. Henry Waxman, D-Calif.
"I hope my Republican friends in Congress take this ruling for what it is, respect it, and accept that it is time to move on. I hope they stop wasting the time of Congress and that of the people who put them in office with constant attempts to repeal bits and pieces of this constitutional law." "" Rep. John Dingell, D- Mich.