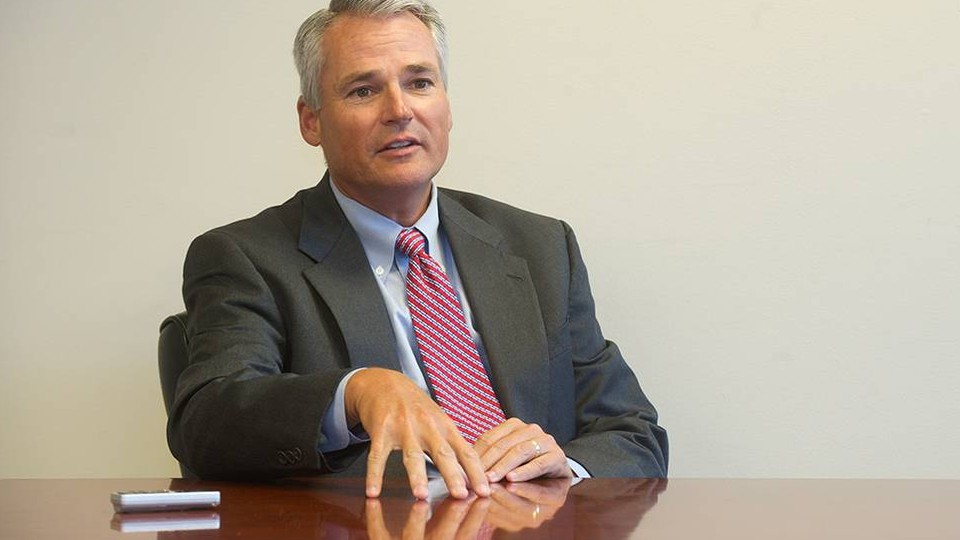 Campaign endorsements from power brokers were once measured by the number of votes a political machine could deliver on Election Day. Now, in the era of Internet solicitations and national networks of ideologically aligned donors, the endorsements that matter don't move votes — they move money.
In the Republican Party, a cottage industry of conservative organizations with wealthy donor bases has sprung up to rival the official wings of the GOP, delivering their supporters' bundled contributions, or even valuable independent expenditures. The money trail makes it easy to sort out the endorsements that matter from the ones that are simply background noise.
Take the Club For Growth, an antitax group started in the 1980s by business-minded Republicans. It has already dropped more than $5.9 million in independent expenditures in congressional races this cycle. Best known for taking out moderate incumbents in Republican primaries, the group tries to elect the most fiscally conservative candidates it can find, even if that ends up leaving a seat vulnerable to a Democratic takeover. (Rep. Tom Cole of Oklahoma, the former National Republican Congressional Committee chairman who has feuded with the group for years, used to call the organization "the Club for Democratic Growth.")
"We don't get involved in races unless we think we can be a determining factor," said President Chris Chocola, a former GOP House member from Indiana. "We can love a candidate, and if they are going to win without us, we will let them win without us."
The club's power lies in its donor network. In North Carolina's 8th District, dentist Scott Keadle got a late infusion of much-needed cash after the group endorsed him on March 19, six weeks before the Republican primary. He received $45,000 in 71 donations over the course of the month immediately following the endorsement. Keadle, who advanced to a late-summer primary runoff, had taken more than three months to collect his previous $45,000 in individual donations from a similar number of donors.
In Arkansas's 4th District, Tom Cotton reaped more than $240,000 in individual donations in the six weeks after the club endorsed him on Feb. 14, more than half of what he had raised in that category in the six months before the endorsement. Cotton is now the Republican nominee.
The Club for Growth's willingness to spend on mass communications also makes it formidable. The group's super PAC spent $1.45 million on ads in Indiana's Senate primary, helping conservative Republican Richard Mourdock dislodge six-term incumbent Richard Lugar in May. The club estimated that total independent expenditures by three of its entities amounted to 40 percent of all independent expenditures during the final 30 days of the campaign.
Although conservative candidates revel in a club endorsement, GOP establishmentarians with an eye on majority-making aren't always thrilled with its decisions. Lugar's loss improved the general-election prospects of Rep. Joe Donnelly, the Democratic nominee. In late 2009, the group joined the conservative revolt against Republican nominee Dede Scozzafava in the special election in New York's 23rd District, instead supporting Conservative Party insurgent Doug Hoffman. The split on the right helped Democratic Rep. Bill Owens win his seat with just 48.3 percent of the vote.
But antiestablishment fervor fuels the club and other conservative organizations that wield financial heft. The Senate Conservatives Fund, which has spent $1.7 million on independent expenditures in Senate races so far this cycle, is the leadership PAC of conservative Sen. Jim DeMint, R-S.C., who openly prizes purity over electability. "We often support underdog candidates who have been overlooked or even opposed by the Washington establishment," said Matt Hoskins, the PAC's spokesman.
That maxim reverberated in Nebraska's Senate primary, where DeMint endorsed Don Stenberg against Jon Bruning, who had been the front-runner in the race to succeed retiring Sen. Ben Nelson. Stenberg raised a paltry $53,000 during the third quarter of 2011, but after DeMint's endorsement at the end of the year and a nod from the Club for Growth in 2012, Stenberg's fundraising ballooned to $244,000 in the first quarter of this year. The battle between Stenberg and Bruning, however, allowed Deb Fischer, arguably the least conservative candidate in the field, to eke out a plurality win in the primary. Meanwhile, in Texas, DeMint and the club helped Ted Cruz force quintessential insider David Dewhurst into a late-July runoff.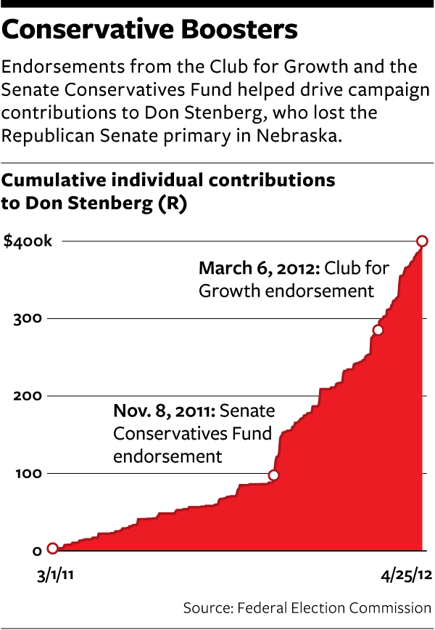 The success of DeMint and the antitax group is a testament to strength where others haven't fared as well. The leadership PAC of Sen. Mike Lee, R-Utah, whose endorsements often attract media coverage, has distributed less than $15,000 to candidates this cycle. All Lee has to offer endorsees is his name, and that can't sway voters in Texas and Nebraska the way a 30-second ad can.
Money is a good gauge of a group's power, but not just because it translates into expensive media buys. FreedomWorks, affiliated with former conservative House Majority Leader Dick Armey, R-Texas, is geared toward voter-mobilization efforts and organization. The group casts a wide net and uses an affiliate to spend against Democratic and Republican incumbents even before its PAC endorses against them. "The advantage we bring is a little different, in that what we bring are real people to the table," said FreedomWorks Vice President Russ Walker.
The group has spent more than $2 million on expenditures in congressional races this cycle, including more than $800,000 in Utah against Republican Sen. Orrin Hatch. FreedomWorks helped prevent Hatch from sealing up the nomination at the April state convention but now must try to sway a larger universe of voters in a June 26 statewide primary between Hatch and Dan Liljenquist, a former state senator who won the group's endorsement.
FreedomWorks, like the Senate Conservatives Fund and the Club for Growth, would be a nonfactor if not for money. Endorsements still matter, but the days of party bosses and machines delivering votes are fading. Nowadays, it's a cash game.