Picture of the Day: Sibling Rivalry in the Romney Household
Even as a babe in arms, Mitt Romney provoked strong feelings -- including among his own brothers and sisters.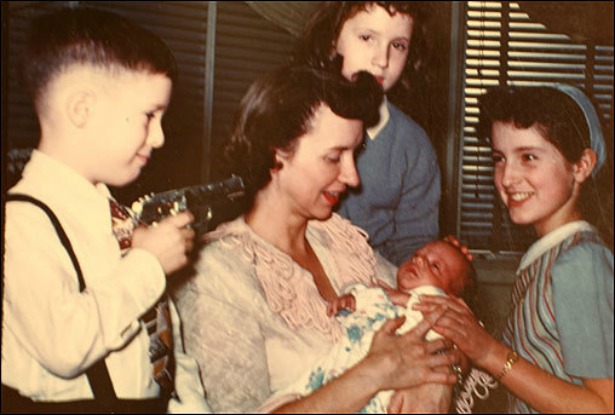 The birth of a younger sibling is often a traumatic occasion for a child. Suddenly, they're no longer the center of attention, the baby of the family, the apple of everyone's eye. In a family of four, the problem is even more acute: No one gets to be the star for very long.
It looks like Scott Romney went through some of that back in 1947, when his youngest brother Willard Mitt was born, hence his brandishing a toy pistol in this snapshot. Luckily, neither his mother Lenore (holding baby Mitt) nor sisters Lynne or Jane seem that concerned. Scott, like his brother, is a Republican politician and served for eight years on the Michigan State University board of trustees. But if he felt overshadowed by his little brother back then, imagine how he would have felt if he'd known that Mitt would be the presidential nomiee for the GOP today.
BuzzFeed's Andrew Kaczynski (who else?) has a set of this and 29 other pictures of the young Mitt Romney.