Picture of the Day: Michigan GOP Gets Spammed Over Vagina Comment Ban
After a legislator was silenced for mentioning anatomy during an abortion debate, vigilantes took on the party's Facebook page.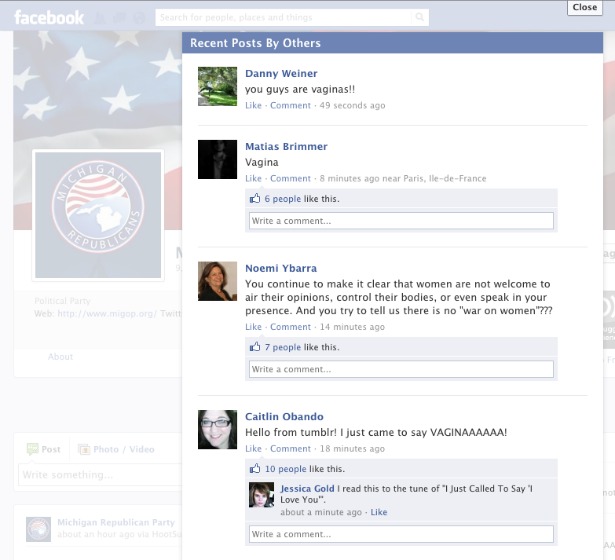 Screenshot
Turns out the War on Women isn't a one-sided battle.
As state legislatures move to tighten reproductive health laws and restrict
easy
access to abortions, they're starting to get some pushback, and that's not always welcome. In a particularly absurd example, Michigan State Rep. Lisa Brown was banned from the floor after
she ended a speech by saying
, "I'm flattered that you are all so interested in my vagina, but no means no." The speaker responded by banning her from the floor for breaching decorum. Later on, Brown asked, "If I can't say the word vagina, why are we legislating vaginas? What language should I use?"
A spokesman for the state GOP said the breach was her implication of rape, not the reference to the female anatomy. But that was too late to appease a legion of Internet vigilantes. They've attacked the Michigan Republican Party's Facebook page, as you can see above, repeatedly posting "vagina" and related graffiti on the wall. This is becoming a common response; this spring, women swarmed Texas Gov. Rick Perry's Facebook page with hygiene and health questions after he moved to cut off funding for Planned Parenthood.