Obama's Position of Gays Spotlights Family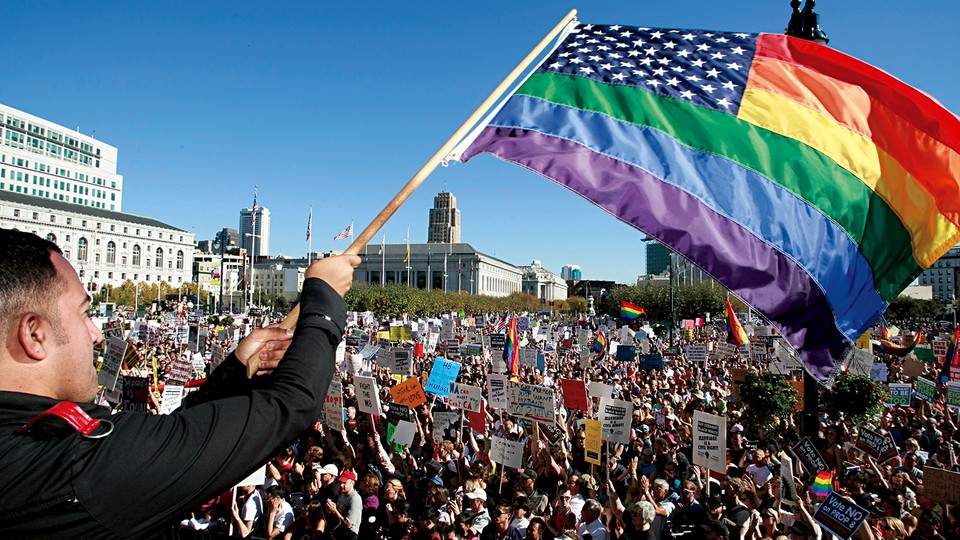 President Obama's interview last month announcing his shift on gay marriage was worth parsing for more than its political implications. "I've always been adamant that gay and lesbian Americans should be treated fairly and equally," Obama said. Then, adopting a new tone, he disavowed his earlier position that "civil unions would be sufficient" in providing benefits like hospital-visitation rights.
The president spoke of "friends and family and neighbors, members of my own staff who are in incredibly committed, monogamous relationships, same-sex relationships, who are raising kids together" and members of the armed services who are "not able to commit themselves in a marriage."
Obama's choice of words reflected a larger, strategic retooling among gay-marriage advocates away from the argument that withholding the institution from gays and lesbians robs them of civil rights and benefits, and toward talking points that emphasize the "commitment" and family structure that Obama stressed.
The language is calculated to help propel the gay-marriage movement. To advocates, the relatively low-hanging fruit among the electorate has already been plucked; recent polls show at least half of Americans support legalized same-sex marriage. Now, says Evan Wolfson, president and founder of Freedom to Marry, it's a matter of "how best to make the case to the next group of reachable but not-yet-reached group of Americans."
"There is that next swath of people who are still wrestling with conflicts," Wolfson says. "They want to be fair. They're not the hard-core antigay, but they also grapple with, "˜Why marriage?' "
The need for a different approach to selling gay marriage to moderates became apparent after the 2008 passage in California of Proposition 8, which decreed that only marriage between a man and a woman was valid in the state. Third Way, the center-left think tank, surveyed California residents the day after the vote and turned up surprisingly soft support for gay marriage in areas where heavier backing had been expected, such as San Francisco. The Proposition 8 vote was "a galvanizing force in getting the gay and lesbian movement to really think about strategy," says Craig Rimmerman, a Hobart and William Smith Colleges professor who studies LGBT politics.
The backlash from the vote in California prompted some soul-searching among groups such as Freedom to Marry and Third Way. "There was sort of a day of reckoning. The moderate policymakers we work with needed the help. They said, "˜We need to know how to talk about this,' " recalls Lanae Erickson Hatalsky, Third Way's director of social policy and politics.
Since Proposition 8, Third Way has conducted nine rounds of research, including state and national polling, psychological interviews with moderate voters, and online simulated campaigns. Among those who said that gay couples were seeking to marry for rights and benefits, more than 60 percent opposed allowing them to do so. But among those who said that gay couples wanted to marry for love and commitment, about the same percentage supported extending the institution to them.
"There was sort of this "˜Ah-ha!' moment," says Wolfson, when gay-marriage advocates realized that moderate voters would be more receptive to the idea of commitment than to rights and benefits. "They didn't connect that to marriage, because those were not the first reasons they got married either," he says. "We realized that we needed to do a better job of talking with our neighbors about why we wanted to get married."
In recent months, both former Secretary of State Colin Powell and prominent libertarian scholar Charles Murray have cited observations of their own gay friends' relationships as evidence that the contours of traditional marriage should be happily inhabited by same-sex couples.
Wolfson says that the rights-and-benefits argument remains salient. But the evolution of the messaging toward the "commitment" emphasis represents a sort of generational turnover, a departure from an era when advocates couched the right to marry in the tradition of the African-American civil-rights movement, a linkage that even many sympathetic black politicians deplored as nearly sacrilegious.
"In many cases, the advocates were actually making this disconnect worse," Erickson Hatalsky says. "They were inflaming the idea that gay couples just wanted to get married for a bunch of rights."
The "commitment" argument has long won support among conservative gay-marriage proponents, who view it as an opportunity to fortify the institution of marriage. Now, it appears to be moving into the Democratic mainstream, onto the lips of a long-hesitant president, and into messaging meetings the same way that abortion-rights advocates sought to entice swing voters by shifting from "safe, legal, and rare" rhetoric to discussing "reducing the need" for abortion by promoting increased contraception use and bolstering health care for pregnant women.
With Democrats considering a gay-marriage plank in their platform this summer, and the question on the ballot in Maine, Maryland, Minnesota, and Washington state this fall, "family values" may end up being the mantra of the moment, albeit not in the way those who have historically embraced the phrase likely ever anticipated.
This article appeared in the Saturday, June 23, 2012, edition of National Journal.