Obama Is Spending an Unprecedented Amount of Time Fundraising: Scandal?
Thanks to the skyrocketing cost of campaigning and the inadequacy of campaign-finance regulation, the president has held nearly twice as many fundraisers as his predecessor.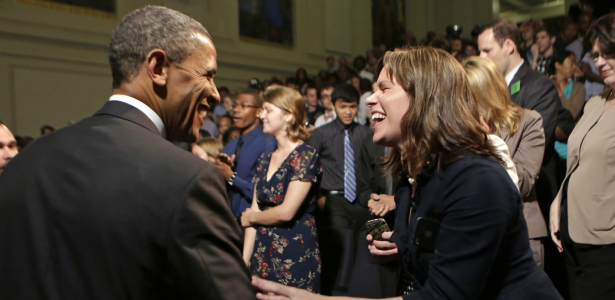 Reuters
BALTIMORE -- During the latter half of his first term in office, President Reagan did not hold a single fundraiser for his reelection campaign, and just three for the Republican National Committee. President Obama's total over the equivalent period, through Wednesday, was 164.
This is not a partisan observation -- it's a measure of the staggering increase in recent decades in the amount of time sitting presidents devote to raising money for reelection. Here are the figures for the last six sitting presidents to run for reelection, as compiled by Brendan J. Doherty, a political scientist at the U.S. Naval Academy and author of a forthcoming book called The Rise of the President's Permanent Campaign:
Total combined fundraisers held for reelection committee and party committee in third and fourth years of first term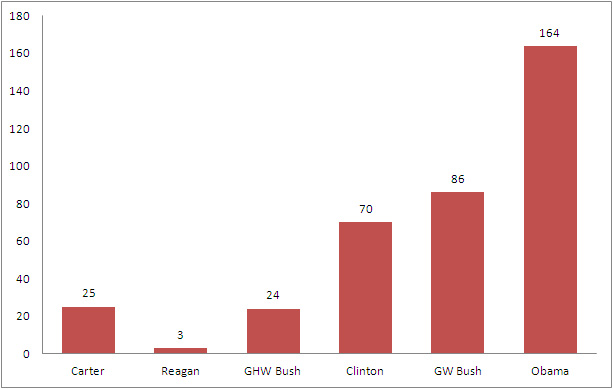 Source: Brendan J. Doherty
Naturally, the time the president must devote to filling his campaign coffers is the subject of attacks from his opponents. "Obama has his priorities -- and reelection comes first," the RNC's chairman, Reince Priebus, wrote in a March op-ed. It has always been thus. Compare:
"Is his priority to be the commander in chief or the fundraiser in chief?"
That's Terry McAuliffe, then-chairman of the DNC, talking about George W. Bush in 2002. And here's an RNC statement from 1998:
"Instead of doing his job ... President Bill Clinton is threatening to shut down the federal government and hopping aboard 'Fund-Raiser One' to New York City to raise campaign cash."
These critiques are both disingenuous and resonant. On the one hand, the president can't be expected to unilaterally disarm in the fundraising race just because it looks bad. On the other hand, it does look bad -- a constant reminder of the crass politicking a president must engage in to keep his job.
But just because the lines of attack are predictable doesn't mean there aren't real consequences to the amount of time the president devotes to the mindless, demeaning work of performing for donors. On Tuesday alone, Obama appeared at six separate fundraising events in quick succession.
At 11:46 a.m., he walked across the South Lawn of the White House, carrying an umbrella, and boarded his helicopter, Marine One, headed for the Baltimore suburb of Owings Mills, where his motorcade would deliver him to the lavish home of a local real-estate developer to begin speaking at 1:23 p.m.: "Well, it is wonderful to be with all of you. Let me begin by thanking our hosts..." Each of the approximately 100 guests had given $10,000 to a combination of the president's campaign and the Democratic Party.
It was raining steadily. By 2:30, Obama had been deposited at the Hyatt Regency hotel in Baltimore's inner harbor, where he conversed privately with a group of 15 supporters who had each given $40,000. At 3:30, he was at a plain podium -- no bunting, no signs with slogans -- in front of four American flags in a drab hotel ballroom of 500 people who'd paid $250 apiece. "Well, it is good to be in Baltimore, home of what may end up being rivals with the White Sox, the Orioles..."
Before leaving Baltimore, the president would place a call to the governor of Colorado to check in on the wildfires raging there. Then to the airport, then to Philadelphia, where the president met with a group of high-school science graduates for 15 minutes before heading into his first of three fundraisers there, a private, high-dollar event, shortly after 6. Obama's Philadelphia events were at the Franklin Institute, an architecturally majestic science museum with a grand statue of Benjamin Franklin in the lobby rotunda, and before he took the stage for his 7:30 fundraiser, he wandered upstairs to check out the Dead Sea scrolls. "Well, it is good to be back in Philadelphia..."
Obama finished speaking at the final fundraiser of the day, held in a planetarium, at 8:43 p.m. and was delivered back to the White House at 10:16. The only event on his official schedule for the day, aside from the six fundraisers, was receiving the daily presidential briefing in the morning. He had netted about $3.6 million for the day.
If it sounds exhausting, it probably is. "When the president spends his time fundraising, something has to give, and we don't know what it is," the Naval Academy's Doherty said. "Republicans claim he's spending less time doing his job. He could be getting less sleep or spending less time with his family. We don't know." (One thing Obama appears to be doing less of is going on vacation: Obama spent 70 days vacationing over his first 31 months, compared to 225 vacation days taken by Bush over the same period.)
Obama's campaign defends the focus on fundraising by saying, in essence, that he has no choice. "Citizens United changed the fundraising landscape and special interests are now contributing unlimited amounts to try to buy the election for Mitt Romney," campaign spokesman Ben LaBolt said, while insisting that "the president is focused on doing the job the American people elected him to do."
The current system of campaign finance regulation does bear much of the blame -- from a public financing system that's inadequate to the cost of modern campaigns, leading candidates to opt out of it, to contribution limits low enough to require that money be raised in relatively small increments, to the fact that the unlimited super PAC money has thus far been concentrated on the Republican side. There's not much to be done about it, at least before the present election is over. But if it seems like all this fundraising must be getting in the way of the president's day job, it probably is.