NRCC Hopes Diversity Equals '12 Success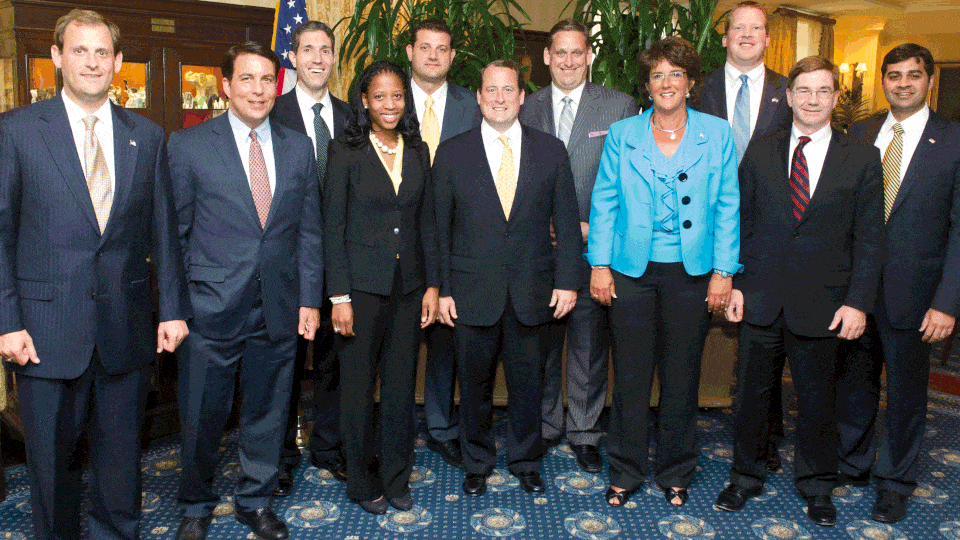 This piece contained an error. Ricky Gill graduated law school in May.
Mia Love isn't your average Republican. The 36-year-old mayor of a small Utah town is a black conservative Mormon woman — and one of the Republican Party's most highly touted prospects heading into November.
This week, Love was one of the rising stars the House GOP brass paraded around town as they feted a dozen of their top congressional candidates in an effort to rustle up campaign contributions and convince Washington that, even after the GOP tidal wave of 2010, the party isn't done piling up new seats.
(Related Gallery: Diverse Candidates for GOP House Seats)
Love's candidacy punctuates the diversity that the GOP has sought in naming its 2012 "Young Guns," as the party calls its top recruits. Of the dozen contenders, two, including Love, are women; one is openly gay; one is Indian-American; and another is Jewish (Majority Leader Eric Cantor of Virginia is currently the only Jewish House Republican).
Love, who is challenging Rep. Jim Matheson, D-Utah, isn't keen to talk about her potential status as a trailblazer — she'd be the first black Republican woman ever in Congress — but there has been little chance of avoiding it.
"Everyone seems to notice," she said, with a laugh.
As a group, congressional Republicans are, after all, still overwhelmingly white. The only two current black House Republicans were elected in 2010. And white men constitute 86 percent of the House GOP. The Democratic Caucus is a veritable ethnic kaleidoscope by comparison, with white men accounting for only 53 percent of its members. The Cook Political Report's David Wasserman projects that after November, white men will be a minority among the House Democrats' caucus, a first.
The Republican Party has rolled out the red carpet for Love and the other Young Guns. On Wednesday, they enjoyed dinner at a local steakhouse with Cantor, Majority Whip Kevin McCarthy of California, and Budget Committee Chairman Paul Ryan of Wisconsin, among others. On Thursday, party officials organized a breakfast fundraiser and they were introduced to K Street power brokers and check-cutters. They were also given the rare privilege, for candidates, of entering the inner sanctum of the House GOP Conference that they hope to join next year, sitting through a morning meeting in the basement of the Capitol.
"It was a little overwhelming for me," said Richard Tisei, a Massachusetts Republican running against Rep. John Tierney. Republicans believe Tierney, a Democratic incumbent in the bluest of states, is vulnerable because his wife and brother-in-law have been  ensnared in an offshore-gambling scandal.
Tisei, who is openly gay, said the House GOP leadership has embraced him even as he stresses to party leaders, "I don't agree necessarily with every plank in the Republican platform."
He added, "It's really important to have me here as part of the caucus because when issues come up, I will have a different viewpoint."
The most recent issue concerning a prominent gay Republican came when presumptive presidential nominee Mitt Romney hired an openly gay spokesman, who hastily resigned in the face of criticism from conservatives. Tisei says he has had no such complications in his bid.
"Everybody here has made me feel totally welcome," he said.
Ricky Gill, a 25-year-old Indian-American law school graduate who has raised more than $1 million to challenge Rep. Jerry McNerney, D-Calif., said his candidacy serves to "forecast the future a little bit" for the GOP.
Half the 2012 Young Guns — a program created by Cantor, McCarthy, and Ryan, who used to refer to themselves as "Young Guns," to bolster GOP challengers for Democratic-held seats — are refurbished candidates who lost in 2010. For some, such as attorney Andy Barr, who is challenging Democratic Rep. Ben Chandler of Kentucky after losing by less than 1,000 votes last time, the task has gotten harder. Redistricting has made Chandler's seat slightly more Democratic.
Still, Barr was bullish on his chances this go-round, noting that President Obama lost 12 of the 19 counties in the new district to "uncommitted" in the recent Kentucky Democratic primary. "Are they for this president's job-killing agenda? No, they are not," he said.
Democrats are skeptical that Republicans will have much luck running candidates like Barr who lost amid the massive wave of 2010.
"These Republican candidates came to Washington to raise special-interest money and what they got is tainted campaign cash," said Democratic Congressional Campaign Committee spokesman Jesse Ferguson, referring to ongoing investigations into Rep. Vern Buchanan, R-Fla., finance chairman of the National Republican Congressional Committee.
But Love said there were some practical lessons learned on her visit as well.
"Walking through the tunnels is a bad idea in heels," she said of the Capitol. "You're better off getting flats."