Musician Joe Walsh Endorses Tammy Duckworth Against Rep. Joe Walsh
What song lyric should the guitar hero dedicate to the Tea Party hero at a benefit for his opponent?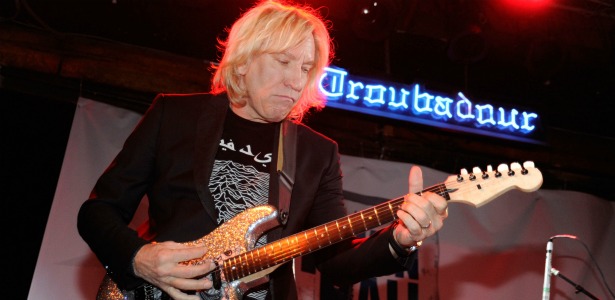 Getty Images
In retrospect, it seems inevitable: Joe Walsh, the guitarist best known for that endless solo on "Hotel California," has announced that he's endorsing Democrat Tammy Duckworth, a candidate for the House of Representatives in Illinois' 8th district who's running against ... wait for it ... Rep. Joe Walsh.
The Eagles guitarist is not only endorsing the Iraq war veteran but will also play a benefit concert for her July 1. In a statement, he said: "I'm the real Joe Walsh and I'm proud to back a real American success story -- Tammy Duckworth. Tammy's story, her service to our nation and her continued commitment to working families (like the one I come from!) have convinced me that she's the right choice for Congress." He also has bad blood with his doppelganger: He threatened to sue the congressman two years ago for using one of his songs.
Actually, it's not the musical Walsh's first foray into politics. In 1980 -- when he was 33 and not actually eligible to hold the office -- the Ohioan ran for president on a ticket of free gasoline for all and making his song "Life's Been Good" the new national anthem (at least it would be easier to sing). He's been a sporadic political donor, giving mostly to Democrats (Brad Sherman, Al Gore, the Democratic National Committee) though also to Rep. Dana Rohrabacher of California.
The Duckworth-Walsh race promises to be on the fiercest House races this cycle. Duckworth is something of a Democratic celebrity: She lost both legs when the Black Hawk helicopter she was flying was shot down in Iraq. After losing a very close race for Congress in 2006, she served as an assistant secretary in the Department of Veterans Affairs from 2009 to 2011. Walsh, on the other hand, is a Republican star, one of the most outspoken Tea Partiers. The freshman has made a name for himself with outlandish statements. Referring to Duckworth, he said, "What else has she done? Female, wounded veteran ... ehhh." He's sworn at constituents. He has advocated Israeli annexation of the West Bank and Gaza. While preaching fiscal responsibility, he was hauled into court by his ex-wife for failing to pay child support. After redistricting, Walsh faces a tough battle for reelection in a new district.
The question is, which lyric should Joe Walsh, the guitarist, dedicate to Joe Walsh, the politician? Here are a few ideas.
From "Life in the Fast Lane": "He had a nasty reputation as a cruel dude/They said he was ruthless, they said he was crude."
Or this from "Rocky Mountain Way," a perfect kiss-off for an incumbent: "Bases are loaded and Casey's at bat/Playin' it play by play/Time to change the batter."
Given that Walsh once had his driver's license taken away, perhaps "Life's Been Good" would fit: "My Maserati does one eighty-five/I lost my license, now I don't drive."
But the best choice is deep in the Walsh catalogue, from the James Gang years and "Funk #49": "If you're gonna act that way, I think there's trouble brewin'."