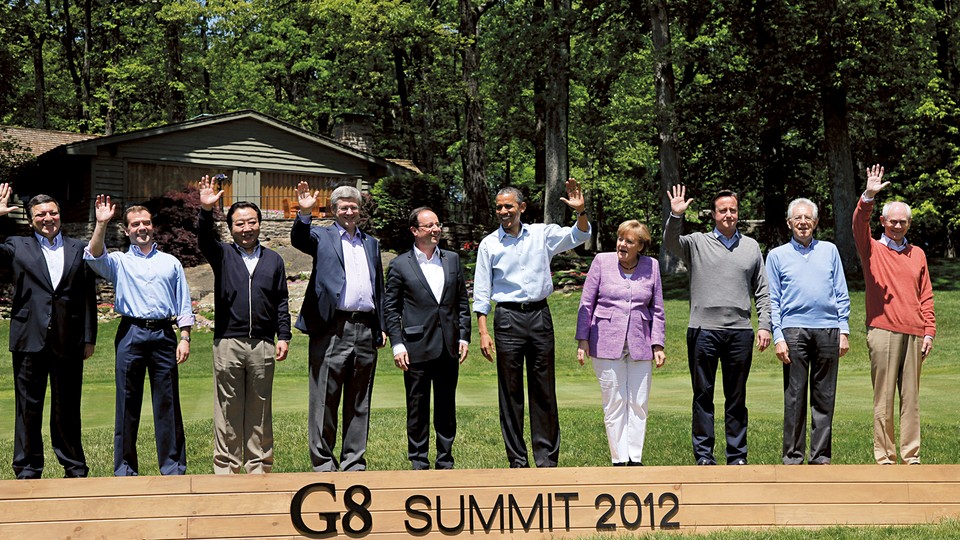 It took the newly inaugurated President Obama only 69 days to place a big diplomatic and economic bet on an untested world organization that even he acknowledged might not be able to agree on much of anything. With job losses mounting and consumer confidence plummeting, the president arrived in London at in March 2009 to attend his first G-20 summit and prove that this relatively untested grouping of wildly disparate nations spread across six continents could come together to meet the economic crisis sweeping the world. When the summit concluded two days later with an agreement to infuse more than $1 trillion into the world economy and to crack down on tax havens and hedge funds, a relieved Obama declared that the G-20 had provided the "turning point in our pursuit of global economic recovery."
Three years later, as the president prepares to leave this weekend for the G-20 summit in Las Cabos, Mexico, at the tip of the Baja California peninsula, it is worth recalling the risks he took in placing his faith so completely in the G-20. And it is worth noting that some of his early worries about the difficulties in finding consensus have proven prescient.
Obama did not create the G-20 — President Clinton did at the finance-minister level in 1999. And he did not call the first G-20 leaders' summit — President Bush did in November 2008 as the depth of the economic crisis was becoming evident. But Obama did make this fledging grouping of 19 countries and the European Union the official, go-to world body for American diplomacy on economic matters, a fundamental shift from almost four decades of U.S. policy giving top ranking to the G-7 (and later the G-8) group of industrialized democracies. His choice looked sound when 2009 summits in London, Toronto, and Pittsburgh were effective and focused. However, once the economic crisis began to abate and more countries could see signs of recovery, later summits in Seoul in 2010 and Cannes, France, in 2011 were less cohesive and much less productive.
In 2008, Bush voiced early concern about the ability of any group to function that sought consensus among countries as diverse as the developed U.S., developing Brazil, and communist China. He said in announcing the first summit that "the fundamental question is, with that many nations, from six different continents, who all represent different stages of economic development — would it be possible to reach agreements?" Obama agreed, acknowledging in London that "it is hard for 20 heads of state to bridge our differences."
Indeed, that will be the president's biggest diplomatic challenge when he sits down with fellow leaders in Mexico on Monday. The summit, not surprisingly, will be dominated by the financial crisis in the eurozone. The leaders will open the meeting the day after the Greek referendum and amid deepening concern that continuing woes there could destabilize all of Europe and stall recovery around the globe.
The first clue will be the size of the table. Michael J. Green, formerly a top National Security Council aide to Bush and now a professor of international relations at Georgetown University, has called the G-20 process "unwieldy," recalling meetings he attended at the State Department at a table first used for 1990's G-7 summit in Houston. "It's very intimate. Everyone can touch the person next to them," he said. "You can have a really candid discussion, look right in someone's eye across the table." But there's nothing intimate about the G-20. "It's a mega-event," said Green, adding: "The frustration for the administration is they haven't figured out how to turn it into a proactive, agenda-building forum like G-7 was."
Matthew P. Goodman, an expert on political economy at the Center for Strategic and International Studies, spent the first three years of Obama's presidency on the NSC staff and helped organize the G-20 and G-8 summits. He looks back with pride at the Washington, London, and Pittsburgh G-20s for doing things "that were new and truly significant." Domenico Lombardi, a global-economics expert at the Brookings Institution, said that those accomplishments were possible because "the world was on the brink of a meltdown, and each leader faced a dramatic incentive to cooperate with others." The group has been losing momentum since then, he said.
Goodman acknowledges that the president faces a more daunting task in Mexico because of the changed circumstances. "When the immediate set of issues that prompted the economic crisis passed and things got back to challenging-but-normal circumstances, then the group took on a somewhat different dynamic," he said. "It means you have to be more creative, more nimble, more strategic now."
He also sees what he calls "a bit of an evolution" in Obama, who privately was almost scornful of the G-8 when he took office. But now the president has come to prize the smaller meetings. This year's gathering at Camp David, Goodman said, "just about hit the sweet spot of what good summitry is all about. It was the right kind of quiet, informal conversation among peers about some real problems."
What has emerged then is a president who has found a way to engage the more disparate elements making up the modern world economy that the G-20 comprises, while revitalizing an older, smaller grouping of more like-minded allies in the G-8. It is a far more nuanced view than one could have anticipated in 2009 when Obama seemed ready to kill off the G-8, but it is one that makes it more likely that his early bet will pay off.