Michelle Obama Is on Pinterest
The first lady joins the lifestyle-images heavy social network in advance of Fathers' Day in a soft-sell reach-out to women voters.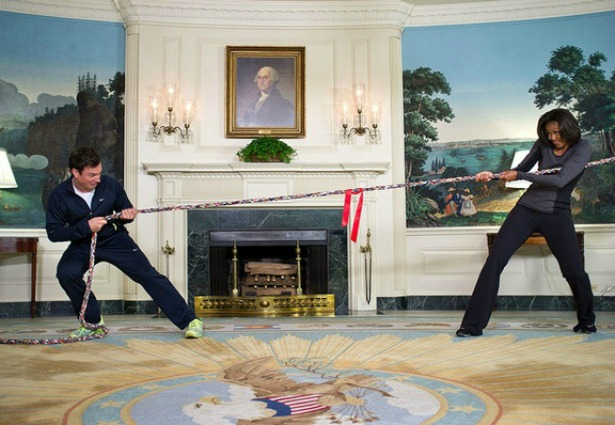 White House
Yes, that's the first lady of the United States of America in workout gear playing tug-of-war in the White House's Blue Room. "Jimmy was a gracious loser!" Michelle Obama wrote on Pinterest of her competitor, late night host Jimmy Fallon, with whom she sparred in February while promoting her "Let's Move!" fitness initiative.
As of February, women were 82 percent of active users on Pinterest, and Obama's participation in the lady-friendly social sharing site provides her husband's campaign with a soft-sell way to reach out to the middle-class women voters the Obama campaign has been targeting more pointedly with its political messages about "the war on women."
Besides: Ann Romney's been on Pinterest already since February, and it's about time the real Mrs. O started competing with such parody Pinterest accounts as this Mrs. Obama one.