Memo to Congress: You're in the Hot Seat If Obamacare Is Overturned
If the law is struck, lawmakers will have to grapple with Medicare, Medicaid, and billions of dollars of spending -- and do it fast.
If the law is struck, lawmakers will have to grapple with Medicare, Medicaid, and billions of dollars of spending -- and do it fast.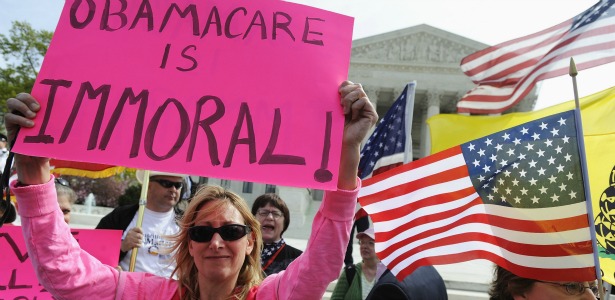 Reuters
In oral arguments before the Supreme Court in March, lawyer Paul Clement made the case that the simplest way to dispense with the 2010 health-care-reform law would be to overturn it entirely: If the Court finds that the individual mandate is unconstitutional, it should strike down the whole thing. "The better answer might be to say, 'We've struck the heart of this act; let's just give Congress a clean slate,'" said Clement, representing the National Federation of Independent Business and the 26 states that oppose the law.
On its face, Clement's logic seems simple: If you're going to monkey with a giant piece of legislation that restructures nearly one-fifth of the U.S. economy, it's best not to get into the weeds. Just let Congress start from scratch. But this argument misunderstands what would happen if the sprawling law is suddenly moot. Unlike partial revocations, which would give Congress time to fix potential glitches, a complete invalidation would start several policy fires that would require immediate congressional action. And members of Congress have not spent much time planning for this scenario.
First up: Medicare. The Affordable Care Act changed the formulas that Medicare uses to pay providers from top to bottom. It shifted growth rates, boosted some providers' pay, and baked in financial incentives for doctors and hospitals that achieve quality benchmarks. It also codified many of the Medicare payment adjustments that it passes every year. (After all, when you have one big health bill moving, why not throw in everything?) Since 2010, regulators have acted on those changes, and the Centers for Medicare and Medicaid Services pays out 100 million medical bills each month according to the new pay scale.
If the law is overturned, no one is sure what figures the system would use. Should CMS continue to pay providers at the rates set by the law? Or should it go back to 2009 levels? Both Donald Berwick, who ran CMS under President Obama before he joined the Center for American Progress last year, and Gail Wilensky, who held a similar post during the presidency of George H.W. Bush and is now at Project HOPE, said they don't know the answer. The House Ways and Means and Senate Finance committees would need to move fast to establish a clear legal authority for CMS to pay providers.
Furthermore, CMS operates using an antique IT system that makes it difficult to enact quick changes. Last year, when Congress looked like it might not pass routine legislation to forestall a big cut to physician pay rates, CMS Deputy Administrator Jonathan Blum told reporters that the system could hold claims for only 10 days before the computers crashed. Congressional staffers say they would probably need to freeze the current rates for weeks or months to give CMS time to switch back to the old pay scale.
Sen. Tom Coburn, R-Okla., a physician and a member of the Senate Finance Committee, which has jurisdiction over Medicare, opposes the law. But, he says, "there's going to be a lot of chaos." Although "there are discussions going on all the time," Coburn says, few decisions have been made. On the House side, a Republican aide says that staffers are making preparations, but members are not concerned about a real emergency if the law is struck down. "I don't think, overnight, there's going to be this immediate panic," the aide said.
The health-care law also reauthorized several long-standing federal programs, including the Indian Health Service, the principal care provider for nearly 2 million American Indians and Alaska natives. And it dedicates billions of dollars to expand community health centers and the health care workforce. If it disappears, the legal authority for those programs or their funding would disappear with it. If Congress doesn't want these programs to shut their doors and shed workers, it will need to reauthorize them quickly. Many of these programs have enjoyed broad bipartisan support for decades, and it's unlikely that even Republicans clamoring for repeal of the health care law would want to see them eradicated.
A complete erasure of the health care law could also spell trouble for the Centers for Disease Control and Prevention. The law's Public Health and Prevention Fund, despite recent reductions, is set to dole out about $10 billion for community health ventures over 10 years. But because of recent appropriations cuts, the agency is using $825 million of that sum to pay for bioterrorism response-planning, lead-poisoning prevention, immunization programs, and many other core functions this year. Without new appropriations, these public-health programs will face instant, dramatic cuts. Sen. Robert Casey, D-Pa., a member of the Health, Education, Labor, and Pensions Committee, says he has not talked to his Democratic colleagues about contingency plans, and he is not optimistic that much would pass in this Congress. "The last time we did this, it took 30 years," he says.
Since the Court is not especially likely to overturn the entire law, few lawmakers -- including party leaders -- have planned for it. "You asked whether there have been discussions," said Senate Minority Whip Jon Kyl, R-Ariz., who is a member of the Finance Committee. "The answer is yes. But there have been no conclusions reached yet." In this Congress, though, even if both chambers ready blueprints in time, it's hardly clear that anything could become law.