Labor, Civil-Rights Groups: Voter Rights Must Be Protected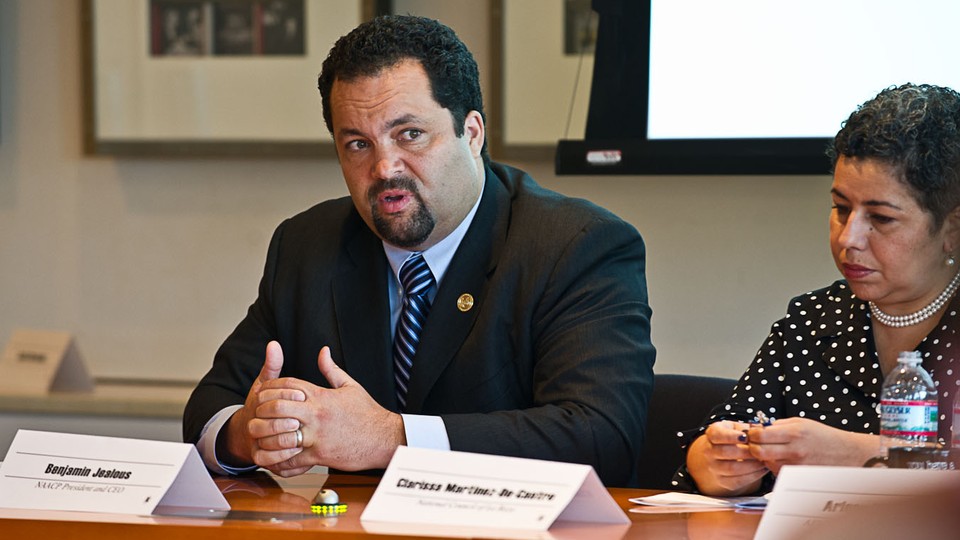 The AFL-CIO announced on Tuesday its intention to fight back against what it said are unprecedented attacks on voter rights, including the launch of the My Vote, My Right campaign and a coordinated effort among several civil-rights and advocacy groups.
Voter-identification laws and strict registration rules are "widespread efforts to silence the voice of working people," Arlene Holt Baker, the executive vice president for the labor union, said at a press briefing.
The AFL-CIO was joined by the National Council of La Raza, the NAACP, and Generational Alliance, who together represent a combined effort to increase voter registration and turnout among the working class, Hispanics, African-Americans, and young voters.
"What we're facing is a coordinated effort to block the vote," said Benjamin Jealous, president and CEO of the NAACP, blaming a "highly partisan" group of governors who "simply decided to do whatever they can" to suppress targeted demographics.
Jealous added that the NAACP's goal was not only to increase voter education and turnout for the November elections but also to look forward to 2013, when he estimated there would be a "tidal wave" of attempts to pass more laws that would have the effect of suppressing voter turnout.
For its part, the La Raza is working to engage the Hispanic constituency and ensure that they are educated enough to know their rights at the polls, said Clarissa Martínez-De-Castro, the council's director of civic engagement.
For Latinos, "all you have to do is show up to be suspect," Martínez-De-Castro said.
Nearly three-fourths of Latinos in the U.S. -- and 93 percent of those under 18 -- are citizens, she said. To combat the voter laws, NCLR will host town halls to discuss hot-button issues as well as set up bilingual hotlines to help voters during the elections.
Baker said the AFL-CIO's efforts would be concentrated specifically in six states -- Pennsylvania, Florida, Ohio, Michigan, Wisconsin, and Nevada -- based on the combination of their union-member concentration and the severity of recently passed legislation.
She declined to disclose how much the labor group would be spending on the efforts, or how many people they'd be deploying on the streets.
The AFL-CIO's announcement comes just one week after Gov. Scott Walker's win in the Wisconsin recall election, where he beat back a challenge from Milwaukee Mayor Tom Barrett. The historic recall election came after Walker moved to rescind collective-bargaining rights for public-employee unions, setting off a wave of protests by labor groups.
The AFL-CIO was in the process of analyzing data to see what effects voter-registration laws may have had on the Wisconsin balloting, Baker said, adding that the Election Protection Coalition, which handles voter complaints during elections, received more than 1,000 calls on election night.