Jeb Bush's Bold Move on Taxes
His embrace of the deficit reduction deal puts him at odds with almost all of the Republican primary candidates.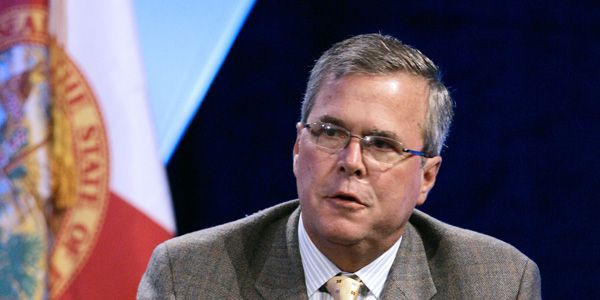 AP
Last summer, when the Republican primary candidates, every one a supposed deficit hawk,
declared
on an Iowa debate stage that they'd all reject a deficit reduction plan even if its spending cuts were ten times bigger than its tax hikes,
National Review's
Kevin Williamson incredulously avowed that "if Congress wanted to get rid of tax exemptions and exclusions amounting to $100 billion in new taxes in exchange for $1 trillion in cuts, and Republicans turned the deal down, I would personally drive down to Washington and pelt them with rotten vegetables, and possibly with rocks. $100 billion in new taxes plus $1 trillion in cuts balances the budget in 2012."
The moment stands out as the strongest evidence available for commentators like me who think that, like Howard Jarvis and Grover Norquist, the GOP remains a party that cares more about tax cuts than deficits, and that a Republican majority is unlikely to balance the federal budget. Only Jon Huntsman, widely dismissed by the GOP base, has since
said
his answer was a mistake. But there is one prominent Republican speaking up in favor of the hypothetical deal. 
Meet former Florida governor Jeb Bush, whose political prospects are uncertain due to a sibling who sullied his family's name. Bush has already endorsed Mitt Romney in Election 2012, and now
says
he hopes the former Massachusetts governor would take a hypothetical 10-to-1 deficit reduction deal in real life, even though he said he wouldn't do so during the GOP primary debates. Bush quickly went on to explain that he doesn't favor raising tax rates, just cutting deductions. (His father once got in trouble for prioritizing balanced budgets over taxes.)