Is This the First Fake Twitter Feed in the History of Presidential Campaigns?
After Obama surrogate Bill Clinton praised Mitt Romney's business record, the Romney campaign creates an outlet for his words.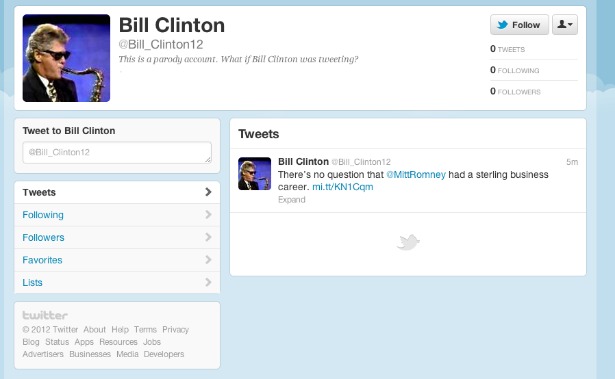 Updated, 5:50 p.m.
It's a milestone we didn't even know we hadn't passed yet: the first fake Twitter account in the history of presidential campaigns (at least as far as we can tell).*
Following several appearances in which Bill Clinton made glowing remarks about Mitt Romney's career in business -- seeming to undercut the Obama attack against the Republican's Bain Capital record -- the Romney campaign created the @Bill_Clinton12 handle to broadcast some of those comments. They even sent out a press release calling attention to the feed.
It's a witty and innovative use of social media, although it might have been more powerful if it had been rolled out before a Monday night fundraiser where Clinton said a Romney presidency "would be, in my opinion, calamitous for our country and the world." It's a fair bet you won't see that comment anywhere on the new Twitter feed.
The likely mastermind of the fake handle: top Romney aide Eric Fehrnstrom, who's a prolific tweeter in his own right. Last year, a fake account for "Crazy Khazei" parodied Alan Khazei, a Democrat then vying for the nomination to run against Senator Scott Brown, another Fehrnstrom client (Khazei later dropped out in favor of Elizabeth Warren). That account was anonymous -- until Fehrnstrom accidentally sent a tweet intended to be from Crazy Khazei from his personal account.
__
*Twitter ninja Zeke Miller points out that the Romney campaign actually has done this before, with fake accounts tweeting statements that Vice President Joe Biden and Democratic National Committee Chair Debbie Wasserman-Schultz made in 2008.