Iowa Cafe Owner on Romney's Visit and Apology: 'I Took It as Mocking'
After a messy visit, the Republican nominee offended a local business owner with his blunt manner and fumbling attempt to make amends.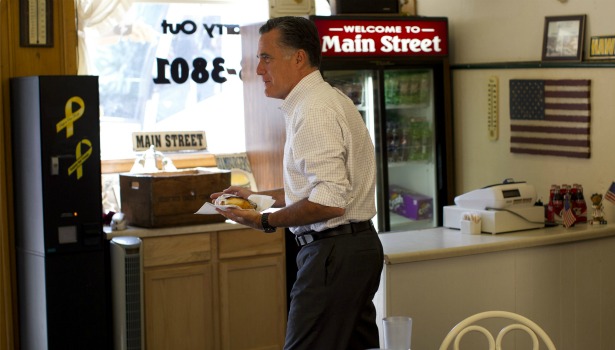 Mitt Romney visited a cafe in western Iowa last week, and the cafe's owner was not impressed.
Dianne Bauer, owner of the Main Street Cafe in Council Bluffs, told a local TV station that Romney's staff trashed the place, that Romney didn't greet or thank her, and that when he called her afterward to smooth things over, she felt she was being mocked.
"He responded 'well, I'm sorry your table cloths got ripped off, wadded up and thrown in the back room' and I took it as mocking," she said. "We're the ones he's wanting to get the votes from, you'd think we would have been treated better."

She says the whole experience left her wondering.

"With how he treated me, is that how he's going to treat others? You know, if he gets in office is he going to be that way to us little people?"
Bauer also noted in her interview with the local Fox station KPTM that when Rick Perry paid a visit during the primary, he went out of his way to schmooze her -- a perfect illustration of Perry's natural, glad-handing political style vs. Romney's general lack of human touch. (It's also a reflection of the increased security and production values of a general election vs. a primary, though, regardless of candidate: The owner noted that the Secret Service presence was "all out, like you'd think Obama was here.")
The advice columnist Carolyn Hax likes to say that you can tell a lot about a person by the way he treats waiters and pets -- those who are at his mercy and have little to offer in exchange for kindness. For Romney, the evidence continues to mount that he doesn't do well by this metric, and the image of him as inconsiderate, if not mean-spirited, is one that could damage him in an election where he's up against a generally well-liked incumbent.
On the other hand, Americans are choosing a president, not a lover. Romney's brusque demeanor might be seen as businesslike, in contrast with Obama's compassionate coddling -- a classic Daddy Party vs. Mommy Party dichotomy.