Here Is the Annual Photo of Joe Biden Threatening Kids With a Water Gun
The Secret Service can't keep the vice president from a brutal dousing at the hands of Super Soaker-equipped youngsters.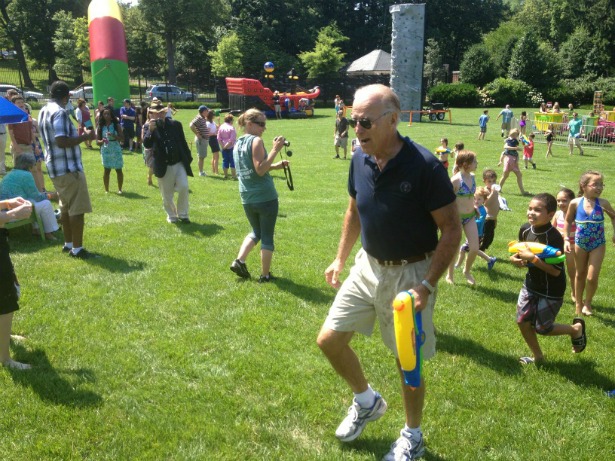 Although it's important to preserve historical traditions like the White House Easter Egg Roll, new customs are important to keep culture vital. One of the great traditions of our time is the annual emergence of photos that show Vice President Joe Biden galumphing around the Naval Observatory with a Super Soaker at his annual beach bash for journalists.
The third edition of the party happened Saturday, despite the best efforts of Glenn Greenwald and other critics who say it shows a press corps too cozy with the administration (see pictures from 2010 and 2011). Kudos to Biden for being willing to get wet -- can one imagine Dick Cheney or Walter Mondale doing that?
But Joe, watch your back -- that kid in the plaid shorts has you dead to rights. Where's the Secret Service when you need them?