Everything That's Wrong With the Economy These Days
It's not just unemployment. All the downsizing and devaluation folks have been through is profoundly affecting the national mood -- and our politics.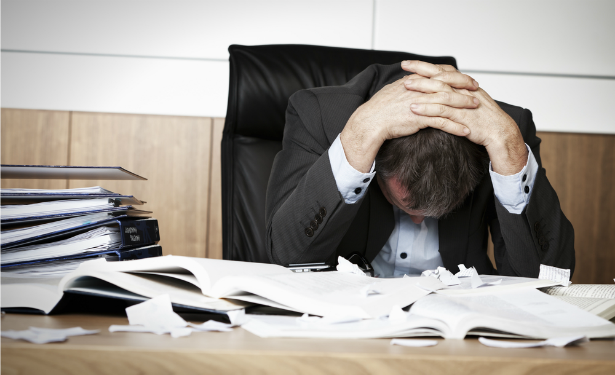 The New York Post recently ran a story on the suicide of former Lehman Brothers "star" Charles Hopper, which the paper said provides "a glimpse of the terrible legacy that lingers on, even among the wealthy, years after the economic crash." He went from earning seven figures a year to earning $150,000 a year -- what most people still consider a very good salary, but a major downsizing for him -- after two years unable to find work, only to lose his new post and, most recently, have another job fall through. He was underwater on his house, having borrowed against it during the boom, and started having marital problems during the long period in which he wasn't working. In May, he hung himself. "He was under tremendous financial pressure, and he felt aged out of his industry," his wife told the paper.
Suicides in the financial sector stand out because they're seared into national memory as iconic of the great crash of 1929, after which the national suicide rate jumped from 13.5 per 100,000 to 18.9 per 100,000 in a year. We haven't seen anything like that this time around, and the fact that the very wealthy have done so very well for themselves during the past few decades has led to the Occupy movement's drive against the 1 percent, rather than any kind of public sympathy for those who've been forced into the 5 percent, or from the 5 percent to the 10 percent, or even from the 25 percent to the 35 percent.
And yet it sometimes seems as though our obsessive focus on the very wealthy -- envying them and valorizing them before the crash; critiquing them after it -- is as politically distracting as attacks on programs for the very poor. There is so much space in American life between the 1 percent and the unemployed, between those who can donate millions to political campaigns and those who don't even have health-care coverage, but the amount of attention devoted to the extremes and the margins can make it harder to see what's happening in this vast middle.
As National Journal's Ron Brownstein observed in January, "on most questions measuring changes in economic circumstances, the slowdown has imposed greater costs on those at the economy's margins -- lower-income families, those without advanced education, and, in many cases, minorities. But partly because the downturn has affected not only income and employment but also housing and stock prices, it has reached into leafy cul-de-sacs often sheltered from such storms."
A March 2011 Allstate/National Journal Heartland Monitor poll found that "families earning at least $100,000 were more likely than those earning less to report that their homes had declined in value" and an October 2011 one found that "more than two-fifths of such affluent families, and nearly three-fifths of college graduates, said that the downturn had forced them to cut back on their spending either to pay down existing debt or avoid adding to it," Brownstein reported.
Because people don't have to be 99ers to find their own financial strains politically relevant in the voting booth, it matters when even those who, when seen from the bottom 25 percent, appear to be among the more privileged in American life feel that they are struggling. Not only do such people vote -- they consistently have higher turnout. Sixty percent of those from households earning above $75,000 voted in 2010, compared to 40 percent from those earning less than $50,000. And 61 percent of those with a college degree or above voted, as compared to 35 percent of those with a high-school education or less. Even in the high-turnout, demographically unusual 2008 election, the gap was there: 59 percent of those with incomes of $50,000 or less voted, compared to 76 percent of those who earned more than that.
The New York Times tried to get at some of this Tuesday in a piece looking past all the talk of unemployment to examine the many American workers who find themselves underemployed or underpaid. But as is typical of the contemporary hard-times genre piece, it led with a non-college educated person making an hourly wage who'd seen her wages cut so that she made but $233 last month -- which is less than one full-time week's worth of pay at the federal minimum wage.
The political problem for the incumbent president is that it's not just older bus drivers in Atlanta like that hourly earner who are living in the churn of the troubled economy. It's nearly everybody, still, in one way or another. Even professionals with graduate degrees are having trouble finding appropriate work, according to The National Law Journal:
Slightly more than half of the class of 2011 -- 55 percent -- found full-time, long-term jobs that require bar passage nine months after they graduated, according to employment figures released on June 18 by the American Bar Association.

The statistic was perhaps the most sobering in a season of bad news about new lawyer employment. Less than one week earlier, the National Association for Law Placement reported that only two-thirds of new graduates landed any type of job requiring their law degree, and that the overall employment rate hit an 18-year low at 85.6 percent.
People in their prime earning years are in especially bad shape, The Huffington Post reports, compared to their parents -- a classic benchmark of lifetime success against which people measure themselves:
The average Gen X family is nearly 70 percent poorer than its counterparts of the same age in 1984, according to a Pew Research Center study from last year. Over time, this gap has widened. The latter now has 47 times more assets than the former, according to Credit.com's analysis of Pew data.
Part of this is because Americans lost a huge amount of their wealth in the crash, and haven't gotten it back:
The recession has affected individuals of all ages. Last week, newly released government data showed that Americans lost a record-breaking 38.8 percent of their wealth from 2007-2010.
Also causing a crunch: health-care costs have doubled since the Clinton years:
The cost of health insurance for many Americans [in 2011] climbed more sharply than in previous years, outstripping any growth in workers' wages and adding more uncertainty about the pace of rising medical costs.

A new study by the Kaiser Family Foundation, a nonprofit research group that tracks employer-sponsored health insurance on a yearly basis, shows that the average annual premium for family coverage through an employer reached $15,073 in 2011, an increase of 9 percent over the previous year....

Over all, the cost of family coverage has about doubled since 2001, when premiums averaged $7,061, compared with a 34 percent gain in wages over the same period.
The cost of college is also way up, even at historically affordable public universities:
Nationally, state and local spending per college student, adjusted for inflation, reached a 25-year low this year [2012], jeopardizing the long-held conviction that state-subsidized higher education is an affordable steppingstone for the lower and middle classes. All the while, the cost of tuition and fees has continued to increase faster than the rate of inflation, faster even than medical spending. If the trends continue through 2016, the average cost of a public college will have more than doubled in just 15 years, according to the Department of Education.
College debt is also up, as are struggles to pay it off:
The balance of federal student loans has grown by more than 60 percent in the last five years .... But even if student loans are what many economists consider "good debt," an increasing number of borrowers are struggling to pay them off, and in the process becoming mired in a financial morass.

Education Department data shows that payments are being made on just 38 percent of the balance of federal student loans, down from 46 percent five years ago. The balances are unpaid because the borrowers are still in school, have postponed payments or have stopped paying altogether.

Nearly one in 10 borrowers who started repayment in 2009 defaulted within two years, the latest data available -- about double the rate in 2005.
Though still down from their recession peak, foreclosures were again on the rise in May:
U.S. home foreclosure filings increased 9 percent last month over April, according to a new report from RealtyTrac, an online marketplace that tracks foreclosures.

Foreclosure filings were reported on 205,990 homes in May -- that's one in every 639 homes nationwide. That's about 4 percent lower than this time last year, but the rising monthly rates underscore how difficult it will be to restart the devastated housing market.
So were foreclosure starts:
Foreclosure starts -- default notices or scheduled foreclosure auctions, depending on the state -- were filed on 109,051 U.S. properties in May, a 12 percent increase from April and a 16 percent increase from May 2011.
Meanwhile, there are not enough job openings to go around:
Job openings fell to a five-month low in April and showed their sharpest percentage decline in about seven and a half years, according to a government report Tuesday that helped confirm a slowdown in the labor market.

The Job Openings and Labor Turnover Survey, or JOLTS, indicated 3.4 million job openings at the end of April, an 8 percent decline from the previous month.

The pace of total hiring also slowed, with 160,000 fewer jobs filled during the month.

Moreover, the drop showed weakness across the employment spectrum, with manufacturing seeing 62,000 fewer job openings and construction dropping by 2,000.
Hiring has slowed and firings are up:
Job openings in the U.S. decreased in April by the most in almost four years, the latest sign that the labor market is cooling.

The number of open positions dropped by 325,000, the biggest decline since September 2008, to 3.42 million from 3.74 million the prior month, the Labor Department said today in Washington. Hiring slowed from the prior month and firings climbed.

The decrease in openings coincides with the slowdown in hiring seen in April and May, signaling employers are pulling back as the economy cools. The number of jobs available is down from an average 4.46 million in the two years before the recession began, showing the labor market continues to struggle.
Nor are enough new jobs being created to keep pace with the size of the population:
Anyone hoping for a healthy labor-market recovery is going to be sorely disappointed by the May jobs report. The U.S. economy added just 69,000 jobs last month -- far below expectations. The unemployment rose to 8.2 percent. And the details of the report are even more dire.

The Bureau of Labor Statistics revised down its job estimates for previous months, too. Remember when everyone gulped in April because the economy added only 115,000 new jobs? Turns out that was actually just 77,000 new jobs. March also got bumped down, from 154,000 to 143,000. For the past two years, BLS revisions have frequently been upward. That streak appears to be broken.

Much of the job carnage seems to be driven by the construction sector, which lost 28,000 jobs last month. As Jed Kolko of the housing research firm Trulia notes, construction jobs now make up just 4.1 percent of all employment -- the lowest level since 1946. And the United States hasn't added any new construction jobs, on net, since the beginning of last year. There's still a massive hangover from the housing bubble. ...

All told, the U.S. job market appears to be sputtering out.
No surprise then that wages are down, and mobility along with it:
adjusted for inflation, the median hourly wage was lower in 2011 than it was a decade earlier, according to data from a forthcoming book by the Economic Policy Institute, "The State of Working America, 12th Edition." Good benefits are harder to come by, and people are staying longer in jobs that they want to leave, afraid that they will not be able to find something better. Only 2.1 million people quit their jobs in March, down from the 2.9 million people who quit in December 2007, the first month of the recession.
The government sector is downsizing, too, now that the stimulus moment has given way to the austerity era:
Government payrolls grew in the early part of the recovery, largely because of federal stimulus measures. But since its postrecession peak in April 2009 (not counting temporary Census hiring), the public sector has shrunk by 657,000 jobs. The losses appeared to be tapering off earlier this year, but have accelerated for the last three months, creating the single biggest drag on the recovery in many areas.
***
This all adds up to a portrait of an economy that's in a much more multifarious kind of trouble than you can see just from the unemployment rate. And one much harder to untangle from Washington, D.C.
Know something else wrong with the economy? Add it in comments, below.