Constitutional Originalism: Now for Liberals Too
In seeking precedents for the Affordable Care Act's individual mandate, the left agrees to debate on Antonin Scalia's territory.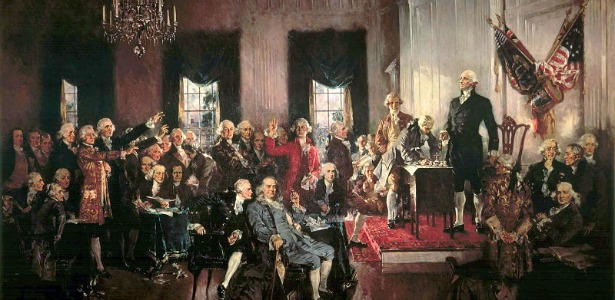 Over at the Washington Post, Ezra Klein dives into the historical record and provides a few examples of mandates from the dim and distant American past. Forget about broccoli. The government has been telling citizens what to buy for centuries. The Militia Acts of 1792 actually required all able-bodied white males between 18 and 45 to own a "good musket or forelock, a sufficient bayonet and belt, two spare flints, and a knapsack" among other goods, and to be enrolled in a militia. And he cites another example, from Harvard Law Professor Einer Elhauge:
In 1798, Congress ... enacted a federal law requiring the seamen to buy hospital insurance for themselves. That's right, Congress enacted an individual mandate requiring the purchase of health insurance. And this act was signed by another founder, President John Adams.
This stuff is pretty interesting, if a little irrelevant at this point. These cases weren't cited by Solicitor General Donald Verrilli during the hearings on the Affordable Care Act, and a few obscure examples from 220 years ago are unlikely to convince the majority of Americans who oppose the individual mandate.
But these arguments are significant because they represent liberals ceding ground to conservatives. Both Klein and Elhauge are making the same appeal: Since the Framers of the Constitution supported these actions, they must be acceptable under the Constitution. If that idea sounds familiar, that's because it's essentially the same as the "originalism" propounded by Justice Antonin Scalia, the lion of the Supreme Court's conservative wing and an almost certain vote against the Affordable Care Act. Scalia and his ilk argue that the best way to understand the Constitution is to look at it the way the Framers would have. Rather than quibble with that viewpoint -- noting, for example, that homo revolutionaris would have a tough time relating to the concerns of the 21st century -- the left is throwing in the towel and agreeing to argue on the originalists' terms. In fact, another liberal thinker pushing these analogies and cited in Klein's post is Akhil Reed Amar, a Yale Law professor who has explicitly embraced originalism for liberals. Whether that's good for the law, or the left, is beyond my expertise. But it does seem like the Overton window is shifting.