Asian Immigration to U.S. Outpaces Hispanics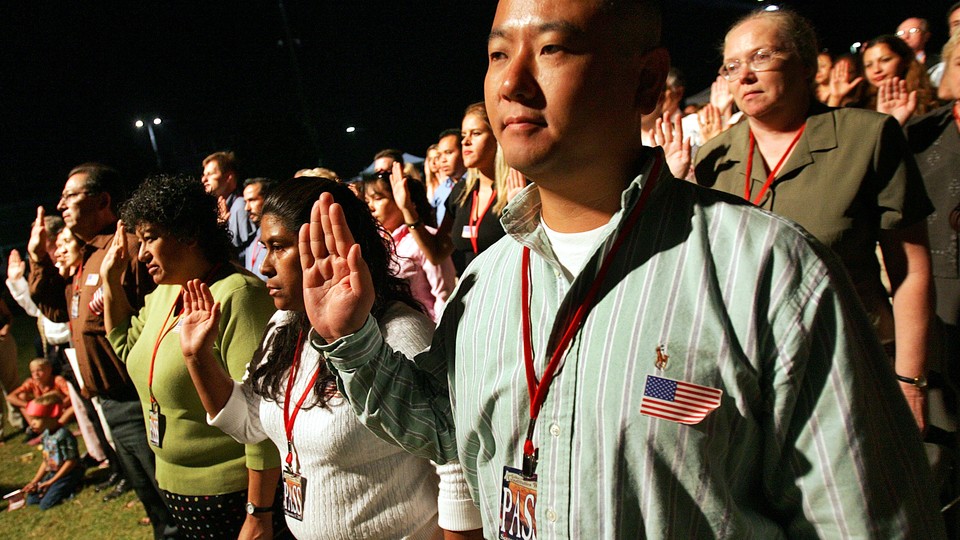 Asians have outpaced Hispanics as the largest demographic moving into the U.S. since about 2009, according to a report released on Tuesday by Pew Research Center.
(RELATED: Asians: U.S. Demographic Snapshot)
According to 2010 Census data, Hispanics are by and large the fastest growing ethnic group among the total U.S. population. But the Asian-American population is the fastest growing racial group overall--increasing 46 percent between 2000 and 2010.
The Asian-American community is also largely foreign-born: Almost three-fourths of Asian adults were not born in America.
In spite of this growth, the American public still largely associates the idea of immigration with illegal immigration and Mexican immigrants, according to Karthick Ramakrishnan, an associate professor at the University of California, Riverside, who spoke at Tuesday's panel discussion series on the results.
"Immigration is more complicated than that, and in the past five years if you were not paying attention to Asian immigration, then you don't know immigration," Ramakrishnan said.
The new report, "The Rise of Asian-Americans," attempts to chronicle this growth by taking a comprehensive look at the 17.3 million Asians living in the U.S. Though this only accounts for about 6 percent of the total population, the findings present a crucial look at a sprawling racial cohort that is becoming a larger portion of the country's growing minority-majority.
In general, the 225-page report found that Asian-Americans place high values on family, education, and hard work, and see the U.S. as generally a better place for opportunities than their country of origin.
Six in 10 incoming Asian immigrants have a bachelor's degree or are in the process of obtaining one, offering a unique perspective on the types of people that the U.S. immigration system typically favors.
This is a hugely stark difference to the actual educational attainment rates in their countries of origin, Ramakrishnan noted, adding that in China and India, only about 6 to 7 percent have tertiary higher education.
Asians typically make up a large portion of those who receive H-1B work visas, and they also make up a significant amount of those who apply for family-based sponsorships.
Although the report largely found positive numbers reflecting the Asian cohort, experts on the panel discussions repeatedly stressed the importance of disaggregating the data and looking at each group separately.
The survey targeted the top six countries of origin, where roughly about 83 percent of all Asians in the U.S. come from: China, the Philippines, India, Vietnam, Korea, and Japan.
But that still leaves out 17 percent of the demographic, which includes almost 20 other ethnic identities and countries of origin.
"Yes, "˜The Rise of Asian Americans' is the headline: the best educated, the highest income, etc. But exceptionality does not make for typicality in any kind of study, so that's what we have to keep in mind," said Tritia Toyota, an adjunct assistant professor at the University of California, Los Angeles.
Large gaps are found in almost all of the areas surveyed, including socioeconomic status and education.
For example, while Indians, Japanese, and Filipinos were below the U.S. average poverty rate, Koreans, Vietnamese, and Chinese were largely above it. As a whole, the Asian-American demographic had a poverty rate of 12 percent, just below the U.S. average of 13 percent.
Southeast Asians in particular have soaring high school dropout rates, teetering close to 40 to 50 percent in some cases. This is in deep contrast to the general stereotype that Asians excel academically.
"It'd be easy to say that the report quantifies all Asian-Americans as successful, as prosperous, as well-educated and may not need any assistance in their communities, but what we know from the community is that that's not always the case," said Benjamin Wu, vice chair of the U.S.-Asia Institute.
In general, the report also found that Asian-Americans were more optimistic about their lives in the U.S. compared to the general public, and those surveyed generally felt they had good relationships with other races.
About one in five of those surveyed said they had been treated unfairly because of their race, and one in 10 said they have been called an offensive name.
The majority of those surveyed said they got along "pretty well" with whites, Hispanics, and other Asian groups; about 48 percent said they got along pretty well with blacks.
Asians are also most likely to be in an interracial marriage, compared to other races and ethnicities, with 29 percent of Asian newlyweds between 2008 and 2010 married to someone of a different race.
Though the numbers paint a portrait of a race well-integrated within American society, experts on the panel discussion stressed the overwhelming feeling of "otherness" that is felt among the largely foreign-born population.
In particular, their biggest concern was that it took three years for the mainstream to realize that the Asian cohort had surpassed Hispanics in terms of immigration to the U.S.
"I think there is a dearth of the coverage across the media" of Asian-Americans, said Elaine Chao, who served as secretary of Labor in George W. Bush's administration.
The first concern among Asians is to make a living, take care of their kids,  and survive, Chao added, rather than "toot their own horn" on their successes.
There's also the challenge of finding a balance between being "other" and finding success as your own person, Wu said.
He cited the success of South Carolina Gov. Nikki Haley and Louisiana Gov. Bobby Jindal as two huge wins for the Asian-American community.
But, he added, "for them as politicians there is a reluctance that they have as trying to portray themselves as Asian-Americans," because they have an obligation to represent everyone within their respective states.
On a broader level, the report is a significant benchmark in the growth of diversity in America and globalization.
This is particularly evident for the 18-to-30-year-old cohort, who far more readily embrace diversity than their elders.
"The world that they will inherit will be very different, and what is great about America more than in other countries "¦ is that our country has embraced diversity in a different way," noted Neera Tanden, president of the Center for American Progress, adding that those of this generation haven't "felt the pressure to lose their cultural identity."
"As we globalize in the world, [our cultural differences] that we thought of as a negative growing up "¦ is a real positive for our country," she said.