Analysis: Rubio Restrained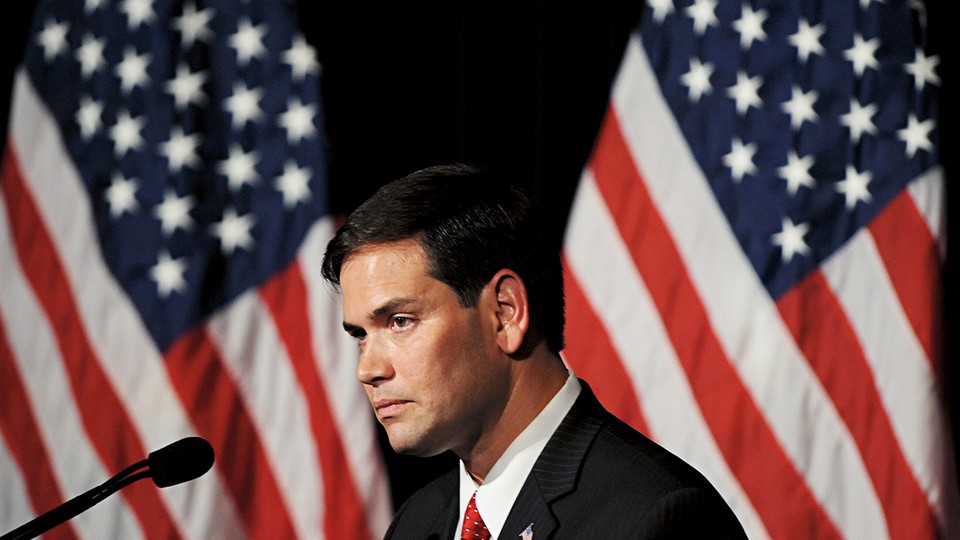 President Obama keeps a close eye on Marco Rubio. Not an obsessively close one, mind you, but the White House's political GPS definitely tracks his movements.
The first-term Republican senator from Florida didn't inspire the White House's recent immigration shift, but his efforts undoubtedly accelerated it. Obama gave immigration officials wide discretion to, on a case-by-case basis, grant students in the crosshairs of deportation the right to obtain temporary work permits or attend college. Hill Democrats and Republicans alike believe that Obama outfoxed and outmaneuvered Rubio, who for three months advertised his intention to draft a GOP version of the Dream Act (which Obama's executive-policy gambit has now temporarily addressed).
Presumptive Republican nominee Mitt Romney had been waiting expectantly for the never-to-emerge Rubio bill. Now both are left stranded — much to the White House's delight — on the sidelines of immigration and Latino politics, while the president soaks up attention. And Obama's campaign has wasted no time deploying the policy as a fundraising weapon and to fuel a new round of Latino-centered registration drives.
"We were not thinking about Senator Rubio," Cecilia Muñoz, head of the White House Domestic Policy Council, told National Journal. "A lot of things were responsible." Still, Muñoz noted that some congressional Republicans "have focused on this issue in a different way" — none more visibly than Rubio, whom top White House advisers and Obama loyalists frequently cite as the most-Obama-like figure on the GOP's bench.
The immigration rollout wasn't the administration's first opportunity to neutralize the young Republican. The White House tracked closely and coyly fed stories about Rubio's travails concerning the now-reconfirmed U.S. ambassador to El Salvador, Maria Carmen Aponte. It wasn't much of a story stateside, but Aponte, the first Puerto Rican to serve as a U.S. ambassador, faced a wall of GOP opposition (led by Sen. Jim DeMint, R-S.C.). Obama recess-appointed Aponte in August 2010.
When her term expired last year,  Rubio,  seeking leverage on the administration's dealings in Cuba and Nicaragua, voted against Aponte. That decision incurred the wrath of some 400,000 Puerto Rican voters in Florida and drew heavy, skeptical coverage in Spanish-language newspapers and news broadcasts. Rubio voted for Aponte's renomination last week and has tried to downplay the fracas.
"I have no idea," Rubio said when asked by NJ if he felt the White House was tracking him. "They should buy my book. I was going to send them a copy, but now they should buy it. I can't pay attention to all this crowd noise."
It has been a helluva seven days for Rubio. And that's not counting the 100 scheduled media appearances this week and next to promote his biography, An American Son. Yes, he still is trying to stick to the Hillary Rodham Clinton model by tending more to Senate business than his own profile. (He shelved an appearance on Jon Stewart's Daily Show to vote on farm-bill amendments; when a senator chooses sorghum over Stewart, you know he's sowing his political oats.) But that strategy is growing more difficult. Rubio starts an eight-day bus tour on June 30 in Miami to hawk his book. He'll spend four days in Florida, then embark on a winding ride through Georgia and the Carolinas before finishing in the cradle of Beltway buzz and syrupy conventional wisdom, Northern Virginia. It's a book tour, or rolling advertisement for a Romney veep pick, or a narrative-feeding precursor to a 2016 presidential campaign. Your choice.
Rubio denies he has been iced on immigration, but he acknowledges that Obama's maneuver has blunted all possible GOP movement on dealing with "dreamers" — those children brought to the United States illegally but raised here and hopeful of remaining to work or pursue a college education. "My colleagues tell me now there's no urgency and that this can wait, and I don't have a rebuttal for that," he said. "But the president hasn't solved this. He's just turned it into a political ping-pong ball."
Yet Rubio won't say he flatly opposes Obama's approach or whether he would encourage lawsuits to block its implementation. Like his Senate leader, Mitch McConnell,R-Ky., and House Speaker John Boehner, R-Ohio, Rubio defers to Romney to articulate the party's position on a potential Dream Act-lite. He is ticked, however, that his legislative efforts have been thwarted.
"A year ago, the president said he couldn't do this, and now, suddenly, it's the greatest idea in the history of the world," Rubio said. "The president's taken unilateral action. There was no effort at a legislative solution. Why? Because it was driven entirely by political calculations."
Rubio also defends his fruitless three-month search for a bill that could unify Senate Republicans and, possibly, attract a stray Democrat or two. "I know the difference between a messaging point and a mature piece of legislation," he said. "That takes time. A permanent solution that can attract the votes necessary to pass is not something you can fast-track."
Top White House officials said that Rubio's grumpiness is a reflection of his own inexperience. His advocacy, they say, gave Latino activists even more impetus to pressure the White House to move. And Rubio's plodding approach also gave the administration — building on discretionary applications of deportation practices refined in 2010 and 2011 by John Morton, the head of Immigration and Customs Enforcement — an opening to score political points with Latinos and, at least on immigration, shove Rubio off center stage.
To highly attuned White House ears, the carping as he goes is a sweet noise indeed.
{{ BIZOBJ (video: 3691) }}