4 Charts That Show Obama's Failure to Sell Health-Care Reform to the Public
Earlier this week, Penn Schoen Berland released a wide-ranging poll on American values commissioned by The Atlantic and the Aspen Institute. In light of the Supreme Court's ruling on the Affordable Care Act on Thursday, it's worth revisiting a few of the poll's findings about health care.
First, let's look at how Americans feel about Obama's health-care law overall. Here's a chart from RealClearPolitics that aggregates multiple polls. As you can see, Americans have opposed the reform by a solid margin of at least 10 points for most of the last two and a half years: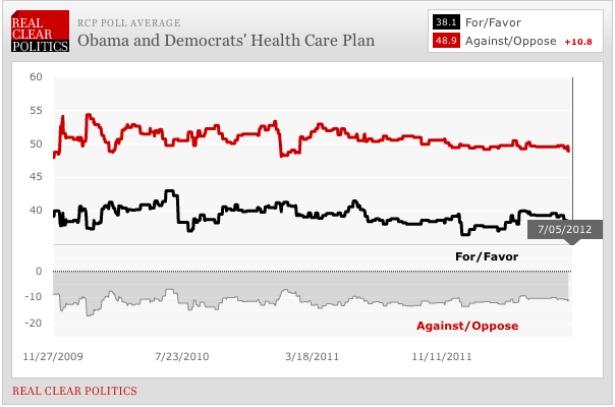 But the Penn Schoen Berland poll makes a strong argument that the problem isn't the policy -- it's the way it has been sold. For example, seven out of 10 Americans think that the government ought to ensure that all Americans have health care -- a number that only barely lags access to food, the most basic necessity. That's a greater percentage that believe the government ought to guarantee basic education or a home: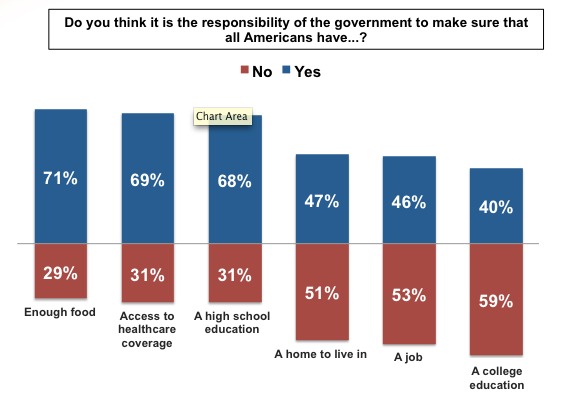 What's more, that's a sentiment that has actually increased since Obama and Democrats started making their push for an overhaul of the nation's health system in 2009: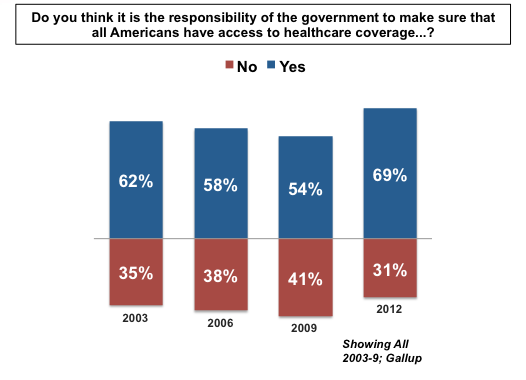 And if we drill down a little farther, we find that a majority of Americans not only think that the government ought to make sure everyone has health care on an abstract level, or even just through existing social safety-net programs such as Medicare and Medicaid. Most Americans -- though by a smaller margin -- backed government intervention in the health-care system to lower costs and provide universal coverage: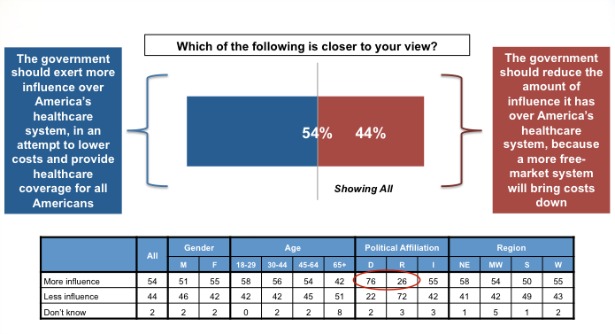 It's hard to look at these results and not conclude that President Obama and his allies haven't done a good job communicating what's in the Affordable Care Act and how it will affect citizens. There's also plenty of anecdotal evidence that the people who stand to benefit most from the new law aren't aware of that. (Nor has the media helped much.)
The individual mandate, despite the Supreme Court's stamp of approval, remains a sticking point. There's no denying that many Americans feel uncomfortable about the idea of the government forcing them to buy insurance -- even if many of them are already covered anyway. But the overwhelming and growing preference for full coverage, and the preference for government intervention, suggest that voters are open to being convinced that the tradeoff is worthwhile. That ought to be a welcome message for the White House, but it's one the administration seems to be having a hard time hearing.