Why Dick Lugar Will Be the Tea Party's Only 2012 Victim
The Indiana Republican's defeat at the hands of conservative activists isn't the start of another anti-establishment wave -- it's the exception to this year's rule.
The Indiana Republican's defeat at the hands of conservative activists isn't the start of another anti-establishment wave -- it's the exception to this year's rule.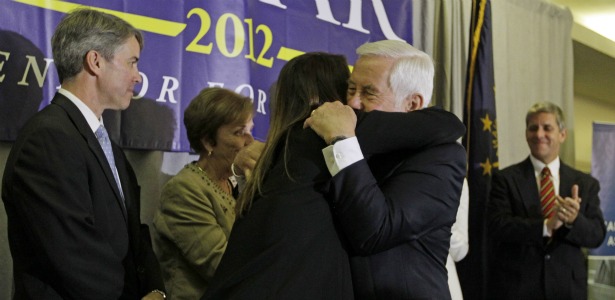 Associated Press
It wasn't long after the polls closed in Indiana Tuesday that a chant went up at the headquarters of FreedomWorks, the national Tea Party group: "HATCH IS NEXT! HATCH IS NEXT!"
The occasion was the defeat of Sen. Dick Lugar, the latest centrist Republican to be felled by the insurgent conservative movement, and the reference was to Utah Sen. Orrin Hatch, the next Republican on whom the activists have set their sights. But the Tea Party had better celebrate while it can. Lugar's might well be the only scalp it claims in the 2012 election cycle.
Unlike 2010, when the Tea Party came out of nowhere to terrorize incumbents and establishmentarians in Republican Senate primaries, 2012 is shaping up as a disappointment for the Tea Party. In race after race across the country, conservative challengers are likely to lose or have failed to make a play. Rather than the leading edge of a trend, Lugar's defeat appears to be the exception that proves the rule.
Just look at Utah, the subject of Tuesday night's chanting. FreedomWorks and others are rejoicing at having forced six-term Sen. Hatch into a primary; he got 59.2 percent of state convention delegates last month, just short of the 60 percent required to secure the nomination and bypass the primary vote. But there's almost no way Hatch will lose the primary. He got a majority in the convention, where delegates tend to be more conservative than primary voters. Furthemore, Mitt Romney, with whom Hatch has aligned himself, will be on the Utah primary ballot; in 2008, Romney got nearly 90 percent of the Mormon-heavy state's primary vote.
National conservatives' next favorite target has got to be Texas, where a bright young Cuban-American conservative named Ted Cruz has the endorsement of Jim DeMint's Senate Conservatives Fund, the Tea Party Express, and FreedomWorks. Yet Cruz has struggled to gain traction against the favorite, Lt. Gov. David Dewhurst, a multimillionaire rancher and GOP good ol' boy.
DeMint's PAC has poured nearly $1 million into the race, and Cruz has ardently worked the national conservative circuit. But in Texas, "he hasn't quite caught fire," said Austin-based strategist and commentator Jason Stanford. Among Texas conservatives, "There's some angst about it. If you're a die-hard Republican, you don't really trust Dewhurst. But the smart money is, there's not even going to be a runoff." That is, most think Dewhurst can win a majority of the primary vote.
It's the same story in other states. In Wisconsin, the conservative challenger, former Rep. Mark Neumann, is a long shot behind the moderate former governor, Tommy Thompson. In Virginia, Jamie Radtke, who had hoped to claim the Tea Party mantle, has fizzled in her primary challenge to former Sen. George Allen. In New Mexico, moderate former Rep. Heather Wilson looks like a lock to become the Republican nominee, despite an attempt by businessman Greg Sowards to dethrone her from the right.
And then there's Florida, where former state Rep. Adam Hasner hoped to carry the Tea Party banner against Democratic Sen. Bill Nelson. Hasner thought he could repeat the 2010 success of Marco Rubio, who came from behind to knock out the ultimate moderate-establishment GOP powerhouse, then-Gov. Charlie Crist. Hasner was up against Crist's former chief of staff, George LeMieux.
But despite a good early reception from local Tea Party groups, Hasner just couldn't get off the ground. And then Rep. Connie Mack IV, the well-connected son of a former senator, got in the race, and Hasner's fundraising dried up. Hasner, discouraged, dropped out of the Senate race to run for an open House seat instead.
The resulting Republican primary is a "train wreck" for conservatives, said Rick Wilson, a Tallahassee-based strategist who consulted on Hasner's aborted Senate campaign.
"The Tea Party doesn't have a horse in that race now. They're uncomfortable with both candidates," Wilson said. "It's George LeMieux, who doesn't have a shred of conservative credibility, against Connie Mack, who doesn't have a shred of human credibility."
It's a far cry from 2010, when Tea Party-backed challengers seemingly couldn't lose in GOP primaries. There was Rubio in Florida, Rand Paul in Kentucky, and Mike Lee in Utah -- all initially thought to have no chance against entrenched Republican opponents, and all U.S. senators today. The movement also delivered primary victories to Sharron Angle in Nevada, Christine O'Donnell in Delaware, and Joe Miller in Alaska, and while all lost in the general election, their examples made a powerful point: that the Tea Party was willing to drive moderates out of the GOP at any cost to the party.
Some Tea Party advocates argue that if there are fewer upsets this year, that's because fewer are necessary. The Tea Party was so successful in 2010, they argue, that it scared Republicans straight, making them take a more conservative tack in the first place and rendering challenges unnecessary.
"Despite what you see in Utah and Indiana, there's less fighting than last cycle because the Republican establishment now is, generally speaking, not fielding candidates that are offensive to limited-government conservatives," Matt Kibbe, the president of FreedomWorks, said in a recent interview. "In Virginia, Jamie Radtke hasn't gotten much traction because George Allen is not all that different than her on the issues."
It's true that in some states the Tea Party has gotten its preferred candidate without an ugly internecine fight -- like Ohio, where Josh Mandel won the Republican nomination with a conservative platform and only nominal opposition. In others, such as Missouri, Nebraska, and Arizona, the Tea Party is divided between multiple candidates all running to the right.
Lugar's defeat is a major victory for the Tea Party and the latest step in the ongoing drubbing of moderates out of an increasingly polarized Senate. But there were plenty of other reasons behind his loss. He didn't live in Indiana anymore, and had to change his official residence to a family farm after he was ruled ineligible to vote from the address on his driver's license. He ran a tepid campaign that was slow to engage. And his challenger, Treasurer Richard Mourdock, is no Christine O'Donnell: He's twice been elected to statewide office, and he spent more than a year assiduously winning over both local Tea Partiers and the state's rank-and-file Republican activists.
So while Lugar's loss has occasioned a fresh round of Tea Party triumphalism and establishment mourning, it's not at all clear that the movement retains its potency. (It also didn't make a mark in the presidential race, failing to prevent the nomination of Romney, in many ways the ultimate anti-Tea Party Republican.) Unlike 2010, this year, one big Senate trophy may be all the Tea Party manages to accomplish.