Why Attacking Rev. Wright Is Too Risky for the Romney Campaign
There are conservatives who could do it without crossing the line -- but too many who'd stir controversy by going over it.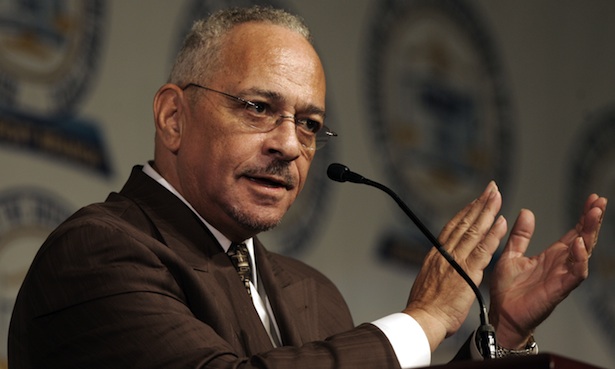 Reuters
My colleague David Graham is right that there is no compelling moral reason that Jeremiah Wright should be off limits in the upcoming presidential campaign. But I think Mitt Romney is smart to distance himself from any attacks that invoke the controversial pastor, as was John McCain. It isn't that any attack mentioning Rev. Wright is racist. Or that anyone who attacked would come off that way. But let's not be naive about the partisans Team Red is working with. There are a not insignificant number of Republican boosters and conservative movement figures who just can't be trusted to talk about racially fraught controversies in a way that isn't going to embarrass or reflect poorly on the right, starting with guys like Rush Limbaugh, who have an incentive to piss people off in attention grabbing ways, and running all the way down to some state or county Republican Party staffer who finds racially offensive emails funny enough to forward.
Although hard core conservatives can't see it, President Obama is adept at talking about race in America. He's thought about the issue long enough to speak about it with simple words and sophisticated nuance. He invokes the best of America when telling the story of his life. He can tell a story about why he attended that church that makes white people listening feel good about their country and themselves. Mitt Romney cannot talk about race like that, nor does he benefit from an inquisition into how he could participate in his own faith given its flaws over the last five decades.
So it isn't just that Mitt Romney wants to be talking about the economy. It's that making an issue of Wright risk conversations about race and Mormonism, subjects Romney lacks the charisma to finesse, and that would be utter disasters if all his surrogates had to discuss them. It doesn't matter how carefully the talking points are drawn up. There would be inevitable variations and departures from the script as partisans go on cable news shows, joke around on Twitter, speak off the cuff at rambunctious rallies, and otherwise participate in a sprawling campaign. Every day Wright is prominent in the news cycle the chance of someone having a Trent Lott moment are 50 percent higher. Team Romney can't ultimately control what attacks independent groups sponsor. But by emphatically refusing to raise Rev. Wright, they've preemptively distanced themselves from whatever the most offensive folks on their side might say about the matter.