Why Are Democrats Losing the Wisconsin Recall?
Republicans are confident controversial Gov. Scott Walker will survive next week's attempt to oust him, while Democrats insist it's too soon to predict the outcome.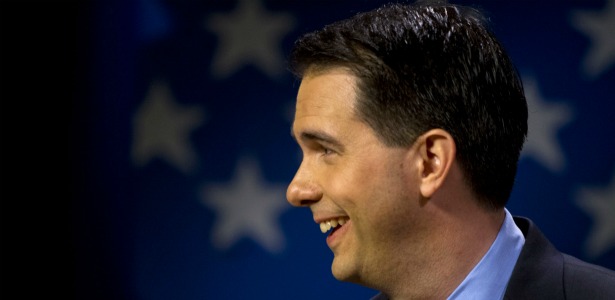 The battle over Wisconsin Gov. Scott Walker, raging for the last 15 months, finally comes to a head next week with the recall election that could oust him from the statehouse. But Republicans seem very, very sure that won't happen.
In the final days before Tuesday's vote on whether to retain Walker or replace him with Milwaukee Mayor Tom Barrett, Republicans are crowing as if they've already won, while Democrats strain to insist they're still in it.
So confident is the GOP of a Walker victory in Tuesday's vote that national Republicans are looking to raise the stakes. "If Walker wins next Tuesday, and we're confident he will, Obama is going to have a much tougher road ahead in Wisconsin this fall," Republican National Committee Chairman Reince Priebus -- a former Wisconsin Republican Party chairman -- told reporters on a conference call Wednesday.
The gelling conventional wisdom that Walker is set to triumph was bolstered by a Marquette Law School poll released Wednesday afternoon that showed Walker ahead by 7 percentage points. The independent poll, conducted May 23-26, put Walker at 52 percent of the vote to Barrett's 45 percent, outside the 4.1-point margin of error. And you couldn't really argue that the poll was slanted toward the GOP: It also showed President Obama leading Mitt Romney, 51 percent to 43 percent.
So is the Walker race really over? And if so, what happened?
Going into the recall campaign, Democrats seemed to have good reason for optimism. They triggered the recall with a massive signature drive that netted nearly a million petitions to oust Walker. They succeeded in ousting two Republican state senators in recall drives last summer. The anti-Walker fury nearly propelled a long-shot candidate to a seat on the state Supreme Court last year; though the left fell short in that case, the race was much closer than expected.
Now, Democrats insist that the polls that show them losing are flawed. They say the race is tied and trending in their favor. The idea that Walker is winning, they contend, is a Republican fabrication intended to depress turnout.
"Their desperation to push this 'it's over' meme is evidence that they are seeing what we're seeing -- that the race is a dead heat," said Kelly Steele, spokesman for We Are Wisconsin, an independent labor-backed anti-Walker effort. "This was always going to be a base-versus-base election. It's going to come down to turnout. So it's obviously in their interest to peddle this notion that things are slipping away."
But if things are going awry for the left now, there seem to be a few reasons.
* Money: Walker raised an unprecedented $21 million for his recall campaign this year, nearly double the $11 million he spent getting elected in the first place in 2010. Barrett, who entered the race in March, has raised just $3 million. At the same time, independent groups have poured money into the state; though national progressives and public-employee unions are on the side of the recall effort, they haven't been able to match the pro-Walker side's spending. Currently, Walker and his allies are outspending Barrett and his backers on television ads by a 3-to-1 margin, according to a Hotline analysis.
* Time: It's been 15 months since the protests against Walker's push to limit public-employee collective bargaining drew 100,000 to camp out at the Capitol in Madison. What was once white-hot fury at the newly elected governor's surprise move to rein in union benefits has cooled somewhat in the ensuing months, while Republican enthusiasm for Walker appears to have intensified in response to the left's assault. Meanwhile, Walker has effectively used the passage of time as an argument in favor of his policies, pointing out that the disastrous impacts his critics foretold -- such as mass teacher layoffs or huge cuts to state services -- haven't come to pass. Then there's the phenomenon of "recall fatigue": the constant turmoil of the state's politics may have some Wisconsinites simply tuning out.
* National buy-in: Obama and national Democrats have seemed to shy away from the recall fight, even as national Republicans eagerly engage it. Priebus' personal connection to the state plays a role -- on Wednesday, he proclaimed that the RNC was "all in" and "full bore" in its Walker defense effort -- as does the fact that Republicans face little downside in the effort to put Wisconsin, a state that's voted for the Democrat in every presidential election since 1984, on the November map. For Democrats, however, the prospect is more fraught, and the Democratic National Committee came in for some criticism earlier this month when its financial assistance for the recall effort was slow to materialize. On Wednesday, even as DNC Chairwoman Debbie Wasserman Schultz was visiting the state in a show of Democratic commitment to the effort, the president seemed to be keeping his distance: Deputy Obama campaign manager Stephanie Cutter declared on television that the recall effort had "nothing to do with President Obama," and White House Press Secretary Jay Carney had to correct himself after saying he wasn't aware that Obama had endorsed Barrett. As the Milwaukee Journal Sentinel's Craig Gilbert put it, the recall is "a dilemma for the Obama campaign, a process outside its control, a potential drain on resources, a volatile 'local' fight on a big national stage, and a difficult race in the end to win against a well-financed incumbent."
* Message: Though the two sides have tussled over jobs statistics and the merits of Walker's reforms, both have also sought to make their case in terms of a process argument -- an appeal to the way Wisconsinites see their politics. The Democrats argue that Walker has brought to the state an unprecedented level of political conflict -- "divide-and-conquer tactics" and "my-way-or-the-highway governance," as Steele puts it. Meanwhile, Republicans have sought to make the recall itself the issue, arguing that even if you don't like Walker, his sins don't rise to the level of requiring he be removed from office. In focus groups, even many Democrats voice the opinion that "this recall stuff is out of control," Priebus said. "The fact that we have a legislative disagreement with Walker is not a justification for having this recall and spending the millions and millions of dollars that the state is going to spend to do this." Both sides are promising voters a return to a less volatile and conflict-ridden style of politics. The question is whether Wisconsinites see the attempt to get rid of Walker as part of the problem -- or its solution.