White House Expected to Seek Fresh Face to Head NRC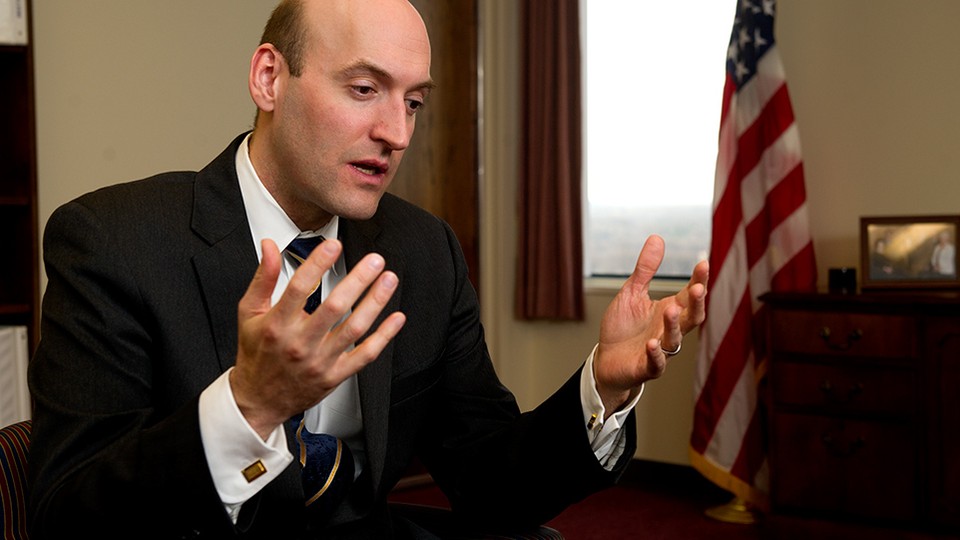 Democrats want to end the long-running drama that has been playing out at the Nuclear Regulatory Commission under the leadership of Chairman Gregory Jaczko, a former aide to Senate Majority Leader Harry Reid. That means President Obama is likely to look for someone from outside the commission to replace Jaczko, who announced on Monday that he will step aside as soon as a successor is confirmed.
Jaczko has been accused of employing an abusive style of management, and allegations of mistreatment of female employees have swirled. He has emphatically denied those charges and defended his leadership of the commission charged with regulating the nation's nuclear power facilities.
None of the other four NRC commissioners — Democrats George Apostolakis and William Magwood, and Republicans William Ostendorff and Kristine Svinicki — is likely to move into the chairmanship because they have been so embroiled in the controversy at the agency, most observers of the saga said in the wake of Jaczko's surprise announcement.
In any event, the NRC has a busy year ahead as it continues to deal with lessons learned from the Fukushima Daiichi nuclear disaster in Japan last year and addresses safety issues at the 104 nuclear power plants in the United States.
Both Reid and Senate Environment and Public Works Chairwoman Barbara Boxer, D-Calif. — who will lead confirmation hearings on Jaczko's successor — issued statements on Monday calling for a new chairman with the same concerns about nuclear safety as Jaczko. That would seem to disqualify the other four commissioners, who have lined up against Jaczko on virtually every major issue to come before the NRC in the past six months.
"I am confident whomever replaces Chairman Jaczko will share his commitment to protecting the safety of the American people over the interests of a single industry," Reid said. The Nevada Democrat's statement continued: "This is an opportunity for the nuclear industry to demonstrate its commitment to public safety by supporting a chairperson who puts the safety of American citizens first."
Jaczko had support on Capitol Hill among those who found him to be an aggressive watchdog. For instance, Boxer's statement praised his tenure: "I thank Chairman Jaczko for always fighting for the health and safety of the American people. "¦ I look forward to the president's nomination of a successor that will carry the same level of concern in this post-Fukushima era."
Not surprisingly, the White House said on Monday that it will nominate a replacement for Jaczko soon, but aides would give no indication of who might be in line for the post.
One Republican lobbyist on energy issues said the president might well be looking for an appointee short on personality but long on scientific integrity.
"These guys aren't supposed to make news. These guys are supposed to drone you to sleep," said Mike McKenna, a lobbyist for MWR Strategies who has close ties to GOP lawmakers on Capitol Hill.
Some reports have suggested that the next chairman could be Magwood, the Democratic commissioner seen as a chief instigator of last year's upheaval at NRC, but McKenna and others argue that he won't be Obama's pick due to his criticism of Jaczko.
Still, if the next chairman were to come from within the commission, Magwood would be the logical choice, said one Republican congressional aide, speaking on condition of anonymity. Magwood's name has been on the tip of everybody's tongue since Jaczko's announcement on Monday morning, the aide said.
Senate Environment and Public Works ranking member James Inhofe, R-Okla., would like to see a current NRC member elevated to the role of chairman. "We have good talent inside the commission," he said.
Inhofe said he had no idea what led to the timing of chairman's decision. "Jaczko and I have had our differences in the past," he said. "But I don't know what precipitated his leaving. I honestly don't. I was surprised to find out."
Sen. Lisa Murkowski, R-Alaska, ranking member of the Energy and Natural Resources Committee, expressed her hope that the vacant slot will be filled quickly. "My goal is to not have holes on the commission that would have an impact on their efficacy," she said. "We need them to work."
Murkowski confirmed she has heard that the name of a nominee has been floating around on Capitol Hill, but she said she doesn't yet know who it is.
Regardless of who is tapped to take his place, the controversy surrounding Jaczko's leadership is unlikely to fade soon. NRC's  Office of the Inspector General has been investigating the commission's leadership and is expected to issue a report soon. Its release is certain to put the Jaczko soap opera back in the news regardless of the findings, as it will include testimony from NRC commissioners and employees about his management style.
On top of that, a Senate confirmation hearing is expected within the next few weeks on Obama's appointment of Svinicki to serve a second NRC term. Boxer has said her committee will hold a hearing on Svinicki's nomination before her term expires on June 30. Republicans on the panel are almost certain to keep the focus on Svinicki's run-ins with Jaczko, whom she accused last year of being verbally abusive to female NRC staff.
Svinicki, though, has had her own share of  controversy. Last month, Reid urged the White House not to reappoint her when her current term expires, but the White House sent her appointment to the Senate despite the majority leader's objections. Reid's office accused her of dissembling to Congress in 2007 about her involvement with the proposed Yucca Mountain nuclear-waste storage facility in Nevada.
With Jaczko's resignation, the commission's five members all will be appointees of President Obama; Jaczko is the only current member appointed during the George W. Bush administration.
A new chair would technically serve out the rest of Jaczko's term, which is set to expire in a year, but the White House could simultaneously submit the nomination for both the interim term and a full four-year term to follow, which would enable Obama to put a Democrat in the chairmanship for five years even if a Republican moves into the White House next year.
Some NRC observers say Obama could also wait until after the November election to appoint a new chairman and let Jaczko remain on the job for the rest of this year.
Meanwhile, the NRC's current agenda is a full one. Though the commission has issued the first safety orders stemming from Fukushima, it still has a long way to go. In addition to implementing all of the new reforms within the next five years, NRC still has to deal with a major recommendation that asks it to clarify its "patchwork" of regulations and force plants to prepare for "beyond-design-basis" events like a major earthquake.