Was Mitt Romney a Good Governor?
As the Obama campaign seeks to make an issue of Romney's term in the Massachusetts state house, locals say he was neither a disaster nor a breakout success.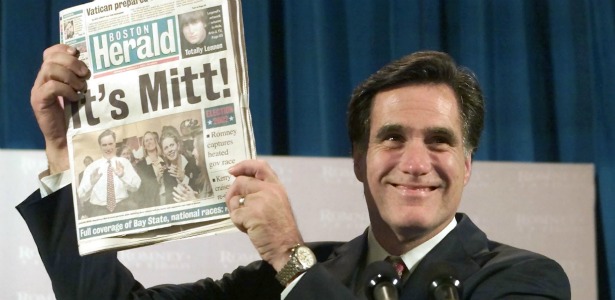 Reuters
The Obama campaign's attempt to make an issue of Mitt Romney's governorship quickly descended into spectacle Thursday.
As the president's chief strategist, David Axelrod, made his case in front of the state house in Boston, he was nearly drowned out by pro-Romney hecklers chanting slogans. From the sidelines, a clean-cut young man in a blue tie blew soap bubbles. "You can't handle the truth!" Axelrod was reduced to yelling, as he leaned across the podium and strained to hear a reporter's question.
Axelrod and the gaggle of sympathetic local officials behind him argued that Romney sold Massachusetts voters the same bill of goods he's peddling now -- that his private-sector expertise would make him an ideal chief executive of the state. But his record in office, Axelrod claimed, was "alarmingly weak."
Was Romney actually a terrible governor of Massachusetts, or was this all politics? Naturally, the reality is not as simple as either side would like to claim.
Romney can't be accused of leaving the state in a shambles, local experts say, and his tenure was by no means a disaster. He left the state with one towering accomplishment -- universal health care, an achievement neither Romney nor Obama likes to mention now. But Romney fell short of his campaign pledge to change the state's political culture, stymied by a combination of entrenched interests and his own failure to cultivate relationships. And his naked positioning for national office in the latter part of his one term left a bad taste in many mouths.
"I think there's really a Romney One and a Romney Two," said Marty Linsky, a lecturer at Harvard's Kennedy School and former Republican state legislator. "Romney One really worked very hard to try to do what he thought was in the best interests of the commonwealth; Romney Two worked very hard to position himself to run for president of the United States."
By the end, Linsky said, "People felt they didn't know who he was. The only way to make sense of his trajectory was that he was only about himself."
THE ECONOMY
Romney took office in 2003 with the nationwide economy still in the slump that followed the tech bust and September 11. Unemployment was rising, in Massachusetts and nationally, and job growth was stagnant.
During Romney's term, these trends reversed. Unemployment declined and jobs began to rebound. But they did so in Massachusetts at a slower rate than most other states, with the result that, over the course of his governorship, the Bay State was 47th in the nation in terms of job creation. As Michael Widmer, president of the Massachusetts Taxpayers Foundation, told Politifact, "Jobs grew, but they grew at an anemic rate compared to the rest of the country." Andrew Sum, director of the Center for Market Studies at Northeastern University, put it this way to the Boston Globe: "That time period was a very weak time period for the state. I'm not blaming everything on [Romney], but he didn't turn anything around."
Romney has claimed that he tried to bring small government to Beacon Hill, but here again, the record is mixed. "When I took office, I was facing a $3 billion budget deficit and an economy in a tailspin," he said at this year's Conservative Political Action Conference (this was the same speech where he claimed to have been a "severely conservative governor"). "Even with a legislature that was 85 percent Democrat, I cut taxes 19 times and balanced the budget all four years. I cast over 800 vetoes and cut entire programs. I erased a $3 billion budget shortfall and left office with a $2 billion rainy-day fund."
But as Axelrod pointed out, the size of government -- both state spending and the number of government jobs -- actually grew on Romney's watch, and he avoided raising taxes largely by raising fees, on such things as vehicle registration and marriage licenses, instead. And while Romney did balance the budget for his final year in office, he left his successor with a $1 billion structural deficit.
Given that Obama is campaigning on a platform of raising taxes and increasing government spending -- er, "investment" -- you'd think Democrats would balk at criticizing some of these moves, which seem to show Romney as more of a fiscal moderate than his rhetoric indicates. But Axelrod argued that raising fees was an overly regressive way to bring in state revenue, and that in falling short of his promises Romney showed he couldn't be trusted.
"He believed that a PowerPoint presentation would solve all our problems."
"I think he did do a competent job" managing the state's finances, said Maurice Cunningham, chairman of the political science department at the University of Massachusetts, Boston. "It was spotty, and to say he didn't raise taxes when he raised fees was a semantic game. But he did come into a situation where the budget was in a bad state, the economy was in a bad state, and he maintained a balanced budget along with a fairly fiscally conservative [Democratic] speaker of the House."
HEALTH-CARE REFORM
At Thursday's Boston presser, Axelrod was preceded onstage by four Massachusetts Democratic officials, including the current lieutenant governor. The phrase "health care" did not pass their lips.
That shouldn't be surprising -- after all, the Obama team just spent the Republican primary repeatedly reminding voters that Romney's Massachusetts health-care reform was a key inspiration for Obamacare. For the same reason, Romney rarely mentions his crowning achievement in Massachusetts, either, even though, as Ryan Lizza detailed in The New Yorker last year, it was intended to serve as the capstone to his legacy and potentially his ticket to the presidency.
"The health-care bill is an example of Romney at his best," said Linsky. "He negotiated a very complex situation, and he worked out a brilliant deal, at the end, with the Democratic leadership." In a well-choreographed legislative dance, the Democrats sent Romney a bill containing most of his reforms, he used his line-item veto to excise parts he disagreed with, and the Democrats overrode some of the vetoes, including the individual mandate.
The result has been broadly popular and is largely considered a success. In a lengthy examination of Romneycare last year, the Globe called it "a revolution that basically worked," securing coverage for the vast majority of the state's residents "without devastating state finances."
Romney got through the GOP primary by all but disowning his health-care bill, trying in vain to distinguish it from Obama's achievement and straining to argue that its approach was not applicable on the federal level. He hasn't addressed it since wrapping up the Republican nomination, but it's a debate that's likely to come roaring back when the Supreme Court issues its Obamacare verdict at the end of this month.
LEADERSHIP
Romney campaigned on a promise to clean up Massachusetts' notoriously cronyistic state government, painting his opponent, the sitting state treasurer, as a product of a backroom-dealing Beacon Hill culture. But his efforts once he was elected were somewhat halfhearted and largely fruitless.
One example was the state's judiciary, a notorious hotbed of patronage. Romney's attempts to reform it didn't succeed, and instead, he ended up succumbing to the status quo, the Washington Post reports. His attempt to consolidate transportation agencies was shot down by the legislature, as was his push to remove from the state university system William Bulger, brother of mobster "Whitey" Bulger. (Bulger did eventually resign, in part due to Romney's pressure.)
"A lot of governors come in offering to change the political culture," said Cunningham. "But he wasn't here long enough, he didn't put enough effort into it, and he had a very formidable opponent."
Perhaps because of his outsider mien, Romney enjoyed notably chilly relationships with legislators and local officials, who found him distant and somewhat disengaged. John Barrett, who was mayor of the city of North Adams during Romney's governorship, described him Thursday as "a governor who just ignored us, who didn't want our effort," saying he never met with mayors or sought their input. "He believed that a PowerPoint presentation would solve all our problems," Barrett said.
Romney probably could have achieved more if he'd been less aloof, Cunningham said, pointing to the example of one of Romney's Republican predecessors, former Gov. Bill Weld. "Weld really bashed the legislature in the gubernatorial campaign, but when he got in, he found thing he could work with them on," Cunningham said. "Romney never tried to cultivate those relationships."
By his third year in office, it was apparent Romney's priorities lay elsewhere. He turned against abortion rights and took stands against stem-cell research and gay marriage, and began turning up in states like Iowa, New Hampshire and South Carolina. In those appearances, he frequently made jokes at the expense of his own state as he tried to win favor with conservatives. By the end of his governorship, his approval rating had declined to a dismal 39 percent.
"Once he decided to run for president, his consitutency changed. The people of Massachusetts, most of whom weren't particularly interested in his presidential campaign, weren't his constituency anymore," Linsky said. "Everything he did was oriented toward positioning himself for his next challenge."