Virginia Senate Candidates Agree: It's All About Obama
Republican George Allen thinks he can win by casting his opponent, Tim Kaine, as the president's best friend. But Kaine thinks that's how he'll win, too.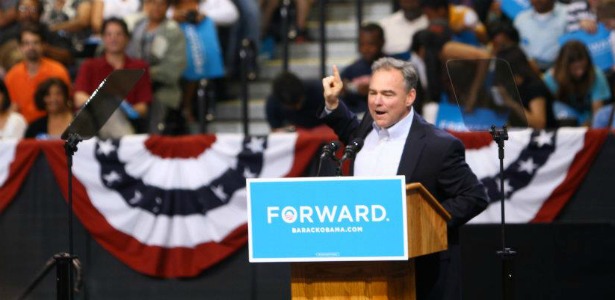 Facebook
RICHMOND, Va. -- In one of the hottest Senate races of 2012, the Democrat and the Republican both have the same campaign strategy: Tie Tim Kaine closely to Barack Obama.
Kaine, the Democratic candidate in the race, is the former chairman of the Democratic National Committee, and his probable Republican opponent, former Sen. George Allen, hopes to hang that fact around his neck. (Both men are also former governors.) The landing page on Allen's website is a video featuring Kaine saying, "I'm an unabashed supporter of the president," with the caption: "President Obama's Senator Tim Kaine." An Allen leaflet features two whole pages of pictures of Kaine with Obama, printed in ominous black and white. He's even put up billboards calling Kaine "President Obama's senator, not Virginia's." The aim is clear: to paint Kaine as a partisan shill for a president whose approval rating in the state was last clocked at an unimpressive 40 percent.
But to Kaine, the idea that he stands with Obama isn't some big "gotcha" -- it's something he's proud of. When Obama held one of two campaign kickoff events in Richmond over the weekend, Kaine gave him a fiery introduction. "You may have heard ... some suggest that it's somehow anti-Virginian to support this president. Do you believe that?" Kaine asked the crowd at Virginia Commonwealth University. "I believe virtually all Virginians want our president to succeed, regardless of party, because when our president succeeds, our nation succeeds." After ticking off some pro-Obama talking points, he pronounced: "I am a proud friend and supporter of this president."
Those words stand in contrast to certain other Democratic Senate candidates -- most notably West Virginia's incumbent senator, Joe Manchin, who recently said he's not sure he'll even vote for Obama. West Virginia is not exactly a swing state -- Obama lost it by 13 points in 2008 -- and Manchin's political brand is predicated on this type of cheeky partisan heresy. In an ad for his 2010 campaign, he raised a rifle and shot a hole in a pile of paper labeled "cap and trade bill." (That was a special election to replace the late Sen. Robert Byrd, so Manchin has to run again this year.)
Manchin is the extreme, but other Democrats have also shied away from embracing Obama. Sens. Bill Nelson of Florida and Claire McCaskill of Missouri have both found themselves otherwise occupied when Obama visited their states recently, notes Jennifer Duffy of the Cook Political Report. It's a time-honored tap-dance for statewide candidates trying to convince voters they're independent-minded and haven't lost touch with their roots.
But that kind of triangulation was probably never an option for Kaine, who has been an Obama supporter for a long time. Back in February 2007, he was the first statewide elected official to endorse Obama's presidential campaign. He was shortlisted for vice president in 2008, remains a close personal friend, and took up both the DNC job and the Senate race largely at Obama's urging. Given the history, if Kaine did try to run away from Obama, it wouldn't be very credible.
From a political standpoint, too, Kaine's team has made a calculation that the president helps his candidacy more than it hurts. Yes, the connection might turn off independent voters -- or even moderate Republicans -- who have soured on the president but would consider splitting their ticket for Kaine, who was a popular governor with a centrist reputation. But in a year when Obama's team will be going all-out to drive up turnout among young people and minorities, Kaine benefits from those voters seeing him as an Obama ally.
In the end, then, who wins the Virginia Senate race is likely to hinge on the top of the ticket -- whether the state swings to Obama, as it did in 2008 and as polls show it's likely to do again, or to Mitt Romney.
Ironically, though, given the way he's tied Kaine to Obama, Allen appears to be in no hurry to align himself with his own team's presidential candidate. At a recent Republican primary debate, Allen awkwardly declined to endorse Romney, saying only that he would work with him as the nominee. And when Romney campaigned in Virginia for two days last week, Allen made himself scarce. The first day, according to his campaign schedule, Allen was holding an event with the Richmond Association of Realtors and meeting with small business owners in Dinwiddie County. The second day Romney was in the commonwealth, Allen had no public schedule -- and was spotted getting on a plane to Atlanta.