Under Obama, Men Killed by Drones Are Presumed to Be Terrorists
The revelation helps explain why American counts of civilians killed are so much lower than what's reported by other countries
.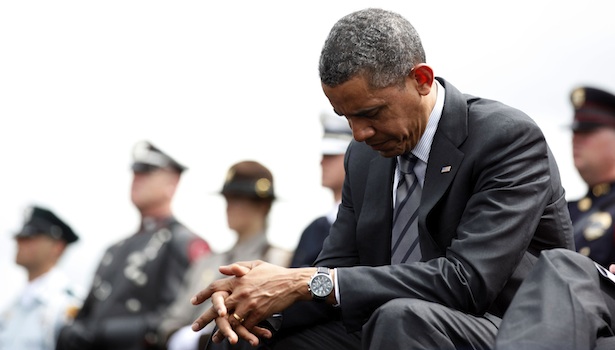 Reuters
After interviewing dozens of current and former White House advisers, the New York Times breaks a lot of news in its story on President Obama's secret kill list, perhaps none of it more jaw-dropping than new details describing how the U.S. now calculates the number of innocents killed by our drones. What innovative method did our Nobel Peace Prize-winning president implement?
"It in effect counts all military-age males in a strike zone as combatants, according to several administration officials, unless there is explicit intelligence posthumously proving them innocent," the newspaper reports. "Counter-terrorism officials insist this approach is one of simple logic: people in an area of known terrorist activity, or found with a top Qaeda operative, are probably up to no good."
For those tracing Obama's career arc, we've gone from his insistence, as a U.S. senator, that it would be unjust to try accused terrorists in a military tribunal with an attorney, to his judgment, as president, that if one member of Al Qaeda is someplace, every guy in vague physical proximity automatically meets the convenient "innocent until 'probably up to no good'" standard.
Says the Times:

This counting method may partly explain the official claims of extraordinarily low collateral deaths. In a speech last year Mr. Brennan, Mr. Obama's trusted adviser, said that not a single noncombatant had been killed in a year of strikes. And in a recent interview, a senior administration official said that the number of civilians killed in drone strikes in Pakistan under Mr. Obama was in the "single digits" -- and that independent counts of scores or hundreds of civilian deaths unwittingly draw on false propaganda claims by militants.

But in interviews, three former senior intelligence officials expressed disbelief that the number could be so low. The C.I.A. accounting has so troubled some administration officials outside the agency that they have brought their concerns to the White House. One called it "guilt by association" that has led to "deceptive" estimates of civilian casualties. "It bothers me when they say there were seven guys, so they must all be militants," the official said. "They count the corpses and they're not really sure who they are."

Lest you skim over that last quote, ponder its meaning. A former high-ranking official in the U.S. government is asserting that the CIA kills innocent people in other countries, counts the corpses, and reports that they're militants, even though they don't actually know who the guys are.