The Oppo File on Marco Rubio: Why He's an Unlikely Veep Pick
Although he could be an asset to Mitt Romney, irregularities in the Florida senator's record would make him a fat target for Democrats.
Although he could be an asset to Mitt Romney, irregularities in the Florida senator's record would make him a fat target for Democrats.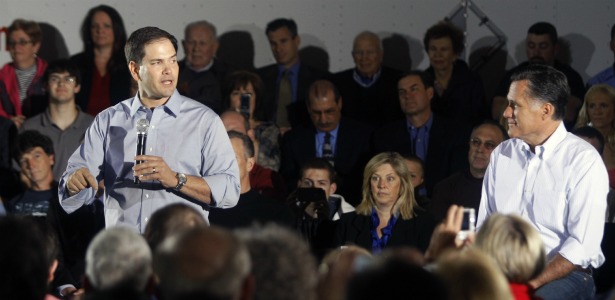 Getty Images
Despite repeatedly denying interest in the job, Marco Rubio remains at or near the top of nearly every speculative list of who Mitt Romney might choose as his running mate. Other candidates are seen as strong but flawed contenders -- Rob Portman is steady but dull; Paul Ryan a dynamic proponent of unpopular ideas -- but the first-term Florida senator is spoken of in rhapsodic terms. He'd provide the Romney ticket with youth and charisma, Tea Party credentials, and sway in the critical swing state of Florida -- not to mention being the first Hispanic to sit on a major party ticket.
Overlooked in this is Rubio's big Achilles' heel: his record. Not his legislative record -- though Democrats would surely take great pains to paint him as an extremist, he tends to be in the mainstream of the GOP -- but his political and lifestyle ones. Those areas will give opponents plenty to work with. There's no single smoking gun -- the lone revelation that would make him unviable. Instead, his record raises a series of smaller questions that would add up to many potential headaches for a campaign headed into a tough election against an incumbent president. The case for Rubio is well known, but here's a quick rundown on his potential vulnerabilities.
Again, the problem here isn't that any of these facts, individually, would rule Rubio out. Indeed, none of these publicly known scandals has stopped his impressive and fast rise. But collectively, they would pose a threat to Romney's core argument: that he would be a steady, competent, fiscally responsible hand on the tiller of the economy. Choosing a running mate with a history of sloppy disclosures and financial slip-ups would have much the same effect as when John McCain undercut his argument about Barack Obama's lack of experience on foreign policy by choosing Sarah Palin as his running mate. In fact, while Rubio's record is far better recorded and vetted than Palin's, the similarities don't stop there. Like her, he's a young, charismatic figure. His conflation of state business, party matters, and personal life echoes her own problems separating them. And some conservatives -- most notably Ann Coulter -- have warned against nominating him precisely because he's too fresh a face.
Interestingly, many of these questions came up during the bitter 2010 Senate race, in which Rubio defeated strong favorite Gov. Charlie Crist in the Republican primary, then handily beat both Crist (running as an independent) and Democrat Kendrick Meek in the general election. Crist's communications director at the time, who spearheaded many of the attacks, was one Andrea Saul (Jonathan Karl compiles her greatest hits on Rubio). Saul's job now? She's a spokeswoman for the Romney campaign. That means the presumptive Republican nominee is well-versed in his potential protege's weaknesses -- but also means his campaign might be better prepared to defend attacks on them. The question is, would a candidate whose operation prides itself on steadiness, deliberation, and meticulous preparation want to grapple with these questions?