The Fraught Mobile Politics of the United States of Amercia [Sic]
Will voters care about a sloppy spelling? Of course not. But the incident shows the dangers of politics in Apple's environment, where the company has total control.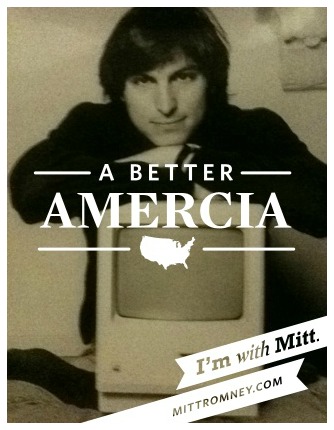 The Mitt Romney campaign, you might have heard, rolled out its very first mobile app Tuesday night, marking the occasion of its candidate's acquisition of the necessary number of delegates to be the Republican nominee for president. A few details are worth noting about the iPhone app, called "With Mitt." This isn't the robust organizing tool that the Obama campaign's mobile app hopes to be. This is a microsite-as-app, a sort of fluffy Instagram-lite mobile gadget. Take a photo and apply a "sleek stylized overlay message and artwork that tells the world, 'I'm with Mitt!'," as the campaign puts it. Also, this app has social ambitions; you can tweet, Facebook, and email your creation with just a few clicks.
Oh, and among the 14 Mitt-ish slogans included in the app's overlays -- "Obama Isn't Working," "Day One, Job One," "We're with Mitt" -- is the now famous "A Better Amercia."
Sweet, sweet Amercia. Land of the fre, home of the braev.
Of course, Amercia-gate has spawned the inevitable mocking Tumblr, some of whose compositions are actually pretty clever. A particularly creative image uses the misspelled slogan over a rally photo that displays the sign, "Respect Are [sic] Country, Speak English." Another gets meta: a screen shot of "A Better Amercia" emblazoned with the "American Greatness" logo. Also of course, the episode has spawned musings about whether this lack of attention is something that American voters will carry with them when they head to the ballot box in November. (A prediction: No. They won't. Gaffes stick when they reinforce an existing criticism of a candidate. Is anyone really worried that Mitt Romney, whose personal crest may as well be a spreadsheet, is insufficiently obsessed with details?)
Mistakes happen. Ask Joe Biden. But two things about the state of digital presidential politics jump out of what is otherwise a trivial affair.
The first is that, as is fairly common in Republican campaigns, the Romney organization keeps its digital team relatively small, preferring to outsource work where possible. The Romney technology operation, while growing, is a fraction of the size of its counterpart in Chicago. Part of it is free-market thinking: The best and the brightest in coding/design/data are likely to be working in the private sector, where they are perfecting their crafts in well-resourced environments. The strategy, said Romney digital director Zac Moffatt in an interview in January, dictates that "we go out and find companies whose size we can leverage, experts we can work with, that let us be much larger than our size." Now, "With Mitt" was built in-house. Outside companies tend to charge a pretty penny for mobile-app development, even on something as simple as this. But running lean and mean might mean that there are simply fewer internal checks and balances when it comes to a project like this.
One wouldn't really want to be the consultant who made that sort of error, not with a boss who says things like, "I like to be able to fire people who provide services to me. You know, if someone doesn't give me a good service that I need, I want to say I'm going to go get someone else to provide that service to me."
The second is that the Romney app mess highlights the challenges of doing political work in the mobile space. If the error had been made on MittRomney.com or even on the campaign's Facebook page, the offending language could have been updated within seconds of the mistake's first spotting. But the Apple app store works differently. Apple has full approval rights over every bit of what appears in its store. There's a trade-off there. Mobile apps can be enormously powerful, offering perks such as the ability of the Romney app to tap into an iPhone or iPad's built-in camera. But the Apple mobile model also puts Cupertino in a position to act as gatekeeper to a degree that doesn't really exist on the web. One imagines several nail-chewing hours at the Romney campaign headquarters in Boston spent waiting for Apple's California reviewers to wake up and sign off on scrubbing of the boo-boo from its app.
In the end, it took about half a day for the Romney campaign to get Apple to push through an updated app where the "A Better Amercia" overlay had been dropped altogether. Measured against today's hypermetabolic political news cycle, that's just about forever. But Romney's lucky. It required more than three months and a Pulitzer Prize for political cartoonist Mark Fiore to get his app approved by Apple. It turns out it's good to be the Republican nominee for president of the United States of Amercia. Or America. Whichever.