The Community Organizing Geeks Who Could Revolutionize Campaign Tech
One was Mark Zuckerberg's Harvard roommate. The other went to Jerry Falwell's Liberty University. Together, Joe Green and Jim Gilliam want to democratize the most powerful Internet organizing tools.
One was Mark Zuckerberg's Harvard roommate. The other went to Jerry Falwell's Liberty University. Together, Joe Green and Jim Gilliam want to democratize the most powerful Internet organizing tools.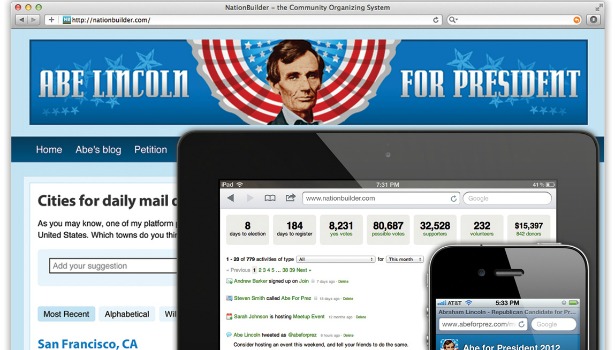 NationBuilder.com
The websites for Barack Obama and Mitt Romney look practically the same: sleek, snazzy, red-white-and-blue. But peel back a layer, and there's a difference -- the fundamental difference, in fact, between how Democrats and Republicans use technology.
Obama's site was custom-built starting in 2008 by the consulting firm Blue State Digital. It's a fully integrated platform for everything from fundraising to social networking -- the Rolls-Royce of campaign tech, complete with price tag. Romney's interface, on the other hand, didn't even originate with the campaign; it was based on a platform purchased off-the-shelf from a corporate customer-service vendor called Salesforce.com, then modified (also starting in 2008) to meet the needs of a political campaign.
In short, Team Obama has home-grown its tools, while Team Romney has bought commercial products and taped them together. But both approaches are labor-intensive and hugely expensive, and neither approach is really optimal. One requires devoting a big chunk of the campaign's energy to essentially functioning as a tech start-up; the other requires settling for off-the-shelf tools that don't have politics in their DNA.
Now, two visionary geeks want to change that.
Joe Green and Jim Gilliam, the founders of a new software platform called NationBuilder, envision a world where any campaign -- from local school board to issue-based protest movement, without regard to ideology -- could access the same versatile, inexpensive suite of software and instantly have at its fingertips the ability to connect with voters and donors online, a capacity that was supposed to reshape American politics in the age of the Internet, but has yet to be fully realized.
"For grassroots organizing, the biggest difference is in the smallest races."
Campaign-tech industry insiders agree that NationBuilder is a potential game-changer, though they caution that it's too soon to tell if the software will catch on as widely as its backers hope. "It's totally fair" for NationBuilder to view what they're up to as disruptive, said Clay Johnson, a Blue State Digital co-founder. While Blue State's software was designed to be the highest-end professional tool in the market, NationBuilder is more like the GarageBand of community organizing, opening up the possibility of a world where just about anyone is empowered to campaign like a presidential candidate, he said.
Scott Heiferman, CEO and co-founder of MeetUp, agrees that NationBuilder's potential goes beyond simply making campaigns more efficient. "This isn't just applying Salesforce's [customer-relationship management] mechanisms to movements," he said. "From the ground up, it asks how you engage people and then move them up the ladder of engagement. I haven't seen many other attempts to really solve the problems of the people or organizations who are super passionate around something."
To be sure, the idea that NationBuilder will singlehandedly revolutionize not just campaigns, but community activism at all levels, deserves some skepticism. (Available to the public since April 2011, the software, which charges users on a monthly basis, currently has about 700 subscribers.) But if anyone has the credentials to pull it off, it might be Green and Gilliam.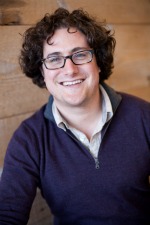 As Mark Zuckerberg's roommate at Harvard, Joe Green was the sixth person to join Facebook. His interest in politics goes back to high school, when he ran successfully for local school board in California at age 17; he later worked as a field organizer on John Kerry's presidential campaign and started the Facebook activism app Causes.
Jim Gilliam started out on the other side of the cultural-political spectrum. A homeschooled evangelical Christian, he was born again at age 8 and went on to attend Jerry Falwell's Liberty University. After his politics turned leftward during the Bush administration, he teamed up with the activist director Robert Greenwald to co-found Brave New Films, the progressive movie-production company behind such features as Outfoxed: Rupert Murdoch's War on Journalism and Wal-Mart: The High Cost of Low Price.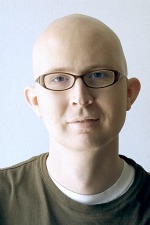 In person, Green and Gilliam make an odd pair. Green is short and stubby, with bushy, chin-length brown hair and a blazer-and-jeans look, while Gilliam is a bald, pale, lanky six-foot-nine and favors tees and hoodies. They found each other when Green saw Gilliam's moving talk at the 2011 Personal Democracy Forum, "The Internet Is My Religion." It tells the story of how Gilliam, his life hanging by a thread after a recurrence of cancer, mobilized the Internet to help him get the double lung transplant he needed -- and, in the process, rediscovered his faith. "God is just what happens when humanity is connected," he said in the talk. "Humanity connected is God."
Humanity connected is also politics, in the community-organizing-based mindset of social-networking evangelists like Green, who studied organizing at Harvard with the grassroots trainer and guru Marshall Ganz. Organizing from the bottom up is all about getting ordinary citizens together around shared ideas and goals, then getting them to communicate with and recruit their friends, expanding the circle outward until a movement is born.
Despite Obama's emphasis on these techniques, community organizing is a model that works best not for presidential contenders but for the smallest campaigns, Green argues.
"Presidential campaigns have tons of field staff, but that's where it makes the least difference," he said. "It's largely decided in the air war. It's the most covered media event that exists." But you don't have to get very far down the ballot to hit races -- from judges to city council members to the board members of the Greater Los Angeles County Vector Control District, which oversees the city's mosquito-abatement efforts -- where voters are basing their choices on much less information. There are more than 500,000 elected officials in America, most of them nonpartisan no-names on boards like these.
"The biggest difference is in the smallest races" when it comes to grassroots organizing, Green said. "First, people have no preconceived notions about the candidates, so there's more ability to persuade. Second, you don't need to turn out that many votes to swing the outcome."
Alex Torpey is living proof of the potential to make a big impact in a small campaign. As a recent college graduate, he ran last year for mayor of South Orange, N. J., and agreed to test NationBuilder in his campaign as an "alpha client." Up against a sitting city councilwoman, he used the web to publish his platform, dubbed "Rethink Leadership" -- a call for fresh blood. NationBuilder helped Torpey's bare-bones campaign blast out emails, target voters, connect through social media and raise money online -- in the end, about $8,000. It was one one-thousandth of one percent of what Obama raised in 2008, but it was enough. "For a nonpartisan, municipal campaign, that allowed us to print literature, buy ads on Patch locally, and pay for NationBuilder," he said in an interview.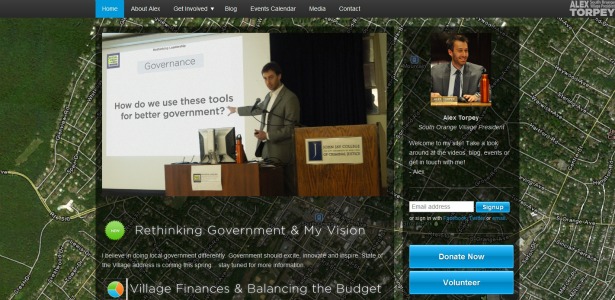 Alex Torpey's website
In the end, Torpey won by 14 votes, making him, at 23, the youngest mayor in New Jersey and the youngest mayor in the history of South Orange (population 16,000). Torpey doesn't credit NationBuilder alone for his success, and he emphasizes the continued importance of knocking on doors and making phone calls. But the software helped give him the tools to create his own political organization outside the infrastructure available to the entrenched forces of incumbency and the establishment.
Internet tools have the potential to facilitate every step in the organizing process. But it's in those low-level campaigns where online organizing could be most effective that novel tools are least available. Small-scale campaigns often find themselves improvising and jerry-rigging -- cobbling together an email service for solicitations, using PayPal to take donations, fronting a WordPress blog for a webpage. It can be a major data-entry headache to port a small campaign's Facebook fans into an emailable list, or figure out which PayPal donors have signed up as volunteer canvassers, or cross-reference any of the other lists with ones of actual voters.
In the face of the obstacles, many small-time campaigns give up on the Internet altogether -- a stark contrast with the starry-eyed view of a brave new online political future we've all been hearing since the days of Howard Dean. When Green spoke to the Association of American Political Consultants recently, he asked the room of 200 actual, in-the-trenches campaign runners whether the Internet had changed the game for them. Not a single hand went up.
NationBuilder's competition, then, isn't really Blue State Digital or Salesforce. "Down the ballot, we're competing with an Excel spreadsheet," Green said. "It's us, an Excel spreadsheet, and maybe a Tumblr blog."
So what does NationBuilder actually do? Despite all the hype, Gilliam and Green haven't really invented anything new. They haven't dreamed up a whole new way to use the Internet in a political campaign. It's bringing together all the existing online campaign tools, and making them broadly affordable, that's the revolutionary part.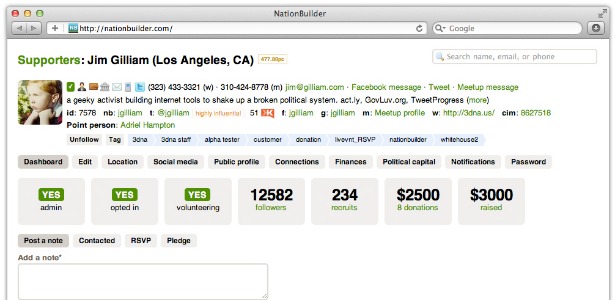 A supporter profile in the NationBuilder control panel
NationBuilder combines a campaign website with its people database, integrating everything together in one system of communication. The information the campaign puts on its website can be seamlessly emailed (or texted) to its list of supporters, or donors, or Facebook fans. It comes with a basic voter file that can be cross-indexed with those who've signed up to volunteer or otherwise support the campaign. The voter file is a big deal -- something state parties have traditionally controlled and charged a lot of money for, creating a major barrier to entry for poorly funded or outsider candidates. Another crucial piece is that unlike a Facebook page or a Change.org petition, NationBuilder's users get to see, use, and keep all the data they collect.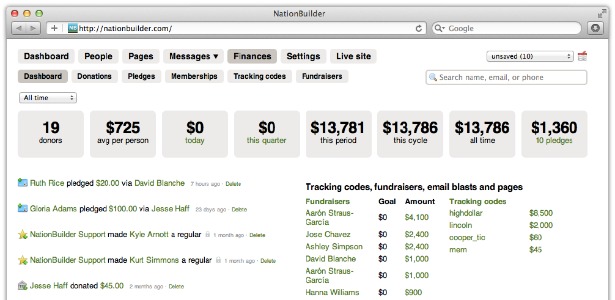 NationBuilder's finance control panel
Here's how it works in practice. A demo video on the NationBuilder website shows an imaginary campaign for "Abe Lincoln." A hypothetical supporter is shown signing Abe's petition to get Kansas admitted to the union, then tweeting about it, then sending it to a friend -- all actions logged in the campaign's database. The supporter then gets asked to donate, to volunteer, to follow the campaign on Twitter, to attend campaign events in his area, to comment on blogs on the site. NationBuilder handles everything: It processes the donations, logs the RSVPs, maps the supporters' homes so the campaign can bring them together in their neighborhood. And all these contacts are stored in Facebook-style supporter profiles accessible to the campaign.
"With most new products, people say, 'Oh, this is so cool, so innovative,'" Green said. "With this, people say, 'Finally.' It all exists, it's just not been stitched together." And especially not for $24 a month.
With a concept so simple and obvious, you'd think someone would have already made this software. Green and Gilliam say others have tried, but fallen short for prosaic reasons -- it was just too hard to get so many systems working together at once. And because NationBuilder charges users a monthly subscription fee, it required lots of up-front funding to develop; Green and Gilliam have raised more than $6 million in Silicon Valley venture-capital financing. "It's not rocket science," Green said. "It's just a lot of work."
Though Green and Gilliam both come from lefty activist circles, their vision for the company is strictly nonpartisan. NationBuilder has been used by Cory Booker, the Democratic mayor of Newark, and Jason Chaffetz, the conservative Republican congressman from Utah. (Overall, according to the company, more than 1,000 subscribers have used NationBuilder to amass 2.5 million supporters and raise $12 million in donations.) Its investors include both Chris Hughes, the Facebook co-founder and Democratic megadonor, and Dan Senor, the Republican foreign-policy adviser and onetime spokesman for the Bush administration in Iraq.
"Down the ballot, we're competing with an Excel spreadsheet."
To Green and Gilliam, the nonpartisan bent is partly a matter of treating politics more like a software market and less like the cordoned-off special realm it's always been. It's good business; when potential funders were told that the norm in political software was to stick to one party, said Gilliam, "it wasn't something that made sense to them at all."
But it's also philosophical: Green and Gilliam believe in organizing for its own sake -- the idea of grassroots movements, whatever their aims. They also know that, once you get past the first few slots on the ballot, partisanship isn't all that relevant. After all, few campaigns for sanitation district board have anything to do with the Republican or Democratic party platform. And those are the campaigns they're trying to activate.
The nonpartisan mission is causing some angst in progressive circles, however, where an edge in online organizing has long been seen as one of the left's crucial advantages in the political arms race.
"I think Jim is a great guy. This is just an area where we differ," said John Lee, senior vice president of NGP VAN, which provides voter data software to Democratic parties and candidates, progressive groups and labor unions.
"My general response to non-partisanship is that I think a shared progressive infrastructure is important, it matters, and we spent a lot of time and energy investing in it along with partners like the DNC, the AFL, AmericaVotes, State Voices," Lee said. "I think that partisanship in technology matters, and it matters because of those deep connections that we have with those organizations."
Progressives, Lee and others argue, ought to be "building something together" in order to best compete with those on the other side. "It's impossible to divorce technology from who you are and what you're trying to do," Lee added.
Green and Gilliam understand that point of view. But they believe they're doing something bigger than just building up one side in the partisan fight. Gilliam refers back to Brave New Films, which used grassroots online organizing to finance its movies with small donations from people who believed in the message, then relied on that same network to distribute the films -- upending the gatekeeper system of the industry in the process. They see NationBuilder being used for all kinds of causes, from the political to the creative and beyond. "It's about uniting people around a passion to take action," Gilliam said.
"The Internet has brought democracy to so many other things," Green added. "It's about time the Internet brought democracy to democracy."