The 3 Green Party Candidates and Their Disappointing Platforms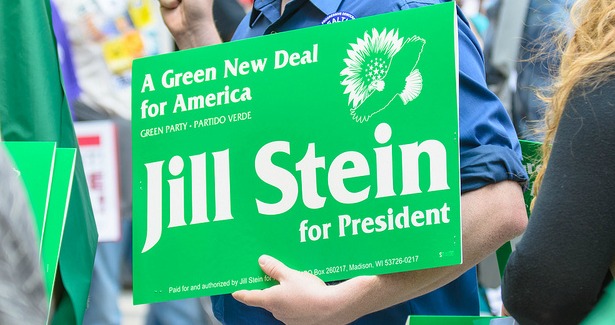 From July 12 through 15, the Green Party of the United States will convene in Baltimore, Maryland, to decide who should be its 2012 presidential candidate. State parties are encouraged to send as many delegates as possible, despite their meager budgets. "It would be a shame if attendance were limited to only those who can afford to pay their own way," an unsigned item in Green Pages, the Green Party newspaper, states. "Make use of diversity waivers to help with registration fees ... Or bring a tent and occupy Baltimore! And don't forget those dancing shoes." It's the sort of copy the Democrats would never put in their official material. How better to prove yourself more legit than the center-left party than by unashamedly urging your delegates to sleep on the streets with leftist anti-establishment protesters? Hotels where DNC delegates will stay include various Hilton Garden Inns, Embassy Suites, and other comparable properties. Who says you sleep better when you don't take corporate money?
The Green Party's dearth of resources and the certainty that their nominee won't win is one reason to give their candidates a listen. Unlike the Democrats and GOP, America's "third parties" are often led by that rare breed of politician willing to fight for a political cause even though there's little chance that he or she will ever accrue money, power, prestige, or influence for their trouble. Surely people with such purity of motive can teach us something about our politics.
But what?
There are three candidates seeking the Green Party nomination. Harvard-trained physician Jill Stein is the frontrunner, based on the wins she's amassed in various state-level contests. An environmental-health expert, she's published well-regarded reports on pollutants that threaten child development and aging adults and lobbied for various environmental laws in her home state of Massachusetts. Her campaign's theme is a "Green New Deal," a wildly ambitious "integrated package of emergency reforms that will put 25 million people to work, end unemployment in America, halt the recession, jump-start the Green economy for the 21st Century, and combat climate change." As she sees it, "such a thing as ending unemployment would never occur to Washington politicians because their corporate backers depend on the threat of unemployment to keep wages down." It's a deeply confused claim.
Were Kent P. Mesplay elected president, the birthers would go crazy. Born in the Madang, New Guinea, to American parents in 1962, he didn't return to the United States until he was a pre-teen. "Kent is 1/16th Blackfoot by 'blood' according to the archaic way the U.S. government figures it, but that is only a beginning point for why Kent identifies so closely with indigenous peoples and their struggles around the world," his official bio states. "Living in the rainforest among the New Guineans for the first ten years of his life had the largest impact on his concern for a sustainable future for all peoples." Seeking the Green Party presidential nomination for the third time, he argues that the Stein's "Green New Deal" is too unrealistic. "My main rival touts a federal jobs program that is dependent upon raising corporate taxes and slashing military spending," he writes. "This will take time to implement, and lacks legislative support."
He says his own approach is "more workable":

• Focus on security arguments favorable to transforming our military into being trained to address the emergency conditions associated with drastic climate change (essential climate-related concerns include health care, emergency food production, the housing of masses of displaced citizens).
• Provide tax incentives for businesses providing goods and services that help us be more sustainable.
• Generate trustworthy bonds to stimulate investment in several key areas: renewable energy, energy efficiency and conservation in housing and transportation.
• Small-scale organic agriculture.
Isn't it weird to point out that your opponent's agenda "lacks legislative support," only to run on transforming the U.S. military into a climate-change-response force and ending large-scale agriculture?
The last candidate is someone whose name you know: Roseanne Barr. The 1980s sitcom star and comedian is running as the Herman Cain of her political party, judging by her interview in Green Pages. "Listen, the fact that I'm not a politician isn't a drawback; it's an advantage," she states. "Do I need to know every micro-detail about a failed policy like our ridiculous 'War on Drugs' to know that anyone who wants to buy some recreational drugs can probably do it, and that all we're doing is making money for dangerous drug dealers and locking up users at a cost higher than a college education!" She goes on to state:

The drug laws are written for the benefit of drug lords! And it's a war on Marijuana smokers, mostly! YES THE EMPEROR IS NAKED AS A JAY BIRD -- HE NEEDS TO PUT SOME DAMN PANTS ON!

The only other thing she mentioned when asked about the issues most important to her: "I will obliterate the 'Two Party' System by becoming the first Green Party president of these United States as a result of our victory in the 2012 general election -- with 99 percent of the votes," she stated. "I also believe it's essential to do away with the Electoral College, a system created by the 1 percent of the 1 percent - the super 1 percent -- to enslave us all."
All things considered, the 2012 Green Party field disappoints me. I'm all for radical critiques of the status quo. But is it too much to ask for accounts of what ails us that are a bit more sophisticated? As malign as some members of the American elite are, unemployment is not a conspiracy of U.S. corporations; as vital as it is to rein in the military-industrial complex, we need a strong national defense beyond responding to climate change; as important as it is to reform our agricultural sector, you can't feed a nation as big as ours on "small and organic"; as eager as I am to end the war on drugs, politicians who agree are going to have to persuade their fellow citizens on the issue, rather than bragging about their ignorance and cracking jokes; and the Electoral College was not created "to enslave us all." Or was that a joke too? It's hard to tell.
Jill Stein's "Green New Deal" is far and away the most deeply thought-out platform on offer, and it still consists largely of assertions of the utopian ends it'll achieve, rather than realistic means for getting there. "We will transition to a sustainable, green economy for the 21st century, by adopting green technologies and sustainable production," it states. How? Via a "World-War II scale mobilization," she writes. So the scale is going to be comparable to 16 million or so people working full time on a green economy, roughly $5 trillion spent over four or five years toward that end, a civilian population that undergoes hardships as significant as rationing food, gas, and other basic supplies, and sacrifices comparable to the deaths of almost half a million Americans?
I am skeptical.
"We will proceed with utmost urgency, and put the United States 30 years ahead of the global curve," she writes, as if such epic gains in technology and productivity can be willed. "Let the rest of the world catch up with us!" She also claims that "we can, and must, shift to an economy in which 100% of our electricity is generated renewably." But she doesn't explain how that is possible.
Green Party candidates are hardly alone in putting forth vague, unrealistic proposals. Republicans and Democrats do it all the time. But when you're making a radical critique that's unpalatable to most voters anyway you're freed to tell it like it is, especially when a lot of sympathetic Democrats are terrified to vote for you because they think Ralph Nader's 2000 run on the Green Party ticket is one of the things that cost Al Gore that presidential contest. All of which is to say that for the Green Party, absurdly optimistic promises don't even have the virtue of winning elections; they just perpetuate the illusion that no hard choices need be made, and postpone the hard work of persuading Americans to make different trade-offs going forward.