Syrian Exiles Lead Call to Arm the Opposition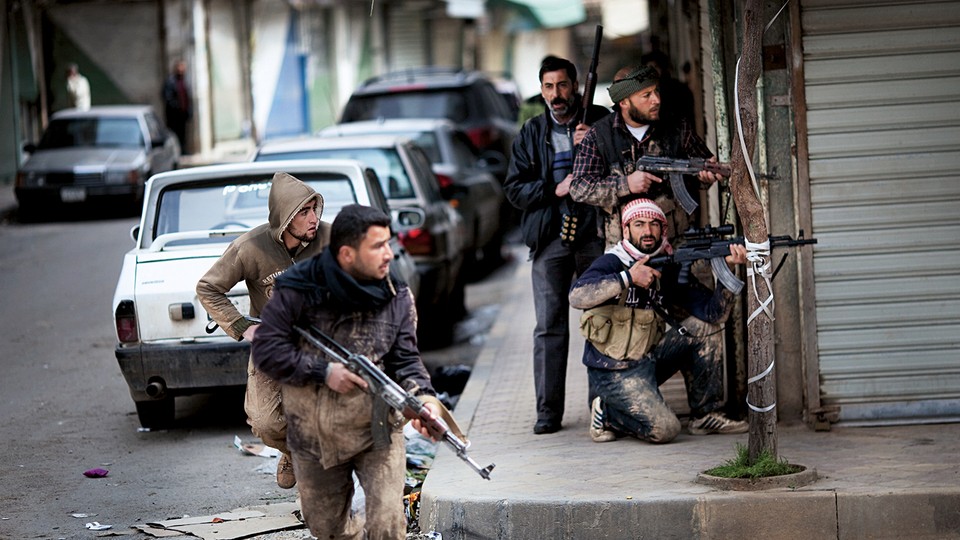 Five years after being jailed, beaten, and tortured by government forces as a student in Damascus, Ahed al-Hendi is a Syrian dissident in the U.S. calling for Washington to arm the opposition fighting President Bashar al-Assad and his forces.
"We want it to be peaceful," said Hendi, a member of the Syrian American Council, an organization that promotes civil liberties in Syria. "But all indicators on the ground show that nothing will stop this regime [except] an intervention or military."
Some Syrians living in exile in the U.S., like Hendi, with the support of hawkish policy makers in Washington, are calling on the Obama administration to change its policy and provide weapons to the Syrian opposition. But even within the Syrian community, there is debate as to the level of U.S. military aid. Some want arms, while others have gone further, calling for a no-fly zone protected by Western, Turkish, or Arab warplanes.
Despite a United Nations peace agreement that was to send as many as 300 observers to the wartorn nation of 23 million, end fighting,  and establish a dialogue between Assad and the opposition, violence has been unrelenting, and hundreds have died since the accord was reached. This past week, Arab League envoy Kofi Annan, who brokered the agreement, said he was concerned that Syria would descend into a full-scale civil war.
Senate Foreign Relations Committee Chairman John Kerry, D-Mass., has called for setting up safe zones inside Syria, while also providing support to the opposition, reports Foreign Policy. He would not rule out the use of U.S.- or NATO-led air strikes if the killings continued. Sen. John McCain, R-Ariz., has also called for providing weapons. "There is a strategic component," he told ABC's This Week.
Radwan Ziadeh, a spokesman for the largest opposition network, the Syrian National Council, and a senior fellow at the Washington-based U.S. Institute of Peace, would go even further. Disappointed with the U.N.'s failure to sanction the Assad government, Ziadeh says  that the U.N. has not acted properly to prevent further humanitarian crises. Forced out of his country in 2007 for outspoken positions, leaving his family behind, and now living in the U.S., he said that a no-fly zone is the only way to get Assad out of power.
"It's important for the international community to demonstrate using the force against the Assad regime, because it's the only language the Assad regime will understand," Ziadeh said.
The opposition is not calling for boots on the ground — a position that no one in Washington wants to take in the wake of Iraq, and with thousands of U.S. troops still in Afghanistan. What is needed more, Ziadeh argues, is a no-fly zone, similar to the one in Libya. The problem is that the situation in Syria is far more complex than the one in Libya. Both Defense Secretary Leon Panetta and Joint Chiefs Chairman Martin Dempsey have warned of Syria's anti-aircraft missile capabilities. Further, the opposition is not organized, as it was in Libya; there are more than 100 separate opposition groups with no clear leadership.
Daniel Byman, director of research for the Brookings Institution's Saban Center, said providing arms is a limited role that has both humanitarian and strategic advantages. "It is good for the United States to be seen as on the side of the Syrian people on this," Byman said. "The alternative options, to me, are worse."
Syria is Iran's sole Arab ally, and U.S. officials have long believed that forcing Assad from power could insert a wedge between the two nominal American adversaries. Washington envisions a second substantial benefit from Assad's fall: Syria is a prime source of funding and armaments for Hezbollah, a staunchly anti-Israel militia based in Lebanon. A new regime in Damascus might be willing to sever those ties and leave Hezbollah to largely fend for itself.
This has attracted several hawkish groups in Washington to the issue, including the Foundation for the Defense of Democracies. The group has been on the conservative end of many foreign-policy positions in the past 10 years, harshly criticizing the Obama administration's handling of Israel and Iran. Cliff May, the group's president, has called on the administration to act with "leadership" in this area.
"We do think the administration is right in saying that the Assad dictatorship really needs to go," May said. "We think the administration is not doing nearly enough to bring about that result at a time when we have Iran and Russia, in particular, giving rather robust support to this regime as it continues what it's doing — which is killing a lot of people."
But while this position may be popular among some hawks on the Hill and Republican-leaning think tanks, the Obama administration has been hesitant. At a House Armed Service Committee hearing in April, Panetta said that the problems Syria faces cannot be solved by unilateral action, and he repeated his concerns about Syria's anti-aircraft missile capabilities. "There is no silver bullet," he said.
For Hendi, though, the issue goes beyond the politics or strategic vision. Forced to leave his family behind and travel to a foreign country to escape persecution, Hendi said, he and other Syrians living in the U.S. simply look for justice against Assad — whichever way that may come.