Santorum Endorses Romney in Email to Supporters
The former rival's statement, delivered in a long email late at night, suggests his support for the presumptive nominee is tepid.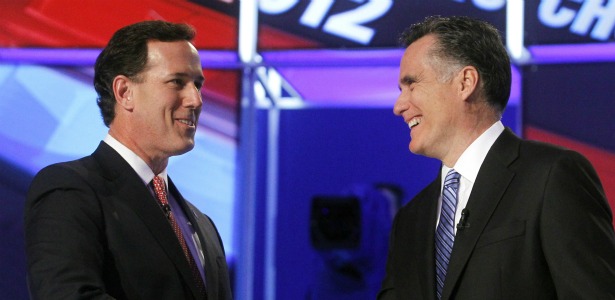 Rick Santorum endorsed presumptive Republican presidential nominee Mitt Romney late Monday night in an email to supporters, saying a private meeting with the former Massachusetts governor last Friday gave him confidence that issues important to him and his supporters would be well represented in the general election.
Rather than the usual embrace between candidates, which often comes with a joint appearance and a photo op, Santorum's email landed at about 11 p.m., ran on for more than 1,000 words, and did not get to the actual endorsement until the 13th paragraph. It was immediately labeled by some pundits as the very picture of tepid support.
"Bottom line, this is bush league," said Joe Scarborough, a former Congressman and the host of MSNBC's Morning Joe. "If you don't want to endorse him, don't. That's fine. People will respect you for not endorsing him. Don't have it both ways, endorse in the 13th paragraph. Be a man and say I can't endorse him or come out and endorse him."
Santorum competed fiercely with Romney in the primaries and had seemed unready to wholeheartedly endorse him in the month since he dropped out of the race. His support could pave the way for social conservatives to embrace Romney.
"The primary campaign certainly made it clear that Governor Romney and I have some differences. But there are many significant areas in which we agree: the need for lower taxes, smaller government, and a reduction in out-of-control spending. We certainly agree that abortion is wrong and marriage should be between one man and one woman. I am also comfortable with Governor Romney on foreign policy matters, and we share the belief that we can never allow Iran to possess nuclear weapons. And while I had concerns about Governor Romney making a case as a candidate about fighting against Obamacare, I have no doubt if elected he will work with a Republican Congress to repeal it and replace it with a bottom up, patient, not government, driven system," Santorum wrote.
"Above all else, we both agree that President Obama must be defeated. The task will not be easy. It will require all hands on deck if our nominee is to be victorious. Governor Romney will be that nominee and he has my endorsement and support to win this the most critical election of our lifetime," the note read.
Santorum and Romney had a one-on-one meeting last Friday in Pittsburgh. Aides had cautioned that the meeting was set up to discuss issues, not to arrange for an endorsement. Santorum wrote in the note to his supporters that he felt a "deep responsibility to assess Governor Romney's commitment to addressing the issues most important to conservatives," among them the importance of the family.
"I was impressed with the Governor's deep understanding of this connection and his commitment to economic policies that preserve and strengthen families. He clearly understands that having pro-family initiatives are not only the morally and economically right thing to do, but that the family is the basic building block of our society and must be preserved," Santorum wrote.