Rubio Slams Life in Polarized Senate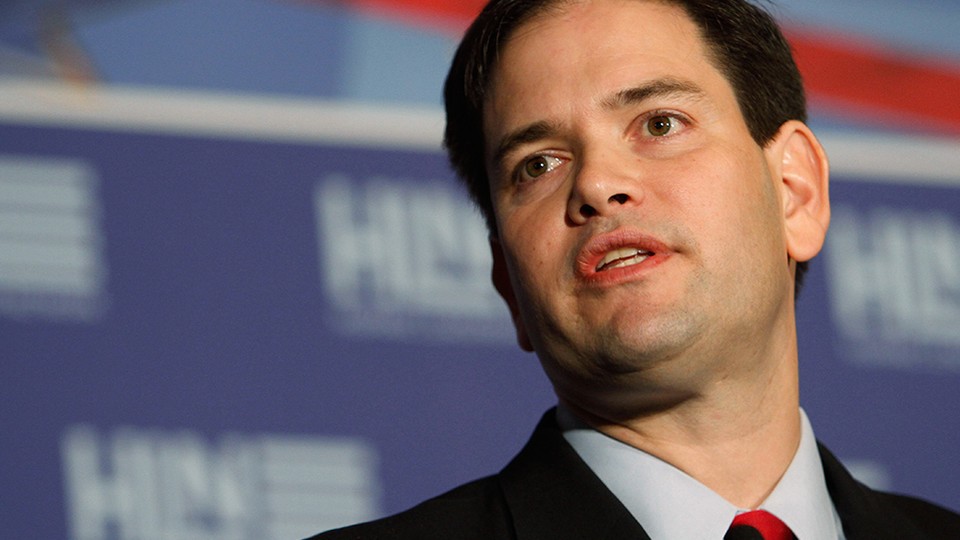 Sen. Marco Rubio, R-Fla., had harsh words on Wednesday for the current state of politics, criticizing in particular the very body in which he serves. The Senate, Rubio said, is incapable of passing legislation to solve the nation's problems.
"Too oftentimes in the United States Senate especially, most of the votes we take are nothing but messaging points," Rubio said in a speech at the Latino Coalition's Annual Economic Summit in Washington. "Bills are brought to the floor that people know are not going to pass for one purpose alone, and that's to give people talking points on the Sunday evening shows.
"Our people deserve better. It's not like we don't have major issues to confront, but they are not being confronted. The only thing that's being done in the Senate these days is creating material for television commercials in the fall, and it's sad."
Rubio, a first-term senator, has sometimes defied the body's partisanship to either oppose his party or to work with Democrats on legislation, a rare venture in today's Congress. He is drafting a Republican version of the Dream Act, which would create a visa "" although not a path to citizenship "" for the children of undocumented residents who attend college or serve in the military.
He also joined with Democratic Sens. Mark Warner of Virginia and Christopher Coons of Delaware to introduce the Start-up Act 2.0, which would create two new types of visas for foreigners: one for students who receive graduate degrees from U.S. institutions in the fields of science, technology, engineering, or math and work in those fields for at least five years; the other for 75,000 skilled legal immigrants each year who start a business, hire Americans, and invest or raise capital here.
His speech to the group of business leaders decried a corrosive political culture that has seemed to "skip straight to trying to convince you that ... your opponents are bad people."
Rubio is widely considered a potential running mate for likely Republican presidential nominee Mitt Romney, one who could help Romney's standing with Latino voters. But his speech mostly steered clear of his heritage. Aside from a brief introduction in Spanish "" "I gave a brief synopsis of how I saved a bunch of money on my car insurance," he joked for the non-Spanish speakers "" he mentioned it only briefly at the end of his remarks.
"We are all but a generation removed from people who lived a very different experience. And it's not fair for the story of America to end with us," Rubio said, as he recalled the parents of his generation who worked in blue-collar jobs to provide a better life for their children. "The way we should hope to build a lasting tribute to our parents and our grandparents is to ensure that the America they made possible and left for us does not end with us, but in fact continues to shine for decades and even centuries to come."