Ron Paul Comes Roaring Back (Sort Of)
The Texas representative scores some surprising wins at the Maine and Nevada state conventions. But will he be able to force a brokered convention?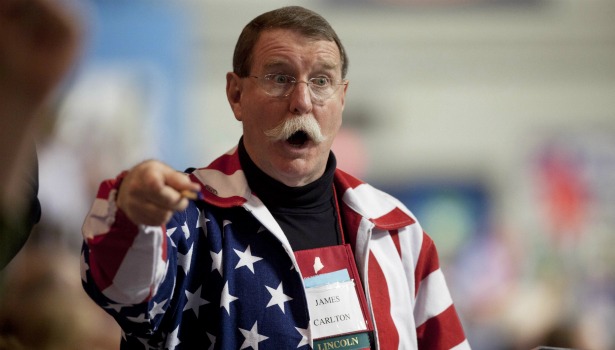 For months, Ron Paul supporters have been saying that the good doctor's chances have been underestimated, and that his quiet campaign to collect delegates has been far more successful than the media and his opponents would have you believe.
And this weekend, they got a dose of vindication. In Maine, 21 out of 24 delegate slots for the Republican National Convention in August were won by Paul supporters. (Last time we checked in there, the state GOP was thinking about disenfranchising a county because of inclement weather, although it was later forced to reschedule that caucus.) In Nevada, Paul supporters got 22 out of 25 delegate slots -- the entire available field, since three of the positions are automatically filled with party officials. And that's not all: Paul fans pulled off a similar coups in Minnesota and Massachusetts, and they've been quietly winning county caucuses in Missouri, too. "We're extraordinarily pleased with the victories Ron Paul supporters achieved this weekend, and we thank these men and women for their untiring engagement," Paul campaign manager John Tate said in a statement.
It's an impressive feat. Paul's campaign has found a way to work the system to great effect, producing delegate slates that don't really reflect the vote in the caucuses. For example, in Maine, Paul took just 34.9 percent of a presidential straw poll to Romney's 39 percent. And in Nevada, Romney won slightly more than half the vote, while Paul got only 18.8 percent. But that's also the rub. Many of the otherwise Paul-aligned delegates are bound to vote for Romney (at least on a first ballot) because of state rules that allocate them proportionately according to caucus results. For example, Nevada's delegates are bound to support Romney, and the GOP threatened to not seat the state's delegates if there are too many Paul supporters among them. The Maine results are more troubling for Romney: That state's straw poll is non-binding, so delegates can back Paul. Romney backers have suggested that the Paul contingent broke state rules, and the Romney campaign may challenge the results. The Maine GOP did not return requests for comment.
No one -- including the Paul campaign -- thinks that Paul can win the 1,144 delegates required to win the nomination. Instead, the idea is that he can get enough delegates to prevent Romney from hitting that magic number and force a brokered convention. But with both Rick Santorum and Newt Gingrich out of the race, that's a more and more remote possibility. Most delegate counts -- which to be clear are estimates -- give Romney more than 850 delegates and Paul fewer than 100. In that context, Maine's 21 Paul delegates aren't exactly a tidal wave. And it's not going to get much easier. There are only two caucuses, with 55 total delegates, left before the convention.
What Paul's delegates can do is make a fuss. When Romney goes to Tampa for his coronation, there will be plenty of noisy Paul backers around who can make their voices heard in ways other than the actual ballot. Delegates bound for Romney but personally in favor of Paul could try abstaining to keep Romney from hitting 1,144, forcing subsequent ballots on which they would no longer be bound. Some state rules seem to demand that bound delegates actually vote for the candidate to whom they are bound on the first ballot, so an attempt at abstinence could lead to a messy rules challenge. Or it might lead to their being replaced by alternate delegates -- but the Paul machine has also taken pains to win alternate slots, too. In the messy and obscure world of party rules, it's unclear exactly how any of these scenarios would play out; while any of them would still probably end up with Mitt Romney as the GOP's nominee, any of them would also amount to rain on his parade.
Presumably, then, the Paul campaign is hoping to finagle some concessions in Tampa in exchange for keeping its supporters under wraps -- planks in the platform, promises of cabinet positions, or the like. But it's tough to tell. The Paul campaign, which doesn't talk to the media much, did not return repeated requests for comment on Monday. The press releases it put out after the weekend triumphs touted his victories as boosts to GOP enthusiasm, but mostly avoided taking any shots at Romney (though one called him the "establishment pick") or making any claims about taking the nomination.
Perhaps a more relevant question is whether Paul would be able to convince his true believers to toe the line in Tampa. Given their eagerness to work the rules at the state level, it's hard to imagine his followers will suddenly decide it's good enough to just go with the flow.