Romney's Hunt for Hispanic Voters Slow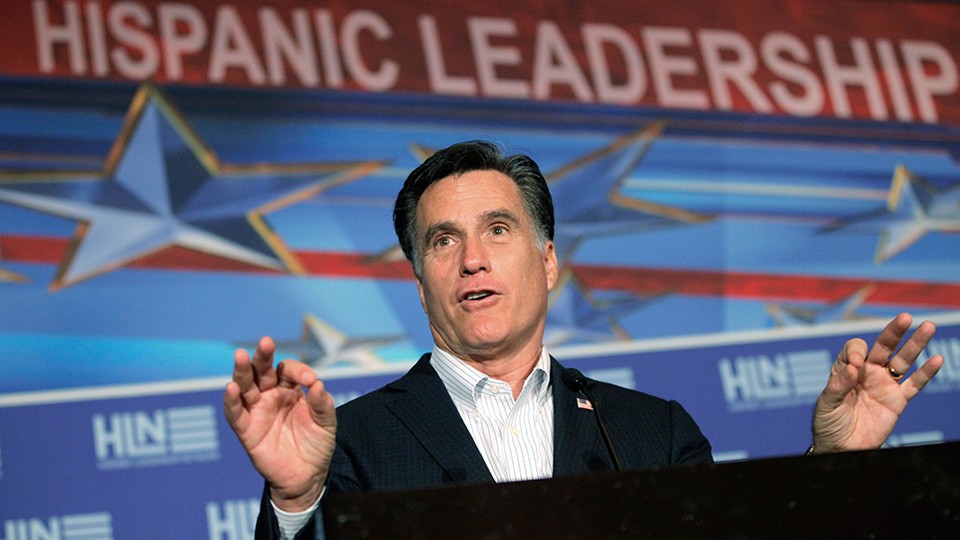 The stage is set for an epic battle over the Hispanic vote in the presidential election, but so far, President Obama is crushing the competition.
The president has already invested $1 million in Spanish-language media over the last five weeks. The campaign is airing about half a dozen television and radio spots in three toss-up states where a growing Hispanic population could swing the outcome: Florida, Colorado, and Nevada. The ads star Hispanic community leaders talking about how the president's health care and education reforms have affected their lives.
In contrast, presumptive Republican nominee Mitt Romney has spent only about $13,000 on Spanish-language media since he clinched the nomination. He quietly launched his first ad in Spanish last week with only $3,000 worth of television time in Raleigh, N.C., a battleground state with a burgeoning but relatively small Hispanic population. Another $10,000 in air time was purchased this week, according to media trackers.
"For Romney to go up with such a limited Spanish media buy is like watering the desert," said Democratic strategist Freddy Balsera, who advises Obama on Hispanic outreach. He said the campaign's Spanish-language ads will expand to other states and continue airing until November.
While Obama's ads are specifically targeted at a Hispanic audience, Romney's Spanish-language ads are exactly the same as his ads in English, only translated into Spanish. A narrator asks, "What would a Romney presidency be like?" and promises tax cuts, more jobs, and the repeal of Obama's health care law.
The stark differences between the two campaigns in the tone and breadth of their initial Spanish-language advertising come as polls show Romney trailing far behind among Hispanic voters. The latest NBC News/Wall Street Journal/Telemundo poll of Latino voters found Obama sitting on a 34-point lead.
"Romney's window of opportunity is still open, but I would advise them to ramp up their Spanish-language media as soon as possible and make it continuous," said Jennifer Korn, executive director of the Hispanic Leadership Network, a Republican-leaning group. "It would also be smart if they did a few tailor-made advertisements for the Hispanic community. That doesn't mean he's sending a different message, but he's showing he understands the community."
To be sure, the election is more than five months away, and there's plenty of time for Romney and the super PACs backing him to roll out a Spanish-language media blitz. The Republican National Committee has promised an unprecedented outreach and has dispatched Hispanic directors to six battleground states: Colorado, Florida, Nevada, New Mexico, North Carolina, and Virginia.
"We're just getting started," said Stuart Stevens, a top Romney strategist. "These are day-to-day decisions." Asked why the Spanish-language ads are not targeted at a Hispanic audience, Stevens said, "Hispanic voters care about these issues, about jobs and trade and the economy and the deficit."
Polls certainly bear that out. The economy is the top issue across the board. Romney, a former corporate executive, aims to reach Hispanic voters -- who have suffered disproportionately from the economic downturn -- with his broader message about creating jobs.
But highlighting a central difference between the two parties, Democrats argue that the harsh stance Romney took against illegal immigration in the Republican primaries will hamstring any Hispanic outreach. Romney attacked his former rival, Texas Gov. Rick Perry, for backing college tuition breaks for the children of undocumented workers, and he suggested that "self-deportation" would take care of the illegal immigrants already here. The former Massachusetts governor has spoken little about immigration since he became the presumptive nominee and began reaching out to an audience much broader than the GOP's conservative base.
Romney's speech to the Latino Coalition on Wednesday -- his second appearance before a Hispanic audience since he became the presumptive nominee -- was focused on education and didn't mention immigration at all. He has declined to take a position on a proposal by Sen. Marco Rubio of Florida, one of the most prominent Hispanic elected officials in the country, to offer legal status but not citizenship to the children of undocumented workers who attend college. Rubio also addressed the audience of business owners on Wednesday in a speech that touched on a number of topics related to the economy and the immigrant experience, including his revised version of the Dream Act.
"You don't have to talk about immigration every time you go in front of a Latino audience, but you have to talk about Latinos," said Ana Navarro, who advised former Republican nominee John McCain on Hispanic issues. "Romney got panned for that in the Hispanic press. Every demographic wants to be acknowledged and courted."
Conventional wisdom says a Republican candidate who wins 40 percent of the Hispanic vote will win the White House. McCain only got 32 percent in 2008. Still, it's possible that the Romney campaign is eyeing paths to victory that don't require him to do much better than McCain did among Hispanic voters, as long as he wins Hispanic-rich Florida and Arizona and keeps up his advantage over Obama among white voters.
What's more, voter registration in the Hispanic community is not keeping up with the population boom. Registration has dropped off 5 percentage points since 2008, and the drop-off is even more pronounced in swing states like New Mexico, Nevada, and Florida. Hispanic turnout in 2012 may not match 2008, when Obama ran an unprecedented grassroots campaign in size and scope. He made history, too. "They had lightning in a bottle last time, and they're not going to have it this time,'' said Republican pollster Ed Goeas.
The NBC News/Wall Street Journal/Telemundo poll found only 68 percent of Latino voters say they are highly interested in the upcoming election, compared to 81 percent of all voters.
Goeas sees an opportunity for Romney among Hispanic voters, particularly among men. A recent nationwide survey he conducted with Democratic pollster Celinda Lake found that 54 percent of Hispanic voters approved of Romney personally, compared to 42 percent who disapproved. "While Obama might win Hispanics across the board, there are certain subgroups that will be interested in the Romney campaign,'' Goeas said.
No wonder Obama has launched a nationwide, bilingual program called GottaVote.org that the campaign describes as a "one-stop shop" for voting information. The initiative is a response to new laws passed in a number of states that require voters to present additional identification at the polls. Critics say the new laws will disproportionately affect minorities, who were crucial to Obama's 2008 victory.
"The evidence strongly suggests that President Obama is on track to receive roughly the same supermajority of the Hispanic vote that he did in 2008," said William Galston, a senior fellow at the Brookings Institution. "Less clear is whether Hispanic turnout will be as high as it was four years ago, or whether the administration's failure to deliver on the promise of immigration reform will put a lower ceiling on the Hispanic vote this time."
The president has also drawn criticism from Hispanic activists for a record-setting number of deportations. "He has a lot of ground to make up with Hispanics, so he needs to be advertising in Spanish early," said Noe Garcia, a Hispanic Republican consultant who worked for President George W. Bush and the national party. "He's lost a lot of credibility in the community."
Bottom line: The battle for the Hispanic vote is far from over. But whether Romney intends to truly compete remains to be seen.