Romney Turns From Foreign Policy to the Economy
Ceding a potentially losing fight over the Bin Laden death, the Republican turns to President Obama's greatest vulnerability.
Ceding a potentially losing fight over the Bin Laden death, the Republican turns to President Obama's greatest vulnerability.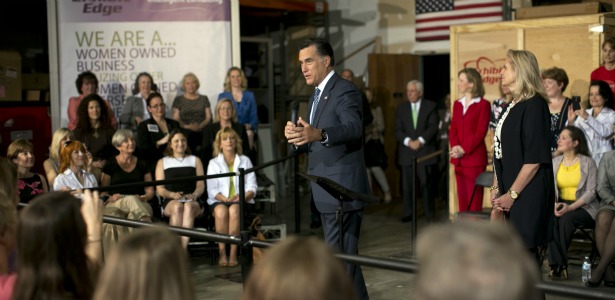 Benjamin Myers / Reuters
CHANTILLY, Va. -- Mitt Romney had a tough act to follow.
The Republican presidential contender was stumping in the Virginia 'burbs on Wednesday, just hours after President Obama basked in the glory of a prime-time, nationally televised victory speech from an Afghanistan war zone. The contrast was one of the first of what will be many reminders in the 2012 campaign of the disadvantages of running against a sitting president.
What's more, Romney's first trip to Virginia since he emerged as the presumptive nominee underscores the challenges he faces in catching up to a Democratic campaign that is well under way. Obama already has 13 campaign offices in Virginia, a decisive battleground in his bid for a second term. No wonder Romney decided to beat him to the state; Obama's first "official" reelection rally is slated for Saturday in Richmond.
Accusing Obama of politicizing the anniversary of Osama bin Laden's assassination was yesterday's news and probably a losing battle for the Republican Party anyway. The former corporate executive smartly turned the conversation on Wednesday back to his wheelhouse -- the economy -- in an energetic speech that roused the hundreds of people who jammed a trade show company's warehouse. In a tacit acknowledgment that he can't match the grandeur afforded the commander-in-chief, Romney gave his speech surrounded by cardboard boxes and wooden crates, reminders of his brass-tacks, jobs-first message.
"Americans are tired of being tired of the economy and this president, and they want real change," Romney said. He quipped that when asked how he will turn around the economy, he says, "Look at what the president has done and do the opposite."
The only reference Romney made to the 2001 attacks was a short anecdote about the popularity of commemorative pins sold at the Winter Olympics in Salt Lake City the following year. "There was a line all the way down the block .... This is a united nation," said Romney, hitting an optimistic, thoughtful note in a campaign that has quickly turned personal and confrontational. Obama started airing a television ad this week in Virginia that accused Romney of shipping jobs overseas and snorts, "It's just what you expect from a guy who had a Swiss bank account."
A super-PAC bankrolled by Romney allies is expected to return fire with television ads in Virginia and other states.
Romney was more interested in using Wednesday's campaign event as a chance to counter the "war on women" line of attack from Democrats than in returning to the foreign-policy debate that has dominated the campaign this week. A Quinnipiac University poll released in late March showed Obama leading Romney by 8 percentage points, largely due to a double-digit edge among women, though a Roanoke College survey found Romney ahead in the state.
Romney brought with him what many Republicans say is his best weapon -- his wife, Ann. As usual, she was warm and appealing, joking about her age and reminiscing about their "romance." Behind Romney sat a couple dozen women he commended as "entrepreneurs," and a banner declared the host company, Exhibit Edge, was a women-owned business.
While Democrats have been jockeying for women's votes on social issues like abortion and contraception, Romney is trying to appeal to their economic concerns. He touted his plan to cut the tax rate for top income earners from 35 to 28 percent and accused Obama of wanting to raise it to 40 percent. "This is a direct attack on small businesses," he said. The Obama campaign would obviously disagree with that characterization, but the dispute over tax cuts for the wealthiest Americans is one of the clearest contrasts between Romney and the president, who thinks the rich should pay more.
Voters at the event were receptive to Romney's attacks on Obama's economic stewardship, which they said will trump any bragging rights he has on foreign policy. "Romney's right," said Judith Hood, a 62-year-old retiree. She added, echoing his recent remarks, "It's the economy, and we're not stupid."
Voters also bristled at the notion pushed by the Obama campaign that Romney would have hesitated to go after Osama bin Laden. They repeated criticism from Republicans like Sen. John McCain that the president was inappropriately politicizing a moment of national triumph while unfairly taking credit for the terrorist mastermind's death.
The Navy SEALs, not Obama, killed bin Laden, said Susan Murray, a 75-year-old retiree. "I didn't see him in that chopper," she said.
Wednesday's event essentially marked Romney's campaign debut in a state that will be pivotal in November.
Romney had little incentive to organize in Virginia before the March 6 presidential primary because neither of his chief rivals, Rick Santorum and Newt Gingrich, qualified for the ballot. He won handily with nearly 60 percent of the vote.
On Tuesday, the Republican National Committee announced that the executive director of the state party, David Rexrode, will lead the national campaign in Virginia. He previously worked on the 2010 campaign of Gov. Bob McDonnell, a popular figure who is viewed as a potential running mate and is scheduled to campaign Thursday with Romney in Portsmouth.
When Obama carried Virginia by six percentage points in 2008, it was the first time a Democratic nominee had won the state since 1964.
Romney supporters say their nominee will be able to overcome the advantages afforded Obama as a sitting president who has gotten a head start on the general election campaign. "The grassroots will support Romney. The economy speaks for itself," said Tony Pla, a GOP activist from nearby Fairfax.