Romney Promises to Get Unemployment Rate Below 6 Percent
In an interview with Time, he struggles to explain exactly how his experience at Bain Capital would help him create jobs.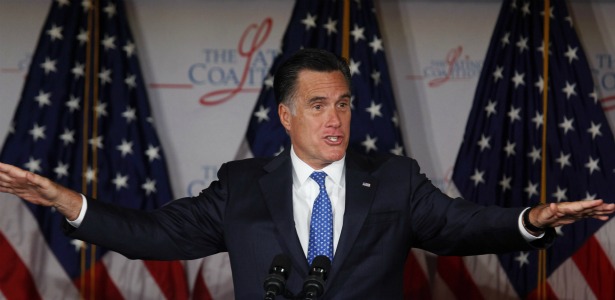 Reuters
Presumptive Republican nominee Mitt Romney laid down a benchmark for his presidency on Wednesday, telling Time magazine that he would get the unemployment rate down to 6 percent or less in his first term.
"I can't possibly predict precisely what the unemployment rate would be after one year," Romney said in an interview with Mark Halperin. "I can tell you, after a period of four years, by virtue of the policies we'd put in place, we'd get the unemployment rate down to 6 percent -- perhaps a little lower, depends in part upon the rate of growth [around] the globe, as well as what we're seeing here in the United States."
Setting benchmarks can be perilous. President Obama is still getting hammered over an early projection by his advisers, based on economic indicators that later were revised to be much worse, that a stimulus package would keep unemployment to 8 percent. It has finally fallen to 8.1 percent after reaching a high of 10 percent in October 2009.
Romney struggled in the Time interview to say exactly why his work at Bain Capital would help create an environment for job creation, arguing that it was his "experiences in totality" that have prepared him to run the United States better than the current occupant of the White House.
---
MORE FROM NATIONAL JOURNAL
---
"My whole life has been learning to lead -- from my parents, to my education, to the experience I had in the private sector, to helping run the Olympics, and then of course helping guide a state. Those experiences in totality have given me an understanding of how America works and how the economy works," Romney said in the interview. "I happen to believe that having been in the private sector for 25 years gives me a perspective on how jobs are created -- that someone who's never spent a day in the private sector, like President Obama, simply doesn't understand."
The former Massachusetts governor's record at the helm of Bain has been a subject of recent debate as the Obama campaign and its allied super PAC, Priorities USA, have launched ads featuring workers who were laid off from companies as the private-equity firm reaped large profits. Obama has said that Romney's Bain career focused on maximizing profits for investors and did not prepare him for the presidency.
As Halperin pressed Romney for specifics, he pointed to his all-of-the-above strategy to increase American energy production as a means of reviving the manufacturing sector. The connection to Bain? He said that the cost of energy was important to the creation of a steel company called Steel Dynamics that Bain helped launch in Indiana.
Romney repeatedly sought to turn his answers into a critique of Obama and to compare their experiences. He did not say he welcomed the scrutiny of his own business record. "Mark, what I can tell you is this: The fact is that I spent 25 years in the private sector. And that obviously teaches you something that you don't learn if you haven't spent any time in the private sector," he said.