Romney and Obama in Virtual Tie in Swing States, Poll Shows
The Republican has closed the gap since effectively clinching the nomination, but the president's supporters are more enthusiastic.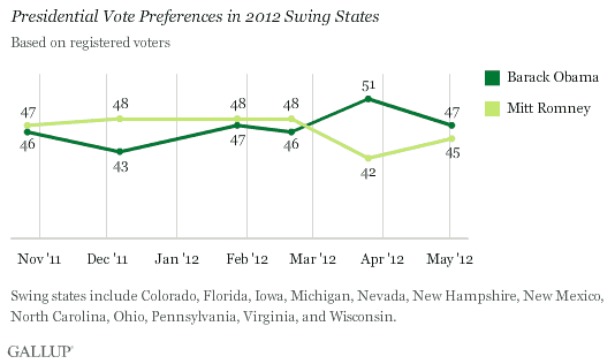 President Obama and Mitt Romney once again are neck-and-neck in a USA Today/Gallup poll of 12 battleground states released early Monday, a significant tightening of the race since Romney, the former Massachusetts governor, became the presumptive Republican presidential nominee.
Obama voters, however, describe themselves as more enthusiastic than Romney's supporters about voting for their candidate, a shift from earlier this year, and possibly a sign that the enthusiasm gap that has buoyed Republicans since their 2008 losses may have closed.
Obama leads Romney in the poll, 47 percent to 45 percent, the poll shows. In late March, as Romney was still being pilloried by his GOP primary rivals, he trailed Obama by 9 percentage points.
Fifty-five percent of Obama supporters say they are either "extremely" or "very" enthusiastic about voting in the election, up from 49 percent in March. Just 46 percent of Romney's supporters say they are "extremely" or "very" enthusiastic, virtually unchanged from 47 percent in March, but a significant drop from 55 percent in January.
Interviews with top strategists from each campaign accompanied the poll results in Monday's USA Today, with the Obama camp touting their voters' increasing enthusiasm, while Romney's top pollster dismissed those results.
"After a long and completely negative Republican primary on the other side, there are not a lot of people enthusiastic about Governor Romney," Obama campaign manager Jim Messina told the newspaper.
"The polls are finally catching up to what we're seeing for a long time--a fired-up Democratic base," Messina said.
Romney pollster Neil Newhouse, of Virginia-based Public Opinion Strategies, said, "We're confident that on Election Day Republicans are not only going to be solidly, overwhelmingly behind Mitt Romney but will be voting for him with enthusiasm over Barack Obama."
The USA Today/Gallup swing-state poll consisted of 951 interviews with registered voters in Colorado, Florida, Iowa, Michigan, Nevada, New Hampshire, New Mexico, North Carolina, Ohio, Pennsylvania, Virginia, and Wisconsin. The poll was conducted April 26-May 2, and the margin of error is +/- 4 percentage points.