Romney Among the Evangelicals
The fates are aligning for Romney to make a successful pitch when he delivers the commencement address Saturday at the Christian college Jerry Falwell founded.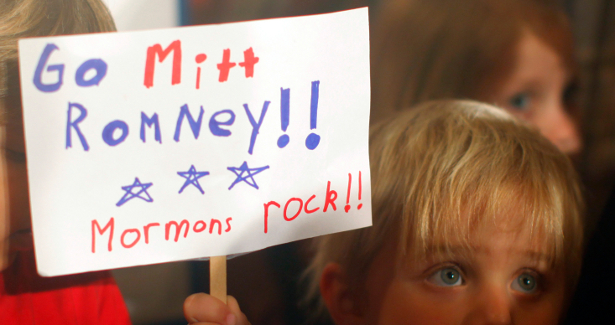 Reuters
On Saturday, the stage is set for Mitt Romney to deliver a powerful message straight into the heart of the Christian Right when he delivers the 39th Commencement address at Liberty University in Lynchburg, Va.
With an anticipated audience of 34,000 -- more than 14,000 graduating students, along with their families, friends, and scores of reporters -- thronging the stands and packing the field at the Williams Stadium football arena on the Evangelical school's campus, many observers expect the presumptive Republican presidential nominee to hew to his message of restoring America's founding values, with a special emphasis on the sanctity of the family.
When he does so, he will set aside his usual stump speech, says Romney adviser Mark DeMoss, and stump instead for the hearts and minds of political foot soldiers itching for a culture war with President Obama over same-sex marriage.
This year, Liberty is graduating its largest class in the school's history, and when they receive their degrees tomorrow from Chancellor Jerry Falwell Jr., it will mark not only the end of their formal educations at Liberty, but, in the words university's late founder, the Rev. Jerry Falwell Sr., the conclusion of their training to become "Champions for Christ." Romney's commencement address is chance to connect them immediately to the world of electoral politics, and one that cold win him greater support from young, public-spirited Evangelical Christians -- and also help woo the "Anybody but Mitt" crowd still smarting from the bruising GOP primaries.
Any attempt to claim the mantle of America's culture warrior-in-chief in this community normally would be a hard sell for a Mormon, not to mention the one-time governor of Massachusetts. Until the past few weeks, the Christian Right's embrace of Romney had been reluctant at best. As Redstate.com's Erick Erickson described it recently, the campaign had "a tin ear" when it came to Evangelical voters. "A number of them may sit out" this election, he predicted.
And while Romney's Mormonism remains an almost insurmountable hurdle for some Christian conservatives, at least one early theological and political foe, Texas mega-church pastor (and onetime Rick Perry supporter) Richard Jeffress, has come round to endorsing him. "I still maintain there are vast differences in theology between Mormons and Christians," Jeffress told Fox News Sunday in April, "but we do share many of the same values."
On Saturday, Romney won't engage in the "Mormons aren't Christian debate" that Jeffress politicized earlier during the campaign. Instead he'll emphasize, in a speech that will be more personal than policy-oriented, the values Evangelicals and Mormons share. The fates are aligning for Romney to make a successful pitch.
Over the past few weeks, Evangelical support in key swing states like Virginia has consolidated behind Romney. Obama's public backing of same-sex marriage this week riled the religious right, making it that much easier for Romney to convince the skeptics he is a true believer on the cultural issues that bring droves to the polls. The Washington Post's story revealing Romney had forcibly cut the hair of a boarding school classmate believed to be gay added further kindling to the mix, as many conservatives felt he was being unfairly smeared, again on gay issues. And while Romney this week has attempted to stay away from the culture war front Obama opened, America's values voters will look to him Saturday to lead their fight on issues that for many could trump jobs, taxes and the deficit this fall.
LIBERTY AND THE RIGHT
Founded by Jerry Falwell Sr. in 1971 as Lynchburg Baptist College, today, Liberty University is the largest Evangelical institution of higher education in the world, with more than 12,000 residential students and another 60,000 online. Part of Falwell's Thomas Road Baptist Church empire, the school was envisioned as a Christian antidote to America's secularized, and according to Falwell, often godless colleges.
Liberty has since emerged as the world's most influential Evangelical university, becoming a required stop for GOP presidents and presidential hopefuls as the power of Falwell's Moral Majority grew throughout the 1980s. Reagan laid down a cornerstone with his visit in 1980, and Romney's visit this year follows on the heels of ones by Michele Bachmann and Texas Gov. Rick Perry, both of whom visited the university in September 2011 as part of their presidential campaigns. Newt Gingrich has even played a hand as Liberty scholar; last October, the university unveiled a new online course entitled "American Exceptionalism" designed by part-time historian.
Within the university community, expectations for Romney's commencement appearance are mixed. While some applauded the decision on the school's Facebook page, others expressed anger and concern that giving a Mormon such a prestigious platform might legitimize a faith that Liberty's own required religion curriculum [to this day?] labels as a "cult." The law school dean, Matthew Staver, was also a frequent critic of Romney during the GOP primaries, both on Twitter and in The Washington Times, where he argued that Romney won't generate the high turnout needed to defeat the president if he chases after the political center along with him.
DeMoss, a PR executive for Christian causes as well as an Liberty University alumnus and trustee, helped broker the commencement speaking slot. "Jerry Falwell Jr. was a classmate of mine," says DeMoss. "He contacted me earlier in the school year and said, 'We'd love to have the governor anytime he'd want to come.'" DeMoss passed along the invite to Romney. A month later, Falwell called DeMoss back "to see if he'd do the commencement address" -- an offer Romney gladly accepted.
The choice to bring in non-Evangelicals is part of the university's mission to prepare future Evangelicals to live and work in the world with other types of believers, explains DeMoss, who will also be introducing Romney Saturday. As such, Liberty has a tendency to use its graduation both as a platform for political speeches and as a "last [college] lecture," he said. This is why Liberty often brings in non-Evangelicals to be commencement speakers, such as radio host and Mormon convert Glenn Beck and Jewish political provocateur and actor Ben Stein. "We want to expose students to national and world leaders," DeMoss says. "Especially leaders with views they don't always agree with."
ROMNEY ON THE QUAD
So what will Romney teach during this last lecture to the flock? What will his lesson be?
The most anodyne approach, said Michael Sean Winters, author of God's Right Hand: How Jerry Falwell Mad God a Republican and Baptized the American Right, would be to follow in the footsteps of George H. W. Bush, who during his 1990 commencement address at Liberty spoke up for "volunteerism." But "Bush 41 was simply not a true believer and uncomfortable" at Liberty, adds Winters.
In the wake of Obama announcement in support of same-sex marriage, the most logical course would be for Romney to present himself as a true believer, a presidential candidate that Christian conservatives can count on to protect faith and family. Romney's own well-documented evolution on abortion means that a full-throated, ideological pro-life speech is probably out of the question. But on the cultural war of the hour, while Obama has become the "flip-flopper," Romney has remained consistent in his opposition to legalization of same-sex marriages, or even civil unions. Though the state's supreme court legalized gay marriage in Massachusetts during his tenure as governor, Romney said the Conservative Political Action Committee this year that he'd made sure that the state did not become "the Las Vegas of gay marriage." Vowed Romney before the conservative gathering: "When I am president, I will preserve the Defense of Marriage Act and I will fight for a federal amendment defining marriage as a relationship between one man and one woman."
This rare ideological consistency from Romney most likely derives from his Mormon faith, which holds the union between a man and a woman as divine. The procreation of children within this marriage is part of Mormons' sacred duty, a duty God rewards with a duty God rewards with greater glories in heaven.
Romney -- a former Bishop in the Mormon church -- of course can't say anything so theologically specific, and for an audience like Liberty, so theologically blasphemous. But if a theological reconciliation is off the table at Liberty this Saturday, a political alliance formed around a shared clarion call to defend the traditional family, might just be on it.
And if Romney finds George H. W. Bush's precedent at Liberty insufficient, he might look to back even further, to Ronald Reagan. The same year he became the first presidential candidate to visit Liberty, Reagan famously told a non-partisan gathering of Christian conservatives in Dallas, including Jerry Falwell, "I know you can't endorse me...but I want you to know that I endorse you."
Romney might not get an endorsement, but he just might find a sizable number of young, motivated Christian values voters eager to join him in a war to defend traditional marriage.