President Obama Is Ending Black America's 'Don't Ask, Don't Tell' Policy
The most profound impact of Obama's "evolution" on same-sex marriage could come in the form of dismantling decades-old anti-gay prejudices within the black church.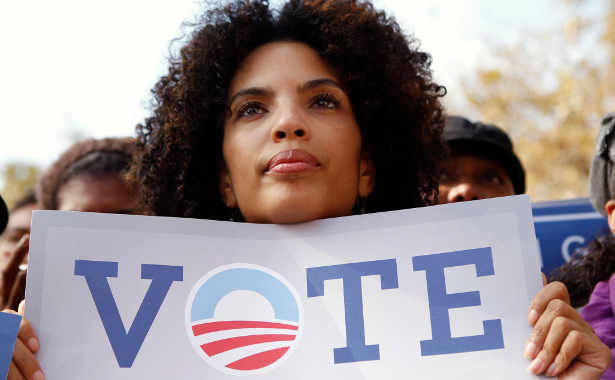 Reuters
Since President Obama declared his support for marriage equality last week, many politicos (including myself) have speculated about whether black voters, who are divided on the issue, will abandon him. The consensus among gay rights supporters and foes alike is a resounding "no." Sure, some black clergy are outraged, but even they admit this issue is no deal breaker. And the ongoing debate over an unlikely black backlash eclipses what promises to be the most profound impact of the president's "evolution."
President Obama has single-handedly dismantled the "don't ask, don't tell" policy within the black church -- that silent disdain on issues of sexuality that renders black gay and transgender people all but invisible, shames people living with HIV, and masquerades as love-the-sinner-hate-the-sin compassion.
Last Wednesday marked the beginning of the end of this dysfunctional dynamic. President Obama sparked an unprecedented dialogue about gay rights within the black community that won't be quelled anytime soon. The conversation continues to dominate the blogosphere and cable news shows. Never before have we seen African-Americans from all walks of life discuss marriage equality, making it the trending topic in mainstream and ethnic media outlets alike.
CNN ran countless segments over the weekend capturing the opinions of black clergy and their parishioners on both sides, and Michael Eric Dyson broke into an impassioned monologue on MSNBC challenging black pastors and a few of his media colleagues to "stop using their Bibles to co-sign bigotry."
The ripple effect of Obama's evolution also moved beyond the black church into uncharted territory, such as the massively influential hip hop, film, and sports arenas. Celebrities like Jay-Z, Will Smith, T.I., and Floyd Mayweather were inspired to join the president and vocalize their support for marriage equality.
This is huge: Straight black men are publicly endorsing same-sex marriage. Now if that doesn't signify a seismic shift in the black community, I don't know what does.
To be fair, the black community is not monolithic and doesn't think with one brain. There are plenty of dissenters rallying against the president's new view on gay couples' freedom to marry. A recent poll by the Pew Research Center shows that, like the president, the black community is continuing to evolve, though overall support for marriage equality hovers around 40 percent.
But what's most powerful about this moment in time is that both perspectives are equally represented in the national discourse. From Rev. Jamal-Harrison Bryant of Empowerment Temple in Baltimore and the Church of God in Christ to Wanda Sykes and Alicia Keys, black folks across all personal, political, and spiritual viewpoints are engaged in an authentic discussion about gay rights for the first time -- thanks to President Obama. And the conversation is echoing throughout barbershops, beauty shops, churches, and kitchen tables around the country.
Rev. Dr. Dennis Wiley, an African-American faith leader who pastors a black church, and who co-chaired D.C. Clergy United for Marriage Equality, reminds us that "the President's 'evolution' reflects a gradual process of discernment that is paradigmatic of what other African Americans are also experiencing."
The reality is that many in the black community are genuinely struggling to reconcile their faith and their politics, and it may take some time for them to fully evolve on marriage equality. But we shouldn't discount the progress unfolding before our eyes. Any momentum around what has long been a stagnant issue in the black community is change we can believe in.
Studies show that these personal conversations demystify same-sex relationships, challenge stereotypes, and ultimately change hearts and minds. And I believe that they will be the catalyst for greater acceptance of gay and transgender people, and marriage equality, within the black community moving forward.
In fact, we're already seeing movement. An ABC News/Washington Post poll released this week found that 54 percent of blacks support the president's stance. It also shows an uptick in support for marriage equality among blacks by about 13 percent since last year, suggesting that, for some, allegiance to Obama may have prompted a rethink on the issue itself.
Will Obama's affirmative stance on marriage liberate others who are also evolving on the issue to now express their full support? The first test will come in November when marriage equality will appear on the ballot in four states, including Maryland, where the black community is heavily divided on the issue.
It's too soon to predict the short-term political implications of Obama's bold announcement. Sometimes progress is a marathon, not a sprint. But one thing we know for sure is that the cone of silence is cracked and the black community will continue to evolve. I'm willing to bet they will see the light and bend toward justice.