Picture of the Day: 'Touch It, Dude!'
What a photo of the president clowning with a five-year-old tells us about race in America today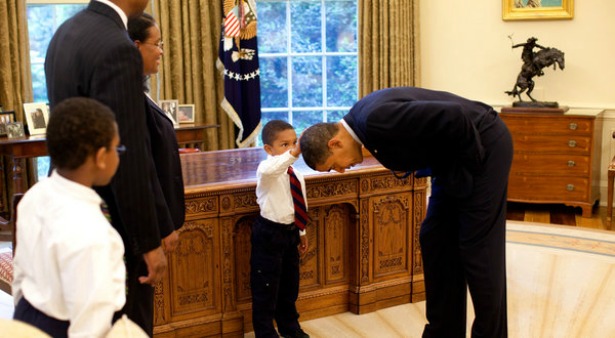 Pete Souza / The White House
Jackie Calmes of The New York Times brings a heartwarming story today about a visit by Jacob Philadelphia, then 5, to the Oval Office three years ago. His father Carlton was finishing up a two-year stint on the National Security Council, and the family was invited to take a photograph with the president. While there, Jacob spoke up:
"I want to know if my hair is just like yours," he told Mr. Obama, so quietly that the president asked him to speak again.

Jacob did, and Mr. Obama replied, "Why don't you touch it and see for yourself?" He brought his head level with Jacob, who hesitated.

"Touch it, dude!" Mr. Obama said.

As Jacob patted the presidential crown, Mr. Souza snapped.

"So, what do you think?" Mr. Obama asked.

"Yes, it does feel the same," Jacob said.
The photo, by White House photographer Pete Souza, has remained on display in the West Wing far longer than other snapshots. Calmes explains that the reason is tied up in Obama's complicated self-image: He is conscious of his pioneering role as the first black president but he has also avoided talking about race except when absolutely necessary.
"[T]he photo is tangible evidence of what polls also show: Mr. Obama remains a potent symbol for blacks, with a deep reservoir of support," Calmes writes. "As skittish as White House aides often are in discussing race, they also clearly revel in the power of their boss's example."