Picture of the Day: One of These Things Is Not Like the Others
What do Barack Obama, Rep. Ed Perlmutter, and Mahmoud Ahmadinejad have in common? Not much, actually.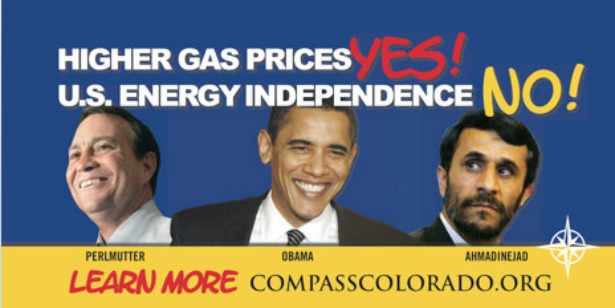 Here are some words Barack Obama has used to describe Iranian President Mahmoud Ahmadinejad: "hateful," "offensive," "disgusting," and "inexcusable." As president, he has overseen the imposition of the tightest sanctions against Iran in American history. He has repeatedly refused to rule out military action against the country, despite the worries of his military advisers.
And yet Obama keeps getting tied to Ahmadinejad -- such as in a Rick Santorum ad that, in a moment of what appeared to attempted subliminal messaging, his face and Ahmadinejad's flashed back and forth. In another case, Mitt Romney and Santorum accused Obama of opposing sanctions against Iran's central bank, a claim Politifact ruled mostly false.
Continuing in that dubious tradition, a group called Compass Colorado is putting up this billboard -- which ties Obama, Ahmadinejad, and Democratic Rep. Ed Perlmutter -- along with two other versions featuring Reps. Sal Pace and Joe Miklosi. Compass Colorado says the ad refers to Obama's decision to oppose a portion of the Keystone XL pipeline, which would transport crude oil from Canadian oil sands south. Obama has said more environmental study on its impacts is necessary. The idea that approving the pipeline would have a major impact on gas prices is dubious at best -- but with gas prices falling steeply, it's unclear whether this line of attack packs much punch anyway. Or what it has to do with Iran.
H/t Huffington Post