Picture of the Day: Obama's Warm Barnard Welcome
Youth support for the president may have slipped since four years ago, but he was treated like a rockstar during a commencement address.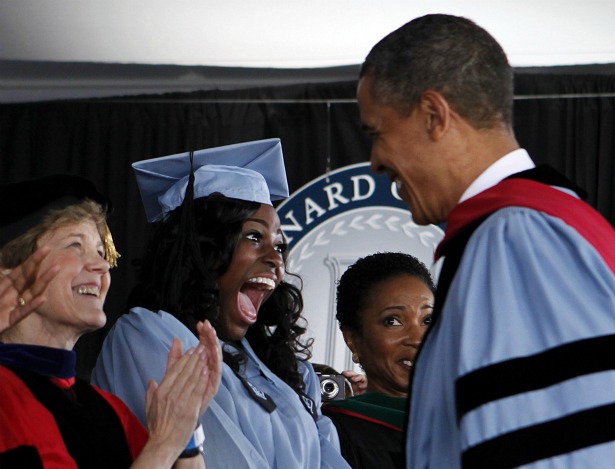 Larry Downing / Reuters
Monday afternoon the president delivered the commencement speech at Barnard College, and it would be fair to describe his reception there as giddy. College President Debra Spar gave a glowing introduction, practically offering Sasha and Malia Obama admission to the school on the spot, and Obama's speech was frequently interrupted by applause -- even though he graduated from sibling school Columbia College, whose sometimes stormy relationship with Barnard he alluded to. Still, the winner for most elated reaction has to go to graduate Britney Wilson, above.
While Obama's speech emphasized women's achievement and offered a customary advice-to-graduates section, it in many ways mirrored his reelection platform. He echoed his campaign's "forward" slogan; took an off-handed swipe at big banks; and seemed to allude to his recent announcement of support for gay marriage in praising "young folks who marched and mobilized and stood up and sat in, from Seneca Falls to Selma to Stonewall." For more, read National Journal's article on the speech.