Picture of the Day: North Carolina, Gay Marriage, and Education
There's a strong correlation between the state's colleges and universities and how counties voted on the same-sex marriage ban.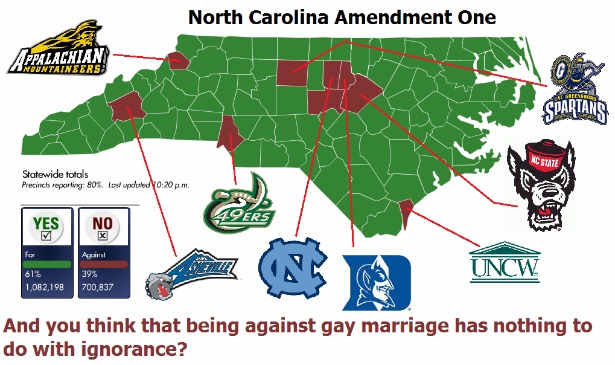 Both before and after the vote to ban gay marriage in North Carolina, much of the focus has been on racial demographics. In the Tar Heel State, there was tension between black groups, which supported a constitutional amendment banning unions, and gay ones, which did not. (Nationwide, blacks have tended to oppose gay marriage, although there's a discernible shift occuring.)
This map proposes a different way of looking at the vote. This map -- which is floating around on Facebook -- notes that the counties that voted against the amendment also happen to be the ones with many North Carolina's largest universities (it notably skips over two historically black universities, North Carolina A&T in Greensboro and North Carolina Central in Durham). The map is a little out of date: the final tallies in Guilford County, home of UNC Greensboro, and New Hanover County, home of UNC Wilmington, put them both in the yes column. Whoever made the graphic had a clear agenda: "And you think that being against gay marriage has nothing to do with igorance?" But as Cord Jefferson points out, there is a positive correlation between education level and support for gay marriage.
Of course, it's also true that these counties mostly include the largest cities in the state -- Raleigh, Durham, Charlotte, Chapel Hill, and Asheville. To a certain extent, what we see is a rural/urban split over support for gay marriage, but that doesn't totally explain it. Boone -- home of Appalachian State -- is a notable exception, with a population of just over 17,000. (On the other side of the equation, Greenville, home of East Carolina University, is a decent size city with a larger university that voted for the ban).