Picture of the Day: Mitt Romney's Birth Certificate
As surrogate Donald Trump rails against the president's citizenship, Romney releases documents proving he was born in Michigan.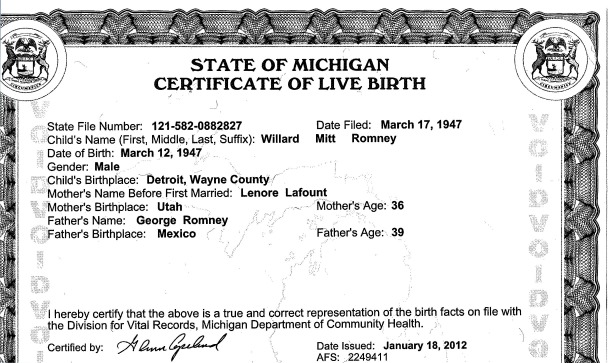 Handout via Reuters
You know who else's father wasn't born in the United States?
No, there hasn't been much sign of a Mitt Romney birther movement. He, like Barack Obama, is clearly a United States citizen. Nonetheless, the Romney campaign released the candidate's birth certificate to Reuters Tuesday night. As Mark Hosenball drily noted, "Finally, there is definitive proof: The presidential candidate was born in the United States, and his father was not."
To some, the release offers implicit encouragement to birthers like Donald Trump even as Romney says he has no questions about the president's legitimacy. But Hosenball notes that there were some doubts about the eligibility of Romney's father George during a 1968 bid for the GOP nomination. The elder Romney was born to American parents in Mexico.
It's also entertaining that this document is a "certificate of live birth." Remember when birther websites questioned Hawaiian documentation of Obama's birth there because it was a "certification of live birth" and not a birth certificate?