Picture of the Day: Mitt and Michele, Frenemies
The Tea Party congresswoman has endorsed the GOP's presumptive nominee, but the fault lines of the primary aren't so easy to paper over.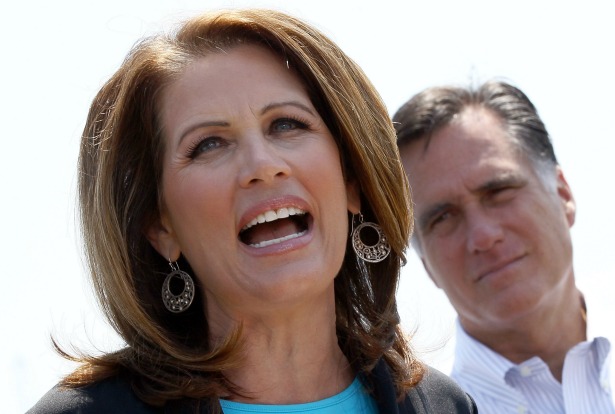 Win McNamee / Getty Images
Today in Portsmouth, Va., Rep. Michele Bachmann endorsed Mitt Romney's presidential run. It's helpful for Romney to have her stamp of approval, since she is many things he is not: an evangelical Christian, a charismatic populist speaker, a salt-of-the-earth Midwesterner, and a conservative of unquestioned credentials. But it's also a little uncomfortable. Late yesterday, ABC's Jonathan Karl posted a story with an old Bachmann quote, something she told him before she left the race for the GOP nomination in January:
"He cannot beat Obama. It's not going to happen."
Oof. If Bachmann's old words tell one side of the story, the look on Romney's face seems to tell his side with equal eloquence. As Molly Ball reported, Romney has cleared the field, but he has been unable to create a sense of party unity.